This is serious now. Our Expert Bitcoin Security level is specifically aimed at people who have serious investment amounts that they need to safeguard for decades. What "serious" means to you will be different to someone else, but it's usually $1,000 or more. Sometimes considerably more upwards of tens, hundreds of thousands or even millions of dollars. We're not joking around now boys and girls.
Just like with anything that involves serious amounts of money it does get more complex, more costly and more difficult now that we're at the highest level. Frankly, if you're not willing to put in the time to study and get good at security then you shouldn't be storing large amounts of wealth in Bitcoin.
We're dedicated to teaching, simply, how to do everything Bitcoin but you still need to put in the time to read, practice and Learn About Bitcoin yourself. If you don't follow the steps below then don't be shocked when you get hacked and loose all your funds.
That being said, do know that it's absolutely possible to have a state of the art setup that's created and maintained by you for serious investments. Bitcoin gives you that option and although it might take some learning, it completely removes all trusted third parties and allows you full self sovereignty over your funds.
Note: This Security guide is for "Expert Levels" which are people with "Serious Investment" amounts of funds. If you're securing smaller amounts, please see our Beginner Bitcoin Security and Advanced Bitcoin Security level guides
Key Expert Bitcoin Security Points
Beginner Security: Ensure you do everything in our Beginners Guide To Bitcoin Security
Advanced Security: Ensure you do everything in our Advanced Guide To Bitcoin Security
Verify Files And PGP Key Signatures: Don't install unverified wallets or files
Expert Hardware Crypto Wallet Security: Consider using Trick PINs or Decoy Wallets
Multisig Wallets: Learn about, setup and start using Multisig wallets
Multi Vendor Hardware Wallet Setups: For most, avoid using multi vendor Multisig wallets
Expert Computer Security: Get a dedicated device for your Software Wallet and isolated it
IRL Security Best Practices: Stay anon, avoid in person trades and keep good company
Expert Bitcoin Security
Firstly, you can get a full run down on what each of our levels entail and where you might fit into them by looking at our Understanding Bitcoin piece or this overview table below. For this Expert Bitcoin security guide we are only targeting people that have serious investment funds. For most people, this is an amount that represents either significant portion of, or their entire life savings and is unacceptable to loose, so security precautions get pushed to the extreme.
Our top priorities for this site is to help everyone learn how to safely and privately buy, use, invest and grow wealthy with Bitcoin, so know that this piece is just the start of our security information.
As Expert level security is quite a bit more nuanced and complicated, this guide isn't so much focused on telling you exactly how to use all the various possibilities, but more about beginning the conversation on them. We'll be adding and expanding on each of the below points in much more detail as time goes on with their own separate pieces and how to guides where needed.
If you haven't already, please also make sure you've already read and done the security steps outlined in our Advanced Bitcoin Security guide which broadly include:
Use A Hardware Crypto Wallet: Use a Hardware Wallet and ensure it's bought anonymously
Advanced Wallet Security: Ensure 2+ backups at 2+ locations with proper location security
Balancing Security And Complexity: Consider extra security measures carefully
Use Your Own Full Bitcoin Node: Buy or build a full node and connect your wallet to it
Advanced Computer Security: Ensure your network, mobile and PC are properly secured
Test Your Backups Regularly: Routinely test your backup ensuring you can spend funds
Security Through Anonymity: Don't tell friends, family or social networks you own bitcoin
Verify Files And PGP Key Signatures
The first thing we're going to cover is about being much more cautious about the software you use and download. While we've recommended Bitcoin Wallets like Sparrow Wallet in our previous guides, it's now critical that you make sure you're verifying the software files and PGP key signature each and every time you download or update the application.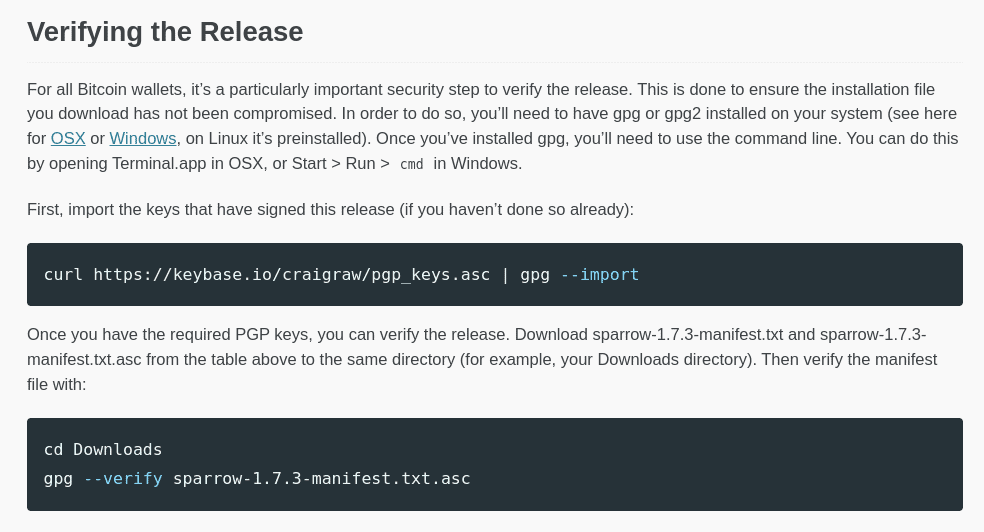 This procedure is generally the same for most programs, but can differ slightly depending on how the developers set things up. Either way it's broken down into two parts. The first is verifying the signature of the manifest file while the second is checking the binary checksums.
Verifying the signature is done by confirming that the PGP Key signatures given on the website match the ones in the downloaded files. To do this you have to first download and import the developers PGP Key (in the image above it's Craig Raw) and then do the signature verification check as shown in their example.
The second part of this goes even deeper and checks the binary files to make sure that the checksums match up. Once again you follow their instructions and if you get an "OK" back then you know the two checksum hashes match.
If it sounds like we're glossing over the details a bit here it's because we have an upcoming piece that will go through the exact commands step-by-step, so stay tuned!
Only once the update or new download passes these tests should you install the software.

This post is for Athena Alpha Pro subscribers