The D'CENT Biometric Wallet is unfortunately, one of the worst, most insecure hardware wallets we've rated or reviewed. While it would be nice to only review the best units, it's important to also analyse the bad ones too so that we can make it clear what things you should avoid and why.
Our D'CENT wallet review isn't pretty and while we certainly don't enjoy bad mouthing what is likely a lot of hard work done by D'CENT, hopefully they can take our criticism gracefully and use it to help build a better version next time.
Pros
Easy to use & detailed user guides
Fingerprint scanner implemented well
Supports multiple languages
Cons
Firmware is not publicly available
Firmware is not FOSS or reproducible
Cannot be bought with Bitcoin
Introducing The D'CENT Biometric Wallet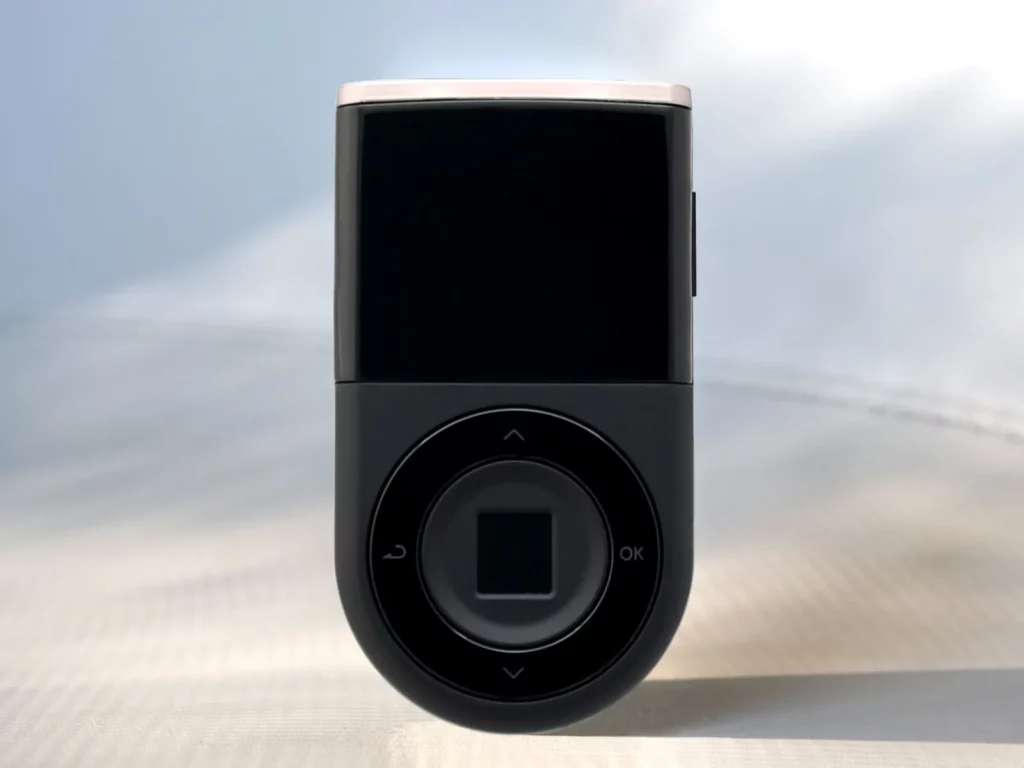 The D'CENT Biometric Wallet, made by South Korea based IoTrust, starts out big claiming that it's "the most advanced cryptocurrency hardware wallet". We're pressing "X" for doubt on that one, but it also wouldn't be the first time a company has made overly ridiculous advertising claims so we'll let it slide.
Quite unique to its design is the biometric security component which, while common on phones, isn't present on very many other hardware wallets. There are a few others that have a built in fingerprint sensor such as the NGrave Zero and the newer Keystone 3 Pro, but generally it's not touted as one of the biggest device features.
Product Specifications
What's In The Box?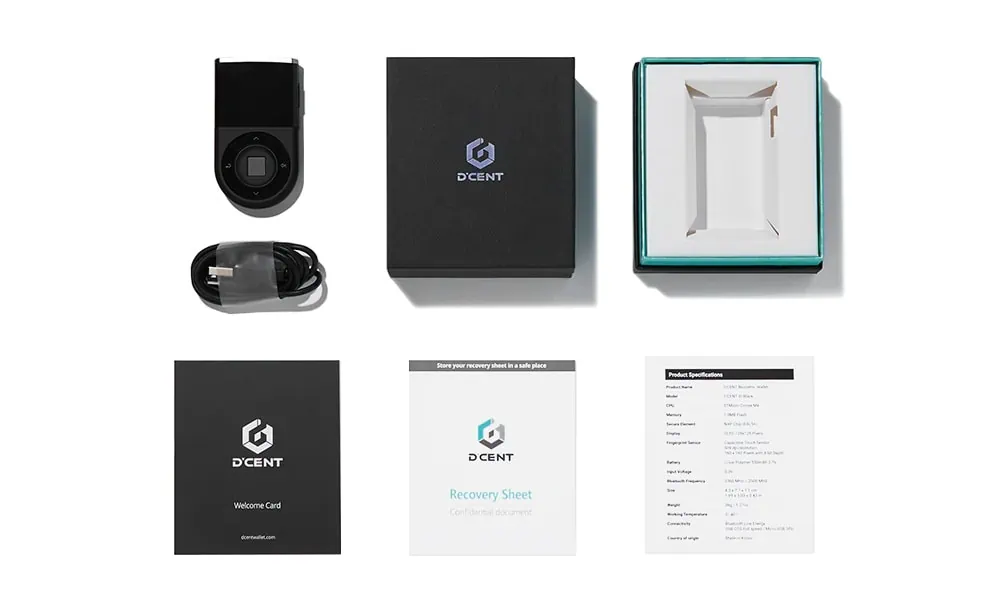 D'CENT Biometric Hardware Wallet
USB-A to Micro USB Cable
Recovery Card (2)
User Manual
Getting Started Card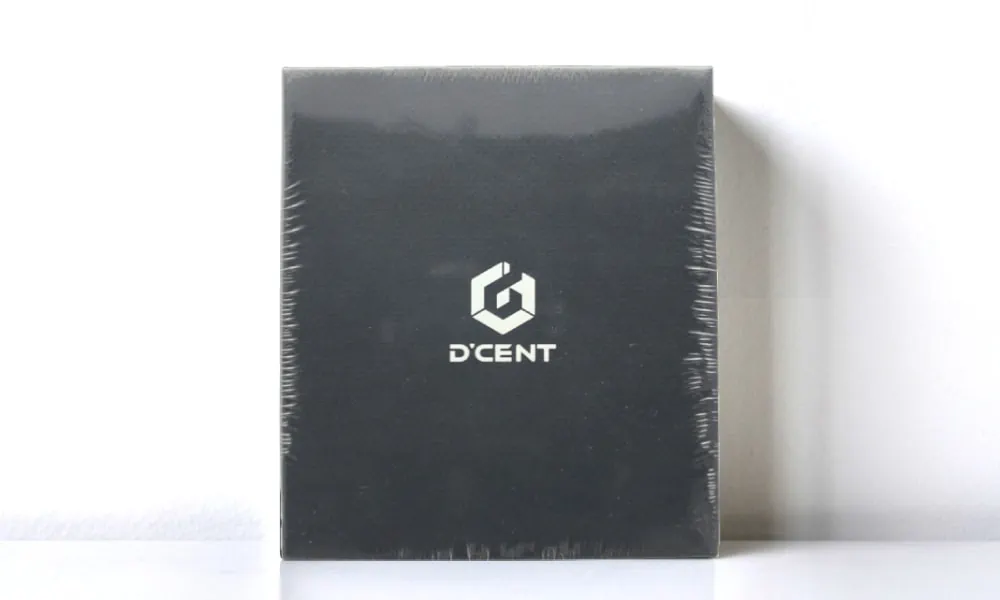 Quick D'CENT Wallet Review
Design & Hardware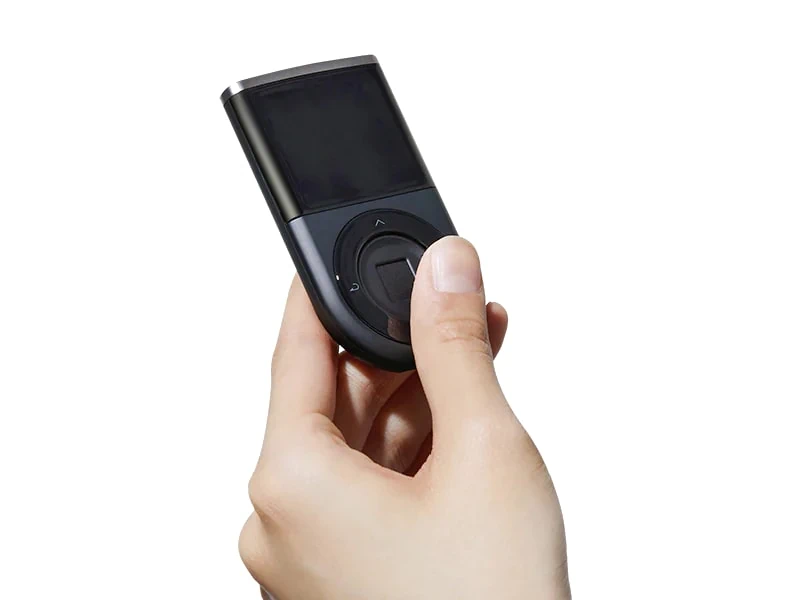 First impressions of the device is that it's a lot smaller than we expected and has some serious bezzles. Under the display area there's four buttons, the fingerprint scanner in the center and a power button on the side.
The materials are all plastic with a rubber backing which doesn't exactly make for a particularly premium feeling design. The buttons are solid, however we're not sure how the fingerprint sensor will fair over time.
The Physical Design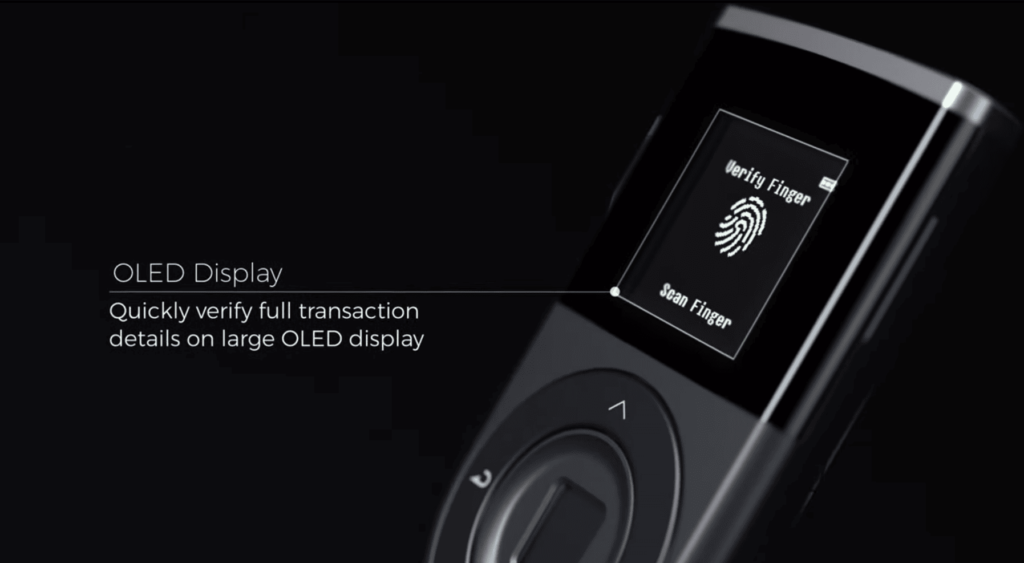 Coming in at 43.2 x 10.8 x 78.2 mm (36 cm³) and weighing 36 g / 1.27 oz the D'CENT hardware wallet has a 1.10″, 128 x 128 px OLED display that's clear, but isn't particularly big given the overall size of the device. In the age of smartphones with near zero bezzles, it would have been nice if they had opted for a bigger screen that actually takes up all the real estate that's available.
One of the main selling points D'CENT uses in its marketing language is its "Large OLED Display", however at 1.10″ it's smaller than virtually every other cold wallet out there. Even the Ledger Nano S Plus, a device that comes in at a quarter of its total volume has a bigger 1.18″ display!
Connectivity Options
The D'CENT hardware wallet offers both USB and Bluetooth connectivity, however there's no NFC or camera for QR code scanning. The micro USB port is also very disappointing to see as USB-C has been around since 2014. How a device launched in 2020 still isn't using it is beyond us.
Other Hardware Features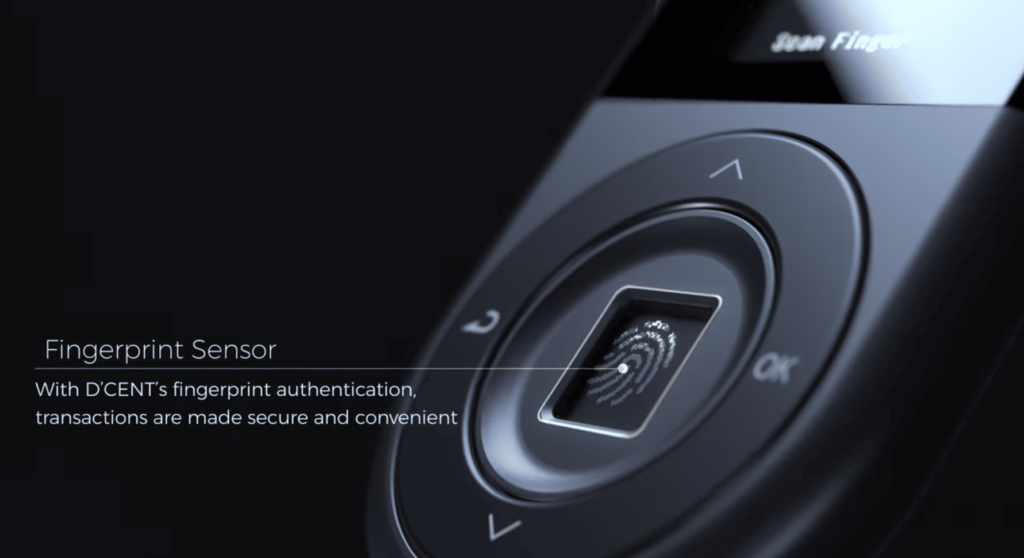 Besides the fingerprint sensor the device also comes with a built in 585 mAh battery which enables completely cable free use together with the Bluetooth 4.1.
Beyond that there isn't much other hardware features to talk about unfortunately. There's no security lights or brick PIN features or even other color options. While it does have the EAL5+ certified Secure Element chip, this is quite common with most other hardware wallets out there.
D'CENT Biometric Hardware Wallet Warranty
The D'CENT Biometric Wallet comes with a 1 year warranty as specified on their refunds page. The warranty seems quite fair and you can even get a full refund if you initiate a product return request within 14 days after delivery. The device must be returned unused and sealed in the original package to qualify for this.
Security & Privacy

The hardware wallet comes nicely packaged with a security seal in place. The use of a biometric fingerprint scanner also gives the device a secondary layer of protection on top of the hardware wallets PIN that you have to enter when starting it up.
Each time you authorize an action on the device like the spending of funds, it asks you to scan your registered fingerprint before it completes the action. While biometric security such as a fingerprint isn't necessarily the strongest form of protection, as it's acting as a secondary layer in this case, we think it's a great addition that enables safe and fast transaction signing.
Unfortunately that's where the good news ends.
Code Openness & Reproducibility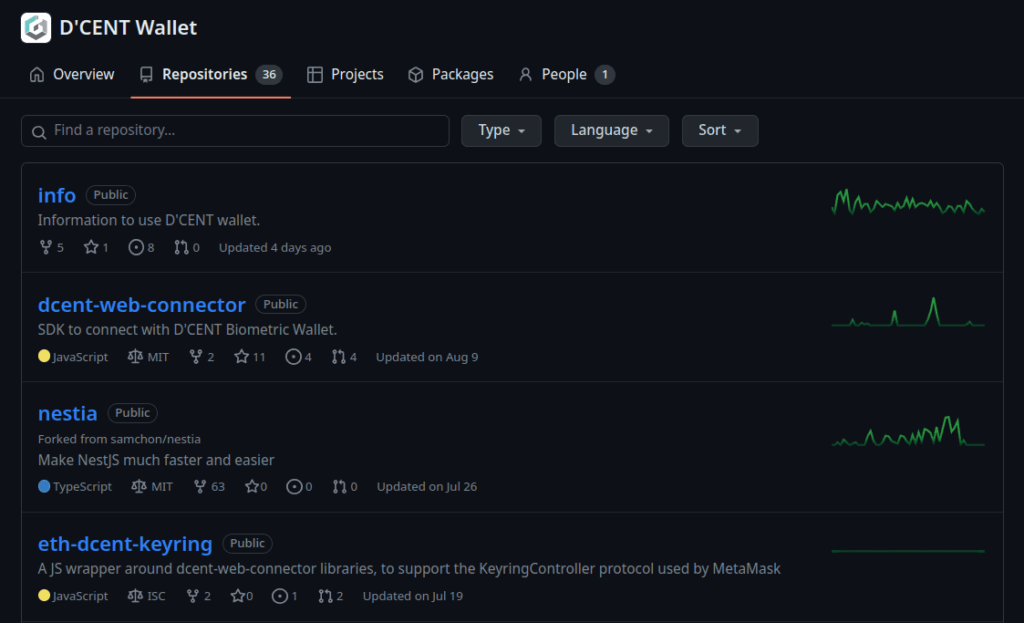 Any claims of "state of the art security" or being the "most advanced cryptocurrency hardware wallet" need verification. In order to verify something we need to be able to see and audit all code and hardware related to the claims.
Although D'CENT does have a GitHub account with a number of repositories, none of them are for the D'CENT Biometric Wallet or the D'CENT Crypto Wallet mobile app that it pairs with. As such, there is no way to verify any of their claims. It's literally just "trust me bro" which isn't acceptable in our view.
Seed Generation
Once again we have D'CENT making some strange claims with their marketing such as:
Unlike other products on the market, D'CENT supports secure private key generation from the device without connecting to additional software program.
As far as we're aware, all hardware wallets do this so it's not exactly anything special. What's also missing is how the D'CENT Biometric hardware wallet actually performs the generation of private keys.
With literally zero information and no open source code to review, they could have any number of massive security flaws hidden within their device and no one would ever know. That is until a hacker steals all your funds of course.
Seed Storage
The only place where the D'CENT Biometric Wallet slightly redeems itself is when it comes to storing your private keys.
This is done on the EAL5+ certified Secure Element chip which should keep it safe in most circumstances. Then again, we have no way to verify that this is actually where the private keys are stored and just have to take D'CENT at their word.
Interface & Ease Of Use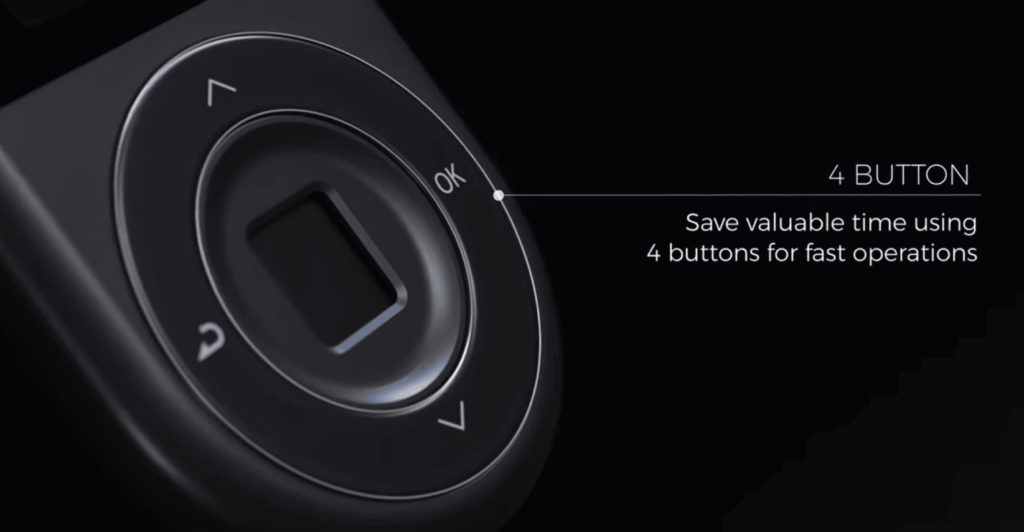 The interface on the hardware wallet is incredibly straightforward and simple to use. There are four large buttons for easy navigation and the OLED display that is easy enough to read in most situations.

When setting it up for the first time you'll need to register your fingerprint using the biometric fingerprint scanner. This process is similar to how you setup a fingerprint sensor on a smartphone and involves repeatedly pressing the sensor over and over with various parts of your finger. Within a few seconds it's registered and you can enroll up to 2 fingerprints.
User Interface & Speed
While the four buttons are big and easy to use when navigating the menus, they're not the best when it comes to entering words. This is only really required if you're recovering a wallet or verifying your seed phrase, which isn't very often, so not a big deal.
The hardware wallet also supports Passphrases and PIN protection with 4 to 8 digits. We were also pleased to see that once it generates your 24 word recovery seed phrase, it also goes through a verification process that asks the user to enter in all the 24 words to ensure you've written them down correctly.
What Crypto Is Supported By D'CENT Wallet?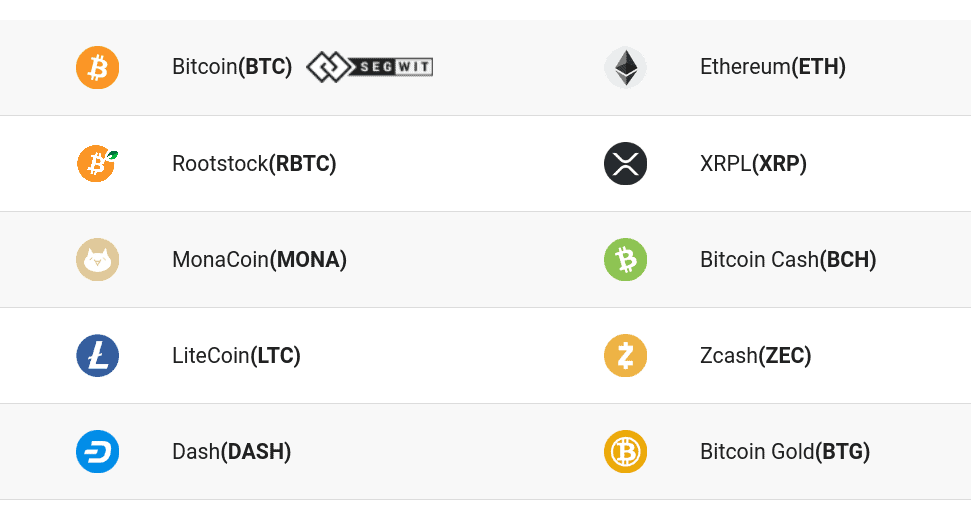 The D'CENT wallet supports over 50 blockchains and over 3,200 crypto assets according to their supported coins list which includes just about every altcoin you can think of from Bitcoin Cash to Ripple to the infamous Dogecoin. This is all done through their D'CENT app and although we absolutely don't support anything but Bitcoin around here, we know many people still use other coins.
While many mainstream sites and customers see this type of broad crypto assets support as a benefit, we just see the hugely increased attack surface area that all this extra software enables. Software security is hard enough with Bitcoin, but trying to maintain it with an ever bloated code base is essentially impossible.
While D'CENT likes to boast that it has enhanced security or top notch security, we very much doubt its the case given all the extra code required to support thousands and thousands of different cryptos, blockchains and more.
Compatibility & Connectivity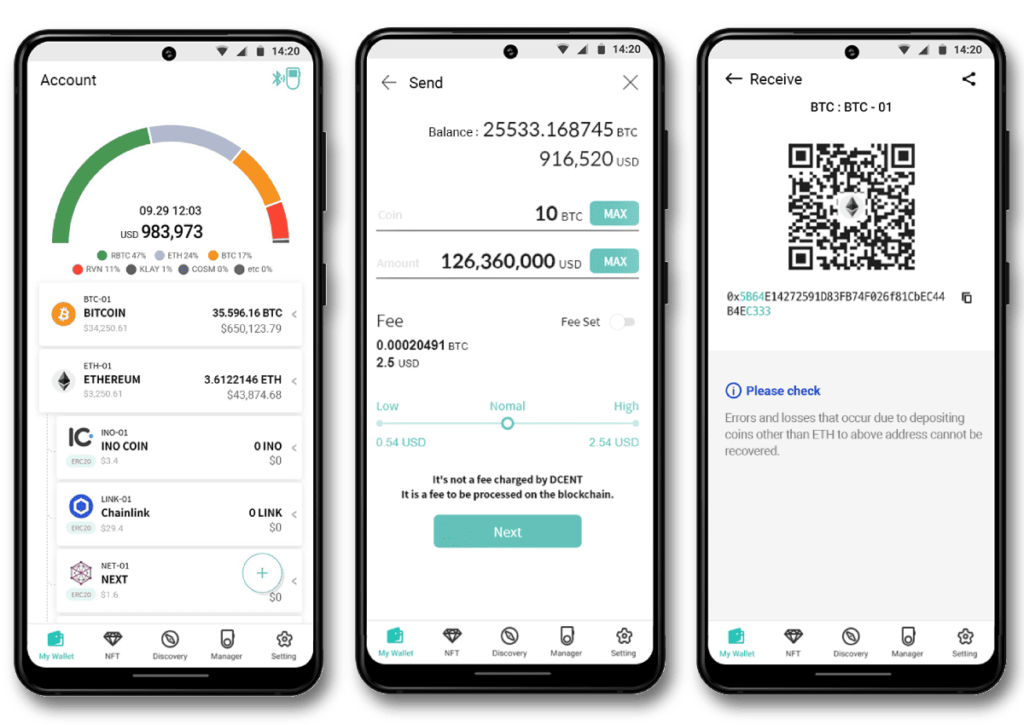 Core to the D'CENT Biometric Hardware wallet is its D'CENT Crypto Wallet. This is a mobile app that functions as the software wallet component. You can pair it with the D'CENT Biometric Wallet using either USB cable or Bluetooth connectivity.
Paring is simple and straight forward regardless of whether you're pairing it up with android devices or iOS devices. Just go into Settings -> Bluetooth, then choose your device. Enter the pairing code and the D'CENT mobile app will detect and sync automatically.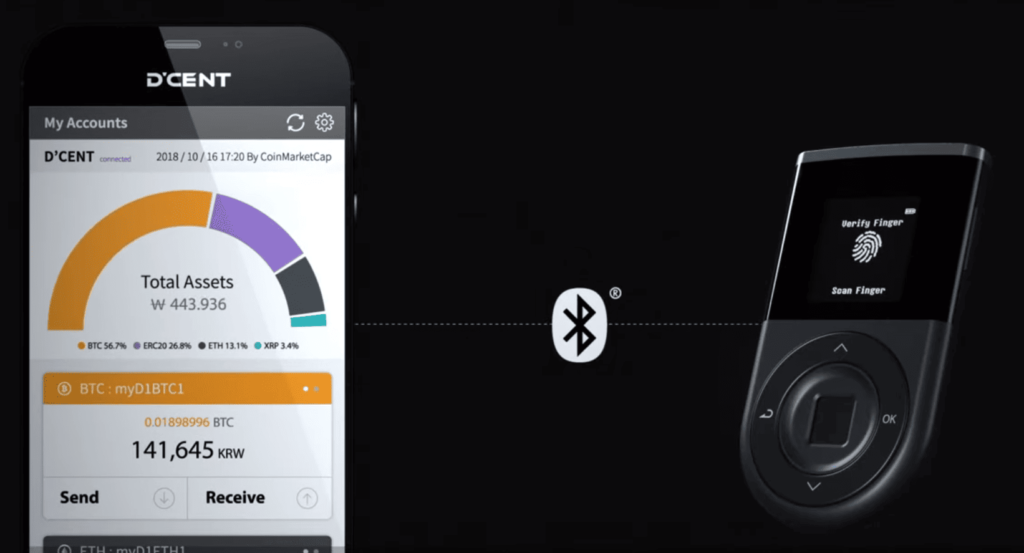 The D'CENT wallet app, while highly functional and easy to use, does unfortunately seem to be basically the only way you can interact with the D'CENT hardware wallet. While the hardware wallet can be used in conjunction with many third party wallets such as Coinbase, MetaMask or other wallet extensions, these are all connected via the mobile app.
As such, if D'CENT ever goes out of business or shuts down any servers that the app uses, your shiny wallet becomes basically a paper weight. We'd like to see at least some support for third party wallets.
Firmware Updates
Updating the firmware on the D'CENT hardware wallet was a bit of a mixed bag. On the one hand it was good to see that it's browser based, however it still requires you to download their D'CENT Bridge application in order to connect the hardware wallet to your browser and actually perform the update.
On top of this, their web based firmware update page doesn't seem to allow you to update your device unless you're using Windows or MacOS. When we attempted to access it using a computer running Ubuntu it thought we were a mobile device and refused us access.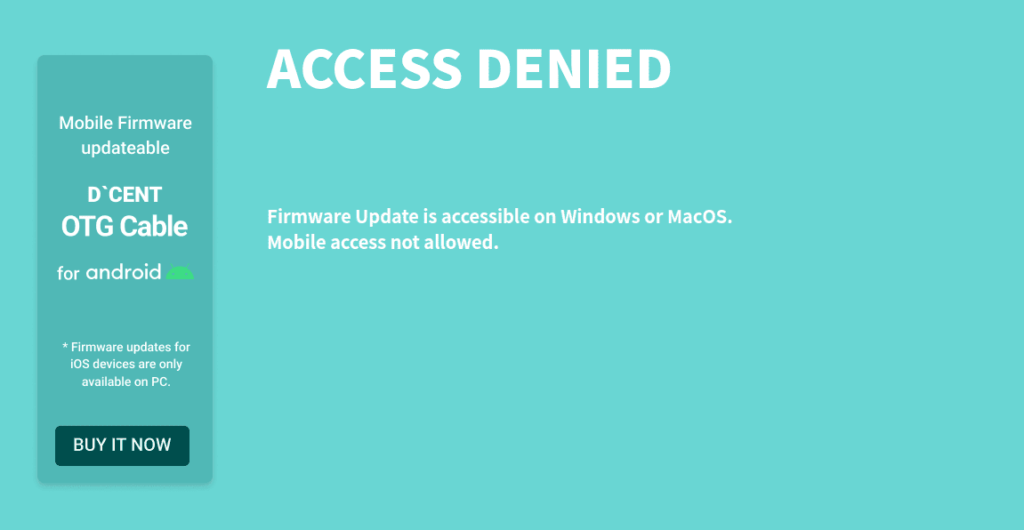 Once we used a Windows machine it let us pass, however if you do want to update the firmware via your mobile their D'CENT mobile app on the Google Play store has this option under the Manager tab. This function is only available on Android phones though.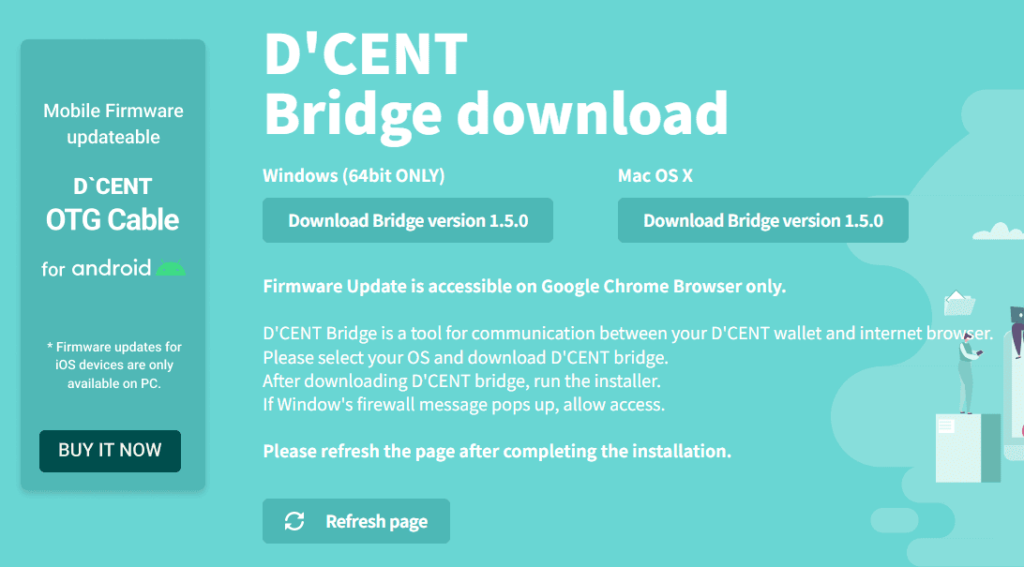 Once we installed the Bridge app the process went smoothly. You simply reboot the hardware wallet into boot mode by turning it off, then turning it back on while holding the OK button and Power button at the same time then hit the big Update Firmware button.
Supported Languages
One very positive thing we would like to note is that unlike many other hardware wallets out there, the Biometric Wallet supports multiple languages other than English including Korean, Chinese, Japanese and Spanish.
D'CENT Biometric Wallet Alternatives
Who Is This Wallet For?
To be brutally honest, no one
D'CENT Wallet Competitors
Whether you're wanting to spend the same amount of money on a hardware wallet, more money or even far less money there's plenty of other better options available that offer far greater security.
The Blockstream Jade is half the price yet offers a color display with a higher resolution and aces all our Privacy & Security tests. For roughly the same price you can get the BitBox02 Multi that again has a bigger screen and aces all our tests. It also has a 2 year warranty and supports just as many crypto assets if you don't want a Bitcoin only wallet.
Should You Buy The D'CENT Hardware Wallet?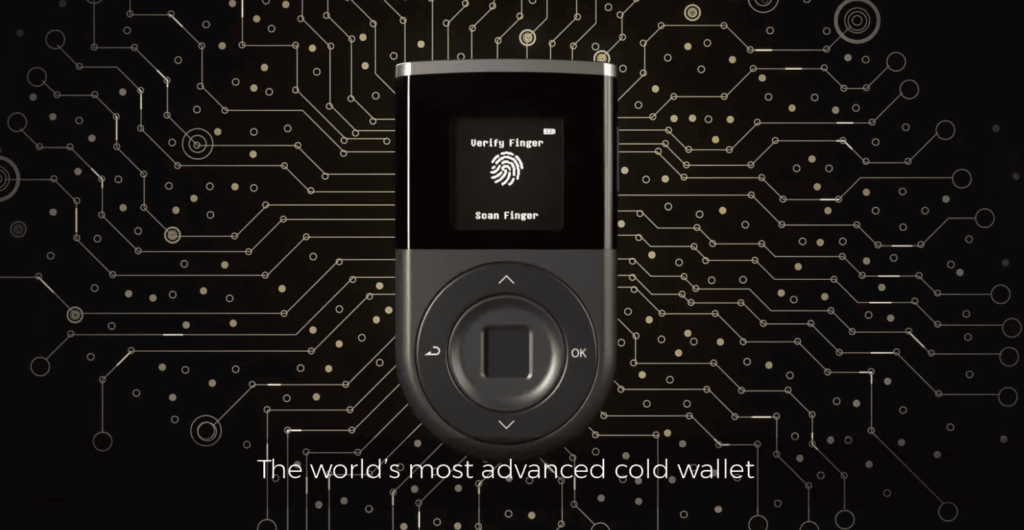 No. Regardless of whether you're Bitcoin only or want to risk your hard earned money on altcoins for some strange reason (please don't, you'll just become Exit Liquidity), there are far better options available to you.
The complete lack of openness with respect to their code base coupled with there being very little information on how they generate or store your private keys is a huge red flag to us. The lack of features like Multisig, USB-C, microSD card backups or even a camera for QR code input is also extremely poor given the price tag.
In short, please don't buy this hardware wallet. Instead, check out our huge Crypto Wallets page and get one that's actually worth your hard earned sats.
FAQ
How Safe Is The D'CENT Wallet?
Given there is no way to view or verify any of D'CENT's software or claims, we classify the D'CENT Wallet as being unsafe and unfit for use by anyone.
What Happens If I Lose My D'CENT Wallet?
If you lose your D'CENT wallet you can fully restore your funds provided you have your 24 word seed phrase backup. This can be used with any compatible wallet, however it is usually recommended to purchase another D'CENT hardware wallet to ensure the best support.
How Do I Activate My D'CENT Wallet?
To activate your D'CENT wallet simply turn it on. The setup process does not require any computer or phone app to be connected and it generates your new wallet entirely on the device.
How Do I Connect My D'CENT Wallet?
You can connect the D'CENT Biometric Hardware wallet to your Android or iOS phone using their D'CENT Crypto Wallet mobile app. This can be done via Bluetooth or a USB cable. Start by downloading the mobile app and then either connecting the USB cable or going to Settings -> Bluetooth on the hardware wallet.
What Is A Biometric Wallet?
A biometric wallet is a hardware wallet that uses biometric security to authenticate the user. This could be facial recognition or in the case of the D'CENT Biometric Wallet, a fingerprint sensor.
Is D'CENT Wallet Open Source?
No. While D'CENT does have a GitHub account with a number of repositories, neither the D'CENT Biometric Hardware wallet nor their D'CENT Crypto Wallet mobile app is open source.
Who Owns D'CENT Wallet?
D'CENT is owned by IoTrust Co., Ltd, a company that is registered in Gangnam, Seoul in the Republic of Korea, otherwise know as South Korea.