The Jade is a small, but powerful and highly secure hardware crypto wallet that is built by Blockstream with a focus on transparency and being Bitcoin only. While doing our Blockstream Jade review we used their newly released firmware that enables not just more features, but an entirely new interface. Should you buy the Jade over say, the Ledger Nano S Plus? We think so…
Pros
Can be bought with Bitcoin
Easy to use & detailed user guides
Supports air gap, multisig & more
Introduction To Blockstream Jade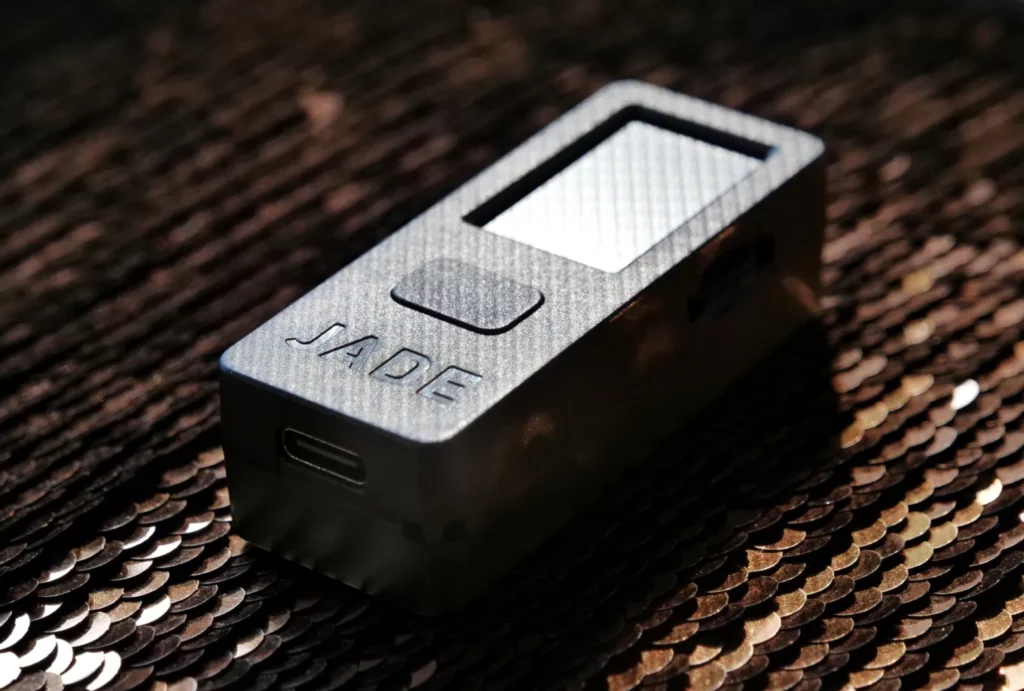 Company Info
The Jade was launched in 2022 which is quite recent, however it's made by Blockstream, a veteran in the Bitcoin industry that's been around since 2014. As well as the Jade they also make a number of other hugely important things for Bitcoin such as the Liquid Network (a side chain to Bitcoin), Core Lightning, Green (a software wallet) and even literal satellites that beam down the Bitcoin Blockchain from space.
So while the Jade itself is new, it has the full backing of a company that is and has been Bitcoin only for a very, very long time. It's clear right from the start that they know exactly what they're doing and we're glad to see such a mature company getting into such an important product.
Product Specifications
What's In The Box?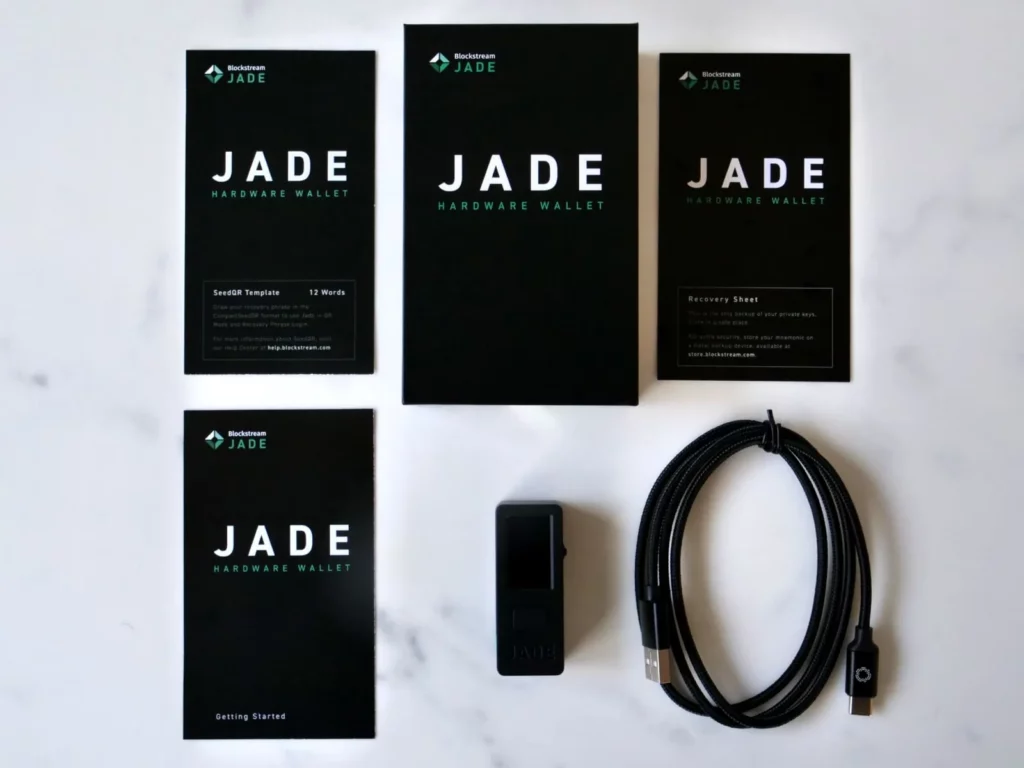 Jade Hardware Crypto Wallet
Braided USB-A to USB-C Cable
12/24 Word List Card
12 Word SeedQR Card
Getting Started Card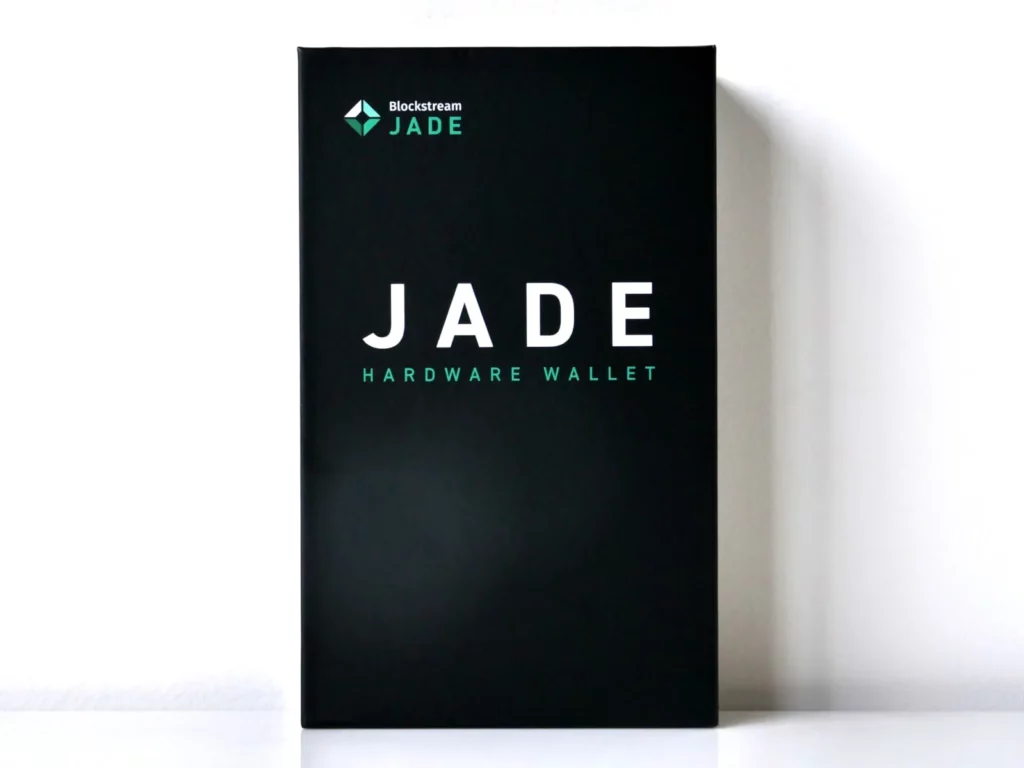 Quick Blockstream Jade Review
Design & Hardware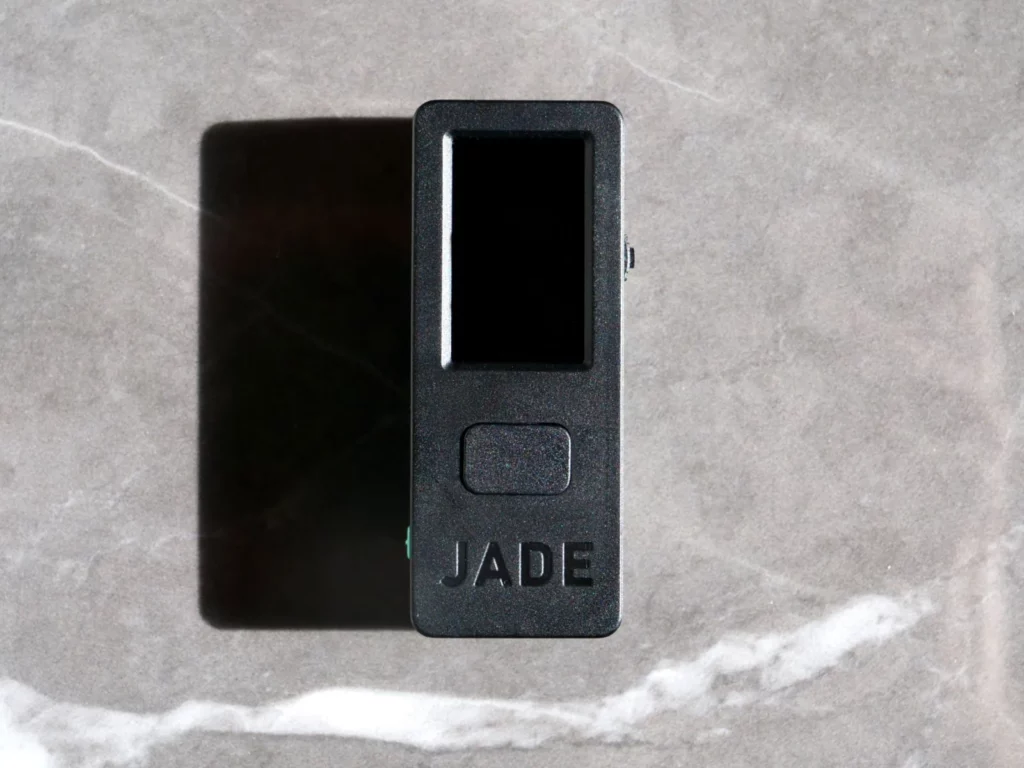 Build Quality & Durability
We received the black unit, however there have been a few other limited edition colors in the past including a transparent model before. Blockstream will soon be launching a number of different colors to match the new software release. All are transparent and include black, blue, orange, green and clear.
The build quality is precise and our unit didn't have any flaws or issues that we could detect, it was also super cute and small. That being said it's made from a pretty standard plastic resulting in it not feeling or looking super premium. While this is likely intentional in order to keep the costs down and it still looks and feels fine, just be aware that the Jade isn't some super premium device made of metal and glass like a premium smart phone might be.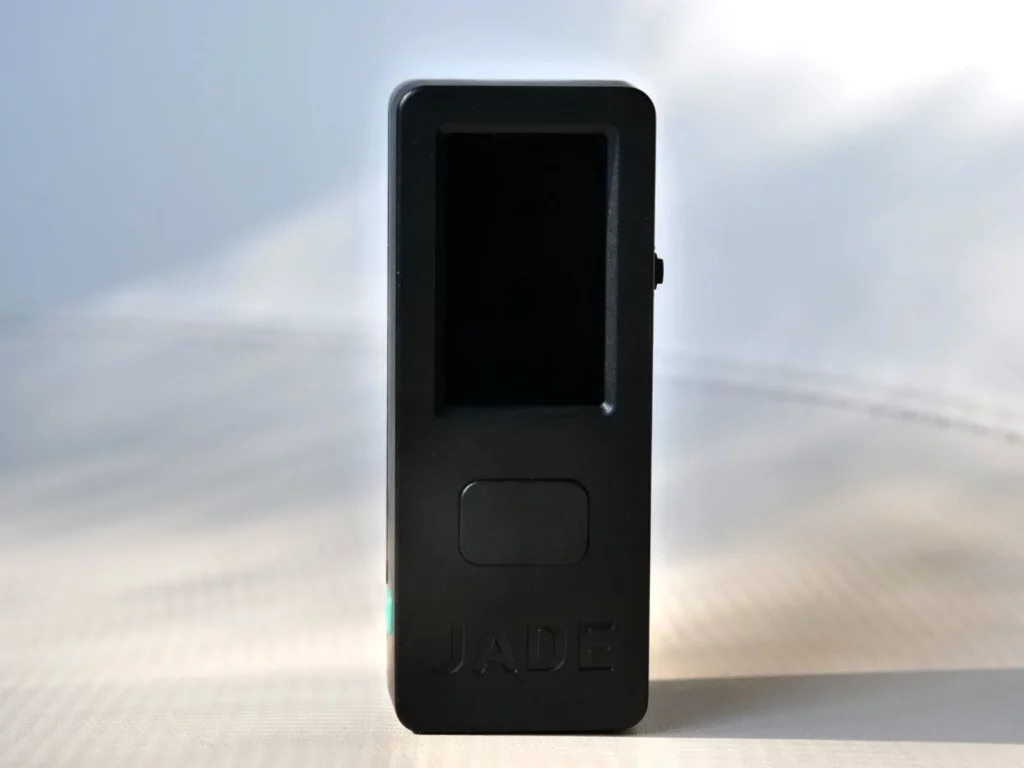 Due to this plastic build material, it's also likely that it won't last as long as some other hardware crypto wallets out there or might break easier if it gets a few bumps or is thrown around a bit. The scroll wheel and buttons all seem very solid and should last for a number years. The main front button also has a very satisfying "click" to it and they're all more than big enough to use without any issues. The green power button is a very nice touch too that we really liked!
The hardware wallet itself weights in at a super light 22g / 0.78oz and its size is 60 x 24 x 17 mm (24 cm³). This is quite small, however there are many other hardware crypto wallets that are smaller even though they have a (slightly) bigger screen. For example, the BitBox02 is about half the size and yet has a bigger 1.38″ screen. Regardless, you're not going to have any troubles hiding the Jade as it's still very small!
Screen Size & Type
The Jade comes with a 1.14″, 16-bit color IPS LCD display that has a resolution of 240 x 135. It's clear due to its high pixel density, but is quite tiny all things considered. In a world of mobile phones that are as big as tablets used to be, it's not going to be easy to read unless you've got pretty good or perfect 20/20 vision.
With the latest firmware update to version 1.0.21 text size is increased quite a bit making things much easier. Whether a small screen will bother you personally is a personal thing though as some prefer a small screen for added privacy, while others prefer a bigger screen so they can see the information easily and make fewer mistakes.
Connectivity Options
Jade can be connected to your desktop, laptop or phone via its female USB-C port as well as via Bluetooth. You can also operate it entirely in air gap mode using its camera and QR code functionality. The Jade does not have a microSD card slot or NFC built into it which means you cannot use these for its air gap operation. It does come with a braided USB-A to USB-C cable that is a good length and good quality.
We would have liked to see a microSD card slot included as we believe easy creation of an encrypted backup is excellent user interface design. This is even more important when using a hardware crypto wallet for Multisig as you need to backup multiple pieces of information, not just the seed phrase.
Other Hardware Features
The Jade packs a 240 mAh rechargeable, non-removable battery so it can be operated wirelessly or in its air gapped mode without having to plug it in. We found this super handy and it definitely felt like a really premium and simple user experience when used with SeedQR codes which we'll get to in a bit.
Embossed on the front is a large "JADE" text while on the back is the "Blockstream" logo and text. While the front Jade text looks quite nice, some may prefer their hardware wallet to have no markings on it so that others can't identify what it is. This is the same case with the included USB cable as it has the Blockstream logo on it as well.
Security & Privacy
Code Openness & Reproducibility
No true analysis of security or privacy can be done unless we can independently review everything, specifically the firmware that is run on the device. The firmware for the Jade is not only available, but it's also Free and Open Source Software (FOSS) as covered by it's MIT and GPL-3.0 licenses. You can view the GitHub for it here.
Beyond this complete transparency, the Jade firmware is fully reproducible with full build instructions on their GitHub read me file. Going even further, Jade's hardware is also fully open source too. In the same GitHub repo there is a Hardware folder that contains numerous files including its Bill of Materials (BoM), board schematics and more. This level of transparency is all but of unheard of by most other wallet manufacturers out there.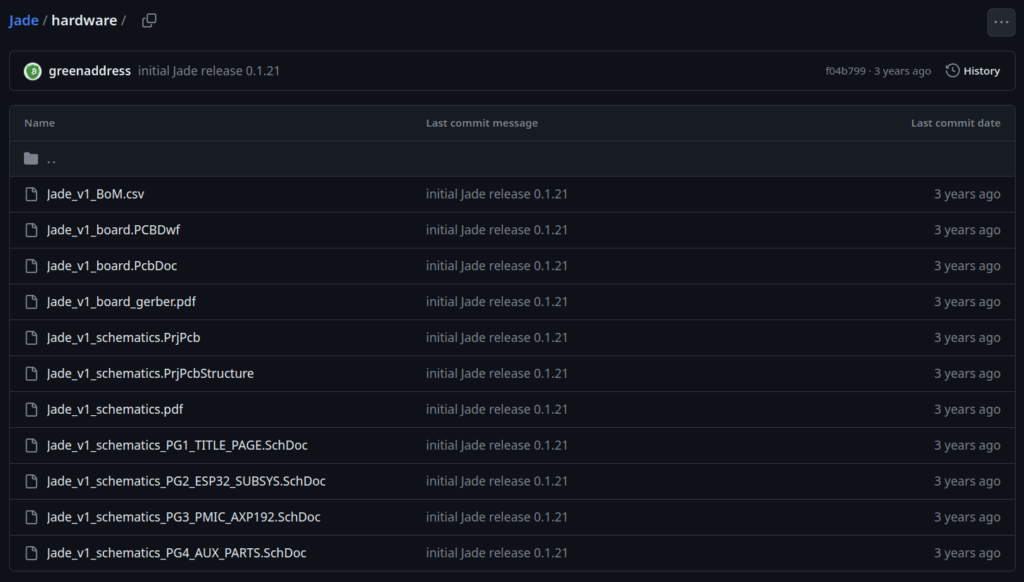 Jade scores absolute top marks in this section as everything, from the circuit board to the entire code base is free, open, transparent and reproducible. This is amazing work and is the gold standard for crypto wallets as far as we're concerned.
Seed Generation
Also paramount to a crypto wallets security is precisely how it generates your private keys as this is what everything is derived from. At the root of this is a good source of entropy as this is what allows for your seed to be truly random and thus, secure. As per Blockstream help articles:
While Jade is running, entropy is generated from various independent sources and sensors: User input, CPU counters, battery state, ambient temperature, multiple images taken with camera during boot, built-in cryptographic-strength hardware number generator and entropy from the Blockstream Green companion app

Blockstream
You can also create your own seed from any secure third party seed creation method such as dice rolls and import that seed via their Recover Wallet function or SeedQR. This, together with the multiple unpredictable physical processes used to generate the seed ensures excellent security for your new wallet.
Seed Storage
A securely generated seed means nothing if it's not managed and stored securely. Here once again the Jade is rather unique as it has no Secure Element chip onboard yet still securely stores the seed.
A Secure Element (SE) is just a computer chip that has been specially built to withstand physical attacks and tampering with. It's critical to protect your seed phrase in the event an attacker gets a hold of your hardware wallet and tries to extract the seed from it.
As Secure Element manufacturers enforce strict NDAs for their devices it means the Jade couldn't use it if it wanted to be fully FOSS. While not using a SE allows them to be FOSS, it also means that the seed is now stored on just regular old computer chips which aren't protected from physical attacks. To get around this:
During the Jade initialization process, users will be asked to create a unique PIN. This PIN is used in combination with a blind oracle managed by Blockstream to encrypt Jade's key material – at which point there becomes three secrets needed to decrypt your recovery phrase and spend funds: 1) User-generated unique PIN 2) Jade secret 3) Oracle secret

Blockstream
This is quite a unique way to protect a users seed and you can even run your own blind oracle server if you wish. Blockstream goes into a good amount of detail in their support questions, but essentially it means that while your seed is stored on a regular computer chip, it's encrypted.
If an attacker was to steal your hardware crypto wallet and somehow physically extract the seed phrase and your PIN it'd be useless as they wouldn't have the all the parts of the decryption key due to the third part being stored on the remote blind oracle server.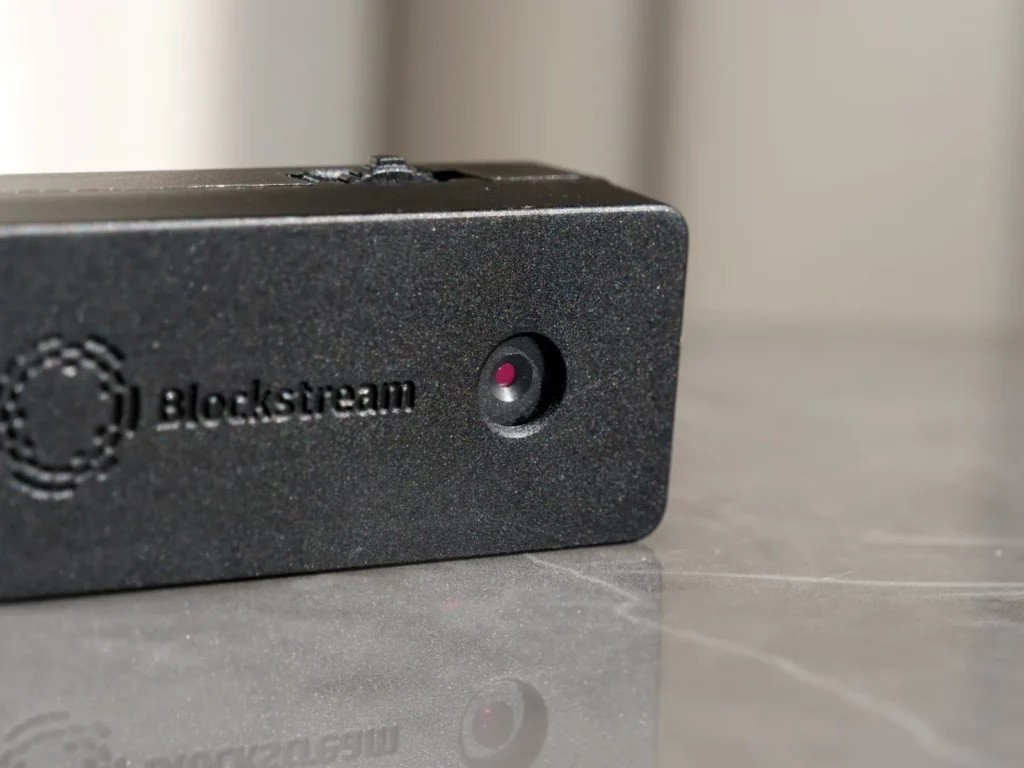 If you still don't trust them or the idea as a whole you can also configure the device to completely delete and forget your seed each and every time it's turned off in what's called Stateless Mode.
When you turn it back on afterwards you can either re-enter your seed phrase manually – a rather tiresome process! – or by scanning a SeedQR card that's provided. This renders the crypto wallet itself completely void of any and all information to protect. It's as if it's a brand new device each time it's turned on.
Users Data & Privacy
Blockstreams privacy policy is quite straight forward and simple to read which is a nice change. It states that they'll only disclose your private information to third parties if it's required:
We will not authorize the release of this information to anyone outside Blockstream, except: to third party service providers who perform functions on our behalf such as to provide you with the content and Services that we offer you through our Site; to conduct quality assurance testing; to facilitate purchase and shipping of products purchased through the Blockstream Store; to provide technical support; and/or to provide hosting and other services to Blockstream

Blockstream
This all seems quite reasonable, however it doesn't mention anything about user data retention time. When we reached out to Blockstream directly they let us know user data that is entered in during purchase is deleted after 90 days. This is much better than most companies that store user data for multiple years or that sell it to others.
We still don't recommend buying any crypto wallet with your real world identity. Grab a Proton Mail address via Tor and order it that way, pay with Bitcoin (which Blockstream accepts) and get it delivered somewhere safe under a different name. Alternatively buyers can buy a Jade with cash at some of their certified resellers or purchase one at one of the many conferences Blockstream makes an appearance at.
Interface & Ease Of Use
Blockstream has just recently launched their brand new v1.0.21 firmware which has completely revamped the entire interface of the Jade. This update addressed a number of issues we had previously and gives the Jade a much better workflow and overall user experience. Jade also has two main ways it can be used as briefly touched on before:
Traditional Mode: This mode operates like most other crypto wallets. Your seed phrase is stored on the device and you need a PIN to unlock and access it. The seed is encrypted in cooperation with a blind oracle server. This means that in order to use the Jade in this mode, it must be connected (via USB or Bluetooth) to a companion app
Stateless Mode: This mode operates with the crypto wallet never storing any information at all. Each time you power it on, you have to enter in your seed phrase. There is no PIN because there is no actual sensitive information ever stored on the crypto wallet. This mode is meant to to be used with SeedQR, an open standard developed by SeedSigner that stores your seed phrase as a QR code instead of 12 words
User Interface & Speed
While previously the user interface was mildly confusing to navigate, the new update makes it dead simple to know where you are and how to navigate back and forth. Menus and icons are consistent and things are set out in a logical way that just makes sense. Navigation speed is excellent and you quickly get used to the scroll wheel and main button combo.

Menus are displayed nice and big on the screen and we have no troubles reading them. You can also change the main color theme to a number of different colors such as orange, blue, black, grey or opal. When it comes to displaying of an address things do get a bit.. squintier. It's certainly much better than before, but we feel there's still room for improvement.

When confirming a receive address on the device there's approximately half the screen that's left empty which seems a bit odd. After reaching out to Blockstream they state this is due to not being able to do dynamic font sizes. As a result they have to pick one size and while the above address doesn't fill up the whole screen, longer addresses such as multisig or xPub do fill it up completely and making the text bigger wouldn't be a good user experience.
Blockstream provides a full set of user guides and videos demonstrating how to use basic and advanced features in a clear and simple to follow way on their support website. Updating the firmware was a breeze too and even if it fails, like it did once for us, it doesn't brick the device and a simple reboot gets you back to where you need to be. Upgrading can be done in three ways:
Using Blockstream Green
Using their Web Portal
Using command line
One area where they do fall down a bit though is that the firmware and all user guides are only available in English with no other languages supported. While multi language support is no small task, we feel that there's a huge void with crypto wallets when it comes to supporting multiple languages and it'd be great to see Blockstream take the lead on this one given their size and experience.
Compatibility & Connectivity
Jade is compatible with a number of excellent software wallets including their own Green wallet, Sparrow, Nunchuk, Specter, BlueWallet, Electrum, Keeper, Bitcoin Core and BTCPay Server.
Through this wide range of supported wallets it's possible to use Jade with basically every phone and desktop OS. It should be noted that Jade only works via Bluetooth with their own Green wallet. Also if you're using it with Linux you'll likely have to follow their support guide on adding your user account to the dialout, plugdev and uucp groups before it will work.

Setting up the Jade, also called initializing, is also possible without having to connect it to any device at all. To do this you simply turn the device on and scroll over to the Scan SeedQR menu option as shown above. From here you just scan your SeedQR code using the camera and in literally 5 seconds your device can be on and fully active, ready to sign.
This stateless mode is one of the quickest, cleanest and most secure ways of setting up your hardware device we've seen. It's also excellent for those that have multiple seed phrases or who use multisig wallets as you only need one hardware crypto wallet device rather than one for each seed.
Additional Features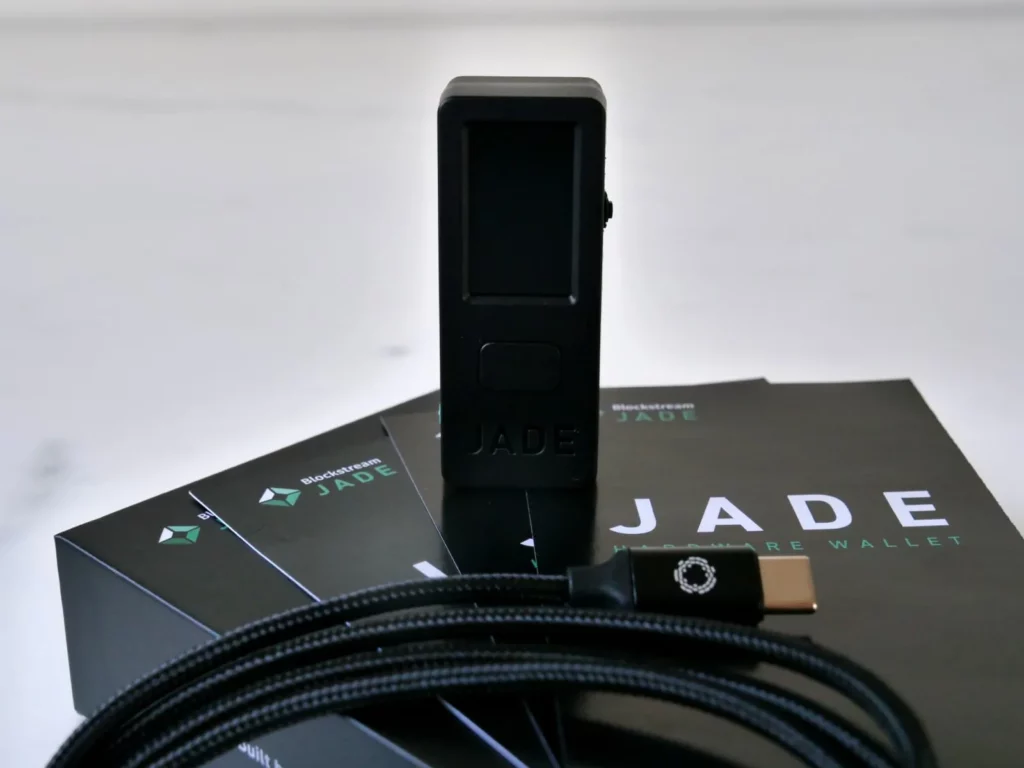 Moving beyond the general interface and the two different operating modes the features don't stop. Jade has full support for Anti-Exfil, multisig, BIP-0039 Passphrases and BIP-0085 Passwords. You can also use it as a "temporary signer" which allows you to enter in a seed phrase or scan a SeedQR code without doing a full device setup, kind of like logging in as guest on someones computer.
As the Jade doesn't have a microSD card slot, it doesn't support plain text or encrypted backups. It also doesn't support Brick PIN (where an entered PIN will permanently destroy the crypto wallet) however it does support a Duress PIN. This is where when entered, the Duress PIN will cause the Jade to display "Internal Error" and then fully wipe the device and any seed phrase on it.
Jade can also (hilariously) mine Bitcoin too! As an April Fools day joke they built and released Jade Miner. This allows you to mine bitcoin on your Jade crypto wallet at around 80,000 hashes per second. To put this in context, a modern Bitcoin Mining node will do 100+ TH/s. That's Terra Hashes per second or 100,000,000,000,000+ hashes per second. So yeah… it's not much but it's honest work!
You can also export xPubs once in an active session and use it as a 2FA authentication device via its One Time Passwords (OTP) features. This essentially make Jade act like a multifactor authentication app such as Google Authenticator.
Blockstream Jade Warranty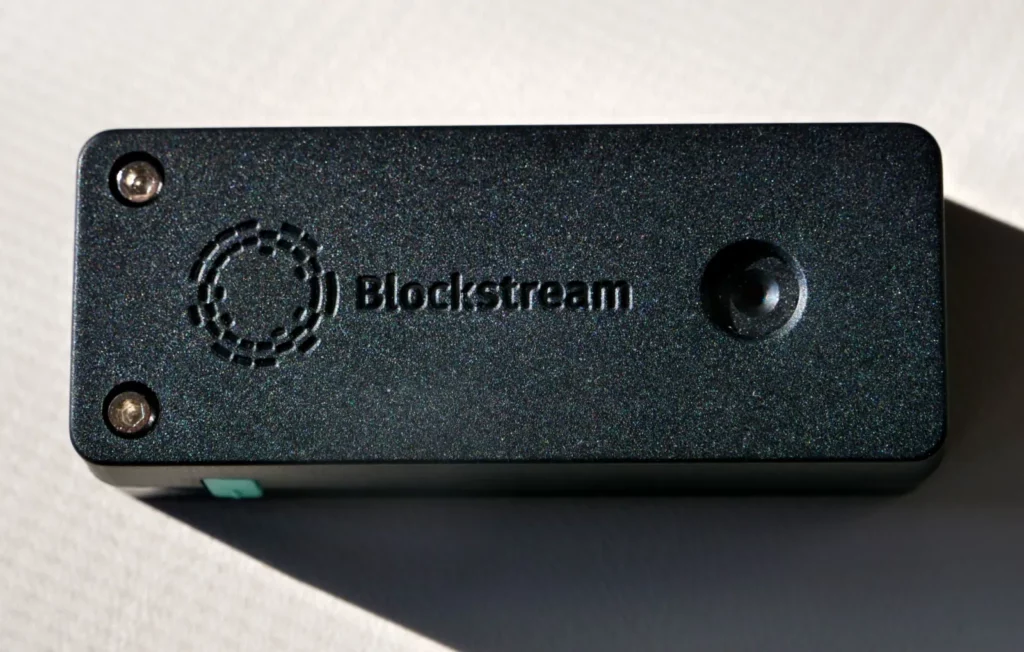 Speaking directly to Blockstream they state that within the first year, if the Jade has any issues that cannot be resolved with a software update, or other forms of remote support they'll give you a new one or a full refund. They also have a return policy where you can request to return it within 14 days after delivery.
You can get a full refund if it's unused and sealed, but if you've already taken it out of the box you may only receive a partial refund or no refund at all. If there is a fault with the Jade then Blockstream will pay for any return postage for US-based orders. If you've ordered from outside the US, then there is no refund for the return postage.
Regarding customer support, their website has a wide range of excellent documentation about how to use all the features of the Jade including videos. They also have a contact support button, however this is nothing more than a relatively dumb "chat bot" that just spits out links to their help articles. If you need actual support you will need to submit a support request.
Blockstream Jade Alternatives
Who Is This Wallet For?
Users who want a Bitcoin only wallet, built by Bitcoiners, for Bitcoiners
Users who want the highest level of privacy and security
Users who insist on using FOSS hardware and firmware
Users who want a crypto wallet that delivers excellent bang for buck features
Users who don't mind relatively small text
Blockstream Jade Competitors
Competing with the Jade are a number of other top notch crypto wallets such as the Foundation Passport, BitBox02, COLDCARD Mk4 and SeedSigner. The competition at the top is fierce and many of these are Bitcoin only, FOSS and have their own pros and cons when compared to the Jade.
The thing that sets the Jade apart from all these other top tier crypto wallets though is that it's so much cheaper, even though it's just as secure and has virtually all the same major features they have. It's a full 55%+ cheaper than even the cheapest option (the COLDCARD Mk4) and 67% cheaper than the most expensive option (the Foundation Passport). Use our referral code and it's even cheaper again!
Some are bigger and more expensive than the Jade. Some are not FOSS or cannot be used in air gapped mode. If you're looking for a stateless signer then check out SeedSigner. If you're wanting something with a bigger screen then the Foundation Passport would be an excellent choice.
Is The Blockstream Jade Safe & Should You Use It?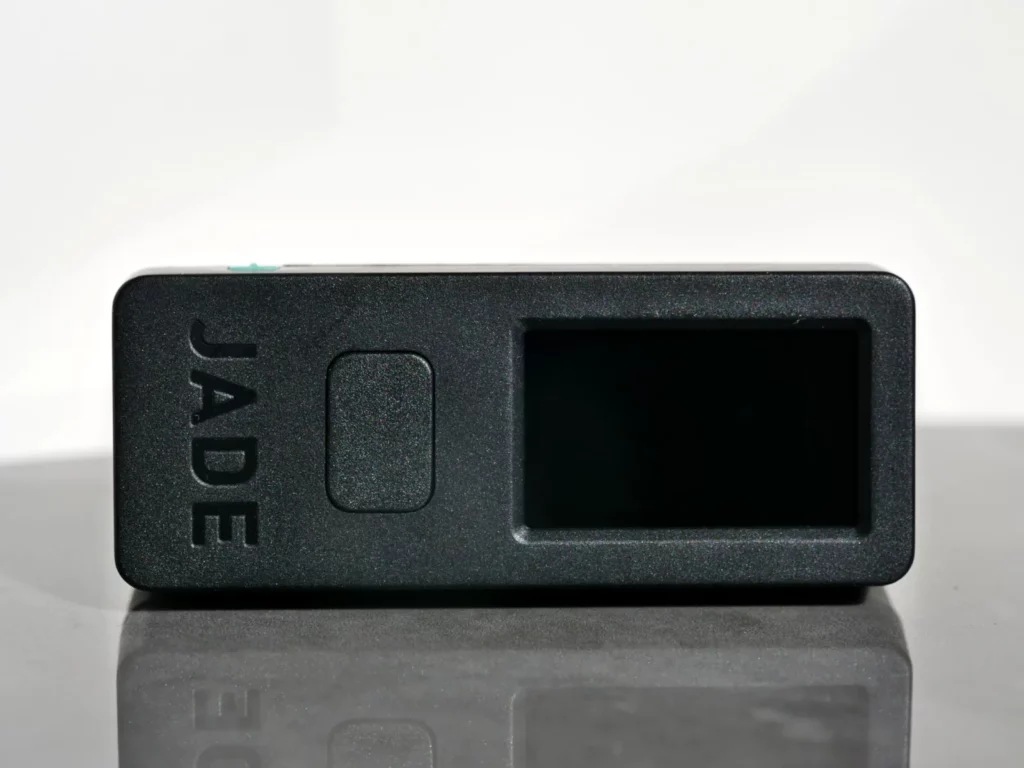 For both beginners and experts that are looking to safely store bitcoins we would absolutely recommend the Jade. It's a deceptively powerful device that can be used on all major operating systems and phones with wide wallet support that comes in at a super aggressive price.
With it's relatively cheap price tag compared to most other crypto wallets it also packs a huge slew of really important and useful features such as its stateless mode, SeedQR scanning, Bluetooth, multisig support, duress PIN and much more. This means it will grow with you as you learn more about all the fantastic things Bitcoin can do.
The new firmware update with its total revamp of the menu structure is fantastic and it only takes a few minutes of clicking around to become very familiar with the entire device. It's also backed by a veteran of the industry that has proven they know and are committed to Bitcoin, so you can have good confidence that it will receive support for a long time.
Our only main issues are that the size of some text can be a bit small and there's no support for microSD backups. These are relatively minor things – especially given the low price – however if you do have trouble with smaller text we'd probably not recommend the Jade for this reason.
FAQ
Is Blockstream Jade Safe?
Yes. The Jade scores top marks in our Security & Privacy section due to its excellent seed generation techniques as well as multiple seed storage options. The Bitcoin only focus also reduces attack surface areas and it can also be bought with Bitcoin.
Where Is Blockstream Jade Made?
Blockstream is a company based in Canada which is where the Jade crypto wallet is assembled and shipped from.

Why You Can Trust Us
Our comprehensive review process rigorously researches and tests all aspects of the products we review. If you buy through our links, we may get a commission, but opinions are always our own. Review our full Crypto Wallet Rating Methodology.