We're always on the look out for the best crypto exchanges and while we continue to add new ones regularly, today we're going to take a more in depth look at the best P2P Crypto Exchanges.
While you might think all exchanges work the same way, peer to peer exchanges work very differently to spot trading exchanges which is how platforms like Coinbase or Kraken work. By contrast using a P2P exchange lets you access custom payment methods, much lower fees all while giving you more freedom, more privacy and more security. It's a win-win-win-win and we've got the best ones!
Best P2P Crypto Exchanges
We review crypto exchanges based on fees, privacy, security, features, ease of use and more. Here are our best peer to peer crypto exchanges!
RoboSats: Top For Speed, Privacy, Security & Fees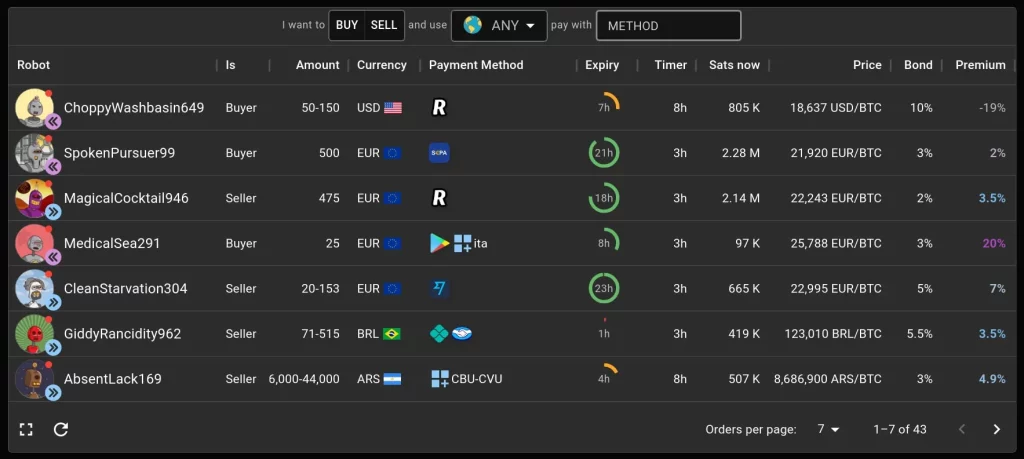 RoboSats (Tor Link) is a brand new P2P exchange that only allows buying and selling Bitcoin with fiat over the Lightning Network. It gets almost top marks as it aces all our tests besides the Centralised / Decentralised one. While it is currently not decentralised, it has future plans for Federation and doesn't require KYC info.
RoboSats allows you to use your own self custody wallet, works if that wallet is connected to your own Full Node and is set to work over Tor by default. It further protects your security and privacy by not only requiring no personal information, but by also randomly generating a new and fun robot account each and every trade.
With a wide array of supported currencies and payment methods, it works great in many countries plus ensures your sats arrive instantly by using the Lightning Network. You can also host your own copy of it on Node OS's like Umbrel and it's entirely open source.
For more info check out our step-by-step guide on How To Buy Bitcoins Using RoboSats.
Pros
Super fast over the Lightning Network
Cons
Requires Lightning Wallet
Requires a security deposit to trade
Bisq: Best Top For Security, Privacy & Trade Limits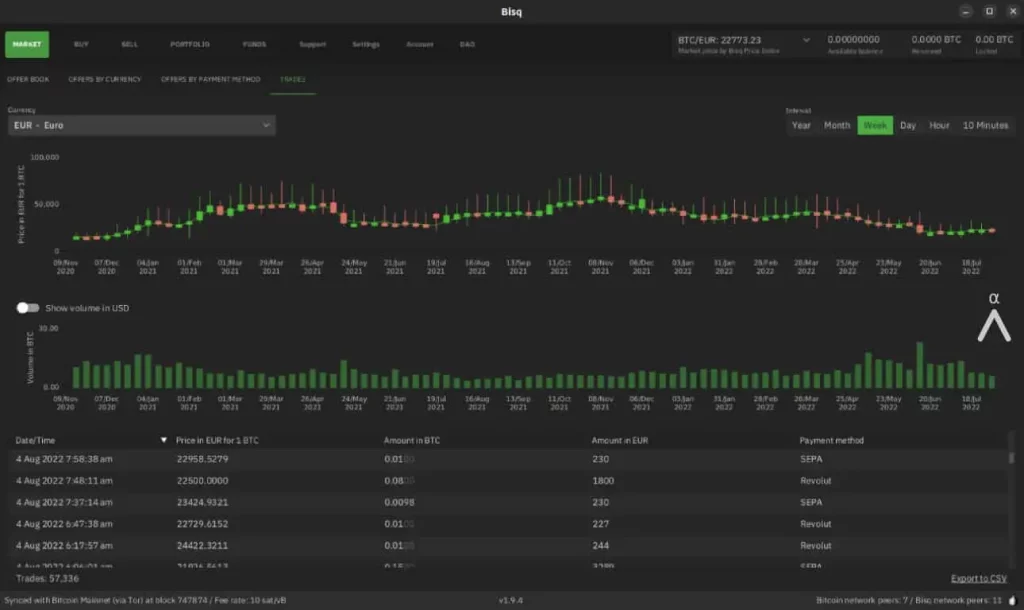 Bisq is an exceptionally well developed and decentralised P2P exchange that takes the form of an application rather than a websites you visit. Available on Windows, macOS and Linux, you simply download the program, verify its files and run it.
From there it will automatically generate a self custody wallet and randomised user profile for you. This means no personal information is required to trade and with a thriving market – especially in USA and Europe – you can easily buy up to 2 BTC per transaction with dozens of payment methods.
Bisq allows you to connect it to your own Full Node and by default works over the Tor network to ensure your privacy and security is as safe as possible. As it's an application you personally run, you have complete control over all data and settings.
The downside of it being an application you run on your PC is that in order to accept and offer trades, that PC has to be on. This also means there's a bit more setup initially for the user to do, however it's no harder than installing any other piece of software out there.
Unique to Bisq is also how the program is governed and developed. It's not only completely open source, but you can be paid to help develop it via the trading fees that Bisq collects. Users can also vote on decisions about the exchanges future through their DAO.
For more info check out our step-by-step guide on How To Buy Bitcoins On Bisq.
Pros
Perfect Privacy & Security score
Decentralised network & governance
Cons
Requires your PC to be on to trade
Setup can be hard for beginners
Requires a security deposit to trade
AgoraDesk: Top For Ease Of Use & Beginners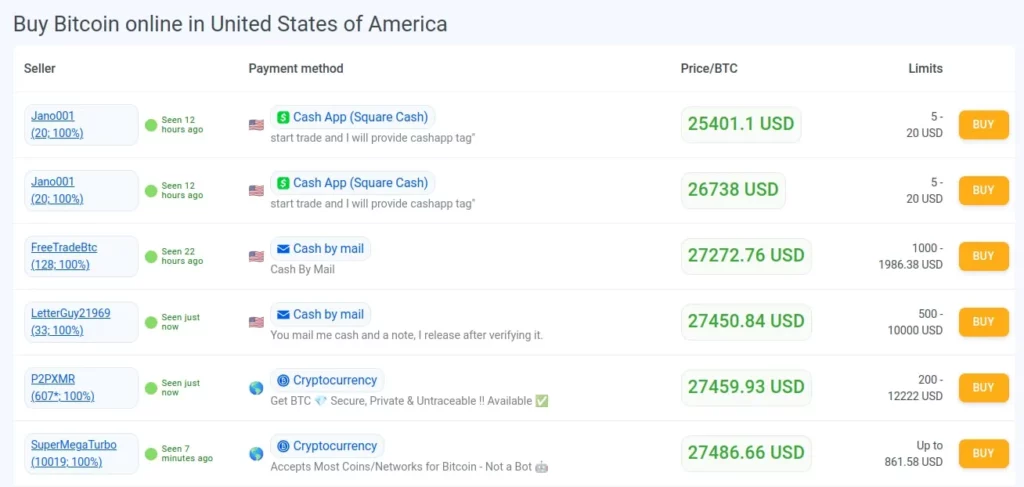 AgoraDesk is a P2P, centralised exchange that has outstanding privacy and security, along with top marks when it comes to ease of use. This is an excellent exchange for beginners as it doesn't require a security deposit (sellers do need one) and the Taker fees are 0%.
It supports trading Bitcoin as well as Monero (a privacy coin) and scores near perfect marks in our Privacy & Security tests. You can trade P2P using dozens of payment methods and although it does require you to create an account, no KYC or personal information is required, not even an email address!
It does fall down somewhat when it comes to fees which can be higher or lower depending on whether you're making an offer to buy/sell Bitcoin (Maker) or taking someones offer to buy/sell Bitcoin (Taker). They also require you to have a bond deposit if you're selling bitcoins and this bond is stored on their own custodial wallet.
If you're a Bitcoin Beginner then their online interface is fun, friendly and slick. Having an account (while a privacy risk) will be familiar to beginners and the lack of needing a security deposit for the buyer and 0% fees is very good too.
Pros
Top marks in Privacy & Security
No security deposit required for buyer
Cons
Requires account creation
Hodl Hodl: Top For Ease Of Use & Payment Methods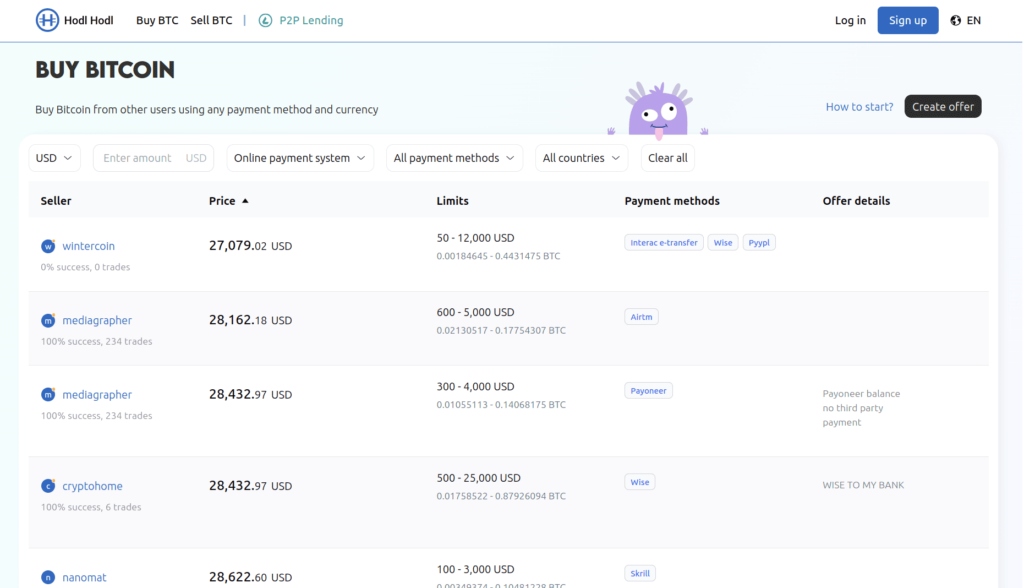 Hodl Hodl is a P2P, centralised exchange that has so many different payment methods, they even support buying Bitcoin with a Tesla! Beyond their huge variety of payment methods they also have an excellent user interface, are available in over 100 countries and fully support self custody wallets with no KYC.
Being around for almost a decade now, Hodl Hodl falls down a bit with quite high Maker and Taker fees and some of their privacy and security decisions. However they have a fantastic website that's bright, fun and extremely well designed.
While many exchanges bombard their users with complex trading interfaces, they instead reduce everything to a simple search and filtering system. This allows you to sort through their huge order book and find exactly the order you want. From payment method to currency to how much you want to buy or sell, there's clear and simple fields for everything.
While there is no KYC verification required, they do still require you to create an account and give them an email address. Beyond this, they also don't allow usage of their website via Tor and don't use E2EE or open source any of their code.
Pros
Fantastic and easy website
No security deposit required for buyer
Huge range of payment methods
Huge range of currencies & countries
Cons
Requires account & email address
Moderate security & privacy
What Is A P2P Crypto Exchange?
Buying and selling cryptocurrency is generally split up into three different types of exchanges:
Spot Trading: Exchanges that you buy the currency off the company, instantly, at the spot price. Binance or Coinbase are examples of places you can spot trade
Peer-To-Peer: Exchanges that help organise the trading of the currency from one individual to another directly. This is similar to how someone might buy something on Craigeslist and opens up the possibilities to custom trades and different options
Over The Counter: Exchanges that are aimed at large buyers that want to buy very large amounts. Most require minimum purchases of $50,000 or sometimes a lot more
Obviously each one of these has pros and cons, but at the end of the day a P2P crypto exchange is one where you are trading solely with other users on the platform, rather than trading with the crypto exchange company itself.
Why Should You Use A P2P Exchange?
There are many benefits to using a peer to peer crypto exchange:
Privacy & Security: As you're dealing directly with another human, rather than a faceless company that collects all your private data and then sells it to other companies or the government, your privacy and security is hugely increased. Most P2P exchanges also don't require KYC verification which further protects you and makes starting easier too
Cheaper Fees: P2P exchanges are often far cheaper than big platforms. These fees add up quickly and can be anywhere from 10 to 100 times cheaper
Price Freedom: With P2P exchanges you have the freedom to create your own trading conditions by become a trade "Maker". This allows you to set whatever price or terms you want as opposed to just accepting whatever an exchange company offers
Payment Methods: As you can set your own trade terms and conditions, you can also set what payment method you want. This could be something normal like USD, or it could be something exotic like a Tesla Model 3
Global Market: Exchange companies might not operate in your country or have restrictive terms and conditions that you don't want to agree to
FAQ
Is P2P The Best Way To Buy Crypto?
Yes. While other non P2P exchanges are generally a bit faster and have better exchange rates, they create huge privacy and security problems that are almost impossible to undo. They also charge much higher trading fees, track and sell your private information and encourage gambling on shitcoins.
Is P2P Safe For Crypto?
Yes. Modern peer to peer bitcoin exchanges all use an escrow wallet to ensure both traders remain honest and don't scam each other. As the funds are usually being sent directly to your own, self custody wallet this also further protects you from the exchange itself going bankrupt or committing fraud.
How Much Are P2P Crypto Exchange Fees?
Fees on P2P exchanges are typically much, much lower than non peer to peer exchanges, usually well under 0.3%. While some non P2P exchanges may advertise 0% trading fees, they usually charge larger fees on other parts such as mining fees, minimum purchases or withdrawals and high fees on moving your fiat money onto their platforms to begin with.
Is There P2P On Coinbase?
No. Coinbase does not support peer to peer trading.

Why You Can Trust Us
Our comprehensive review process rigorously researches and tests all aspects of the products we review. If you buy through our links, we may get a commission, but opinions are always our own. Review our full Crypto Exchanges Rating Methodology.