Are you sick of having to submit to endless privacy invasive "verification" processes? Giving extremely private documents like your passport to some sketchy crypto company that promises they'll "totally never get hacked bro"? We understand.
In a world of endless data breaches it goes even further than just protecting your privacy and security. How much and what you invest in is protected under your fundamental human right to privacy. You shouldn't and don't have to bend at the knee of KYC just to buy some bitcoins. That's because we've got the best no KYC crypto exchanges out there ready and tested for your filthy fiat.
Best No KYC Crypto Exchanges
We review all crypto exchanges, however only non-KYC ones are recommended. We'll cover why below, but for now here are the top 3 crypto exchanges with no KYC:
What Is KYC Verification In Crypto?
KYC (Know Your Customer) and AML (Anti Money Laundering) are regulations enforced by the Financial Industry Regulation Authority (FINRA). It requires crypto exchanges like Coinbase or Binance to "verify your identity" with an ID and selfie before they let you do anything like buy bitcoins.
They want to know your name, address, drivers license, photo and more in order to link your identify to the financial transactions you're doing. These requirements stem from the Bank Secrecy Act and are supposed to help detect and report suspicious activity including the predicate offences to money laundering and terrorist financing, such as securities fraud and market manipulation.
What Is A Non-KYC Crypto Exchange?
A non-KYC exchange is a crypto exchanges that doesn't require verification of your personal identity via documents like a government issued ID or a selfie. Non-KYC exchanges allow you to trade and perform any operation without any form of information required.
If an exchange requires any of the below information, it will be considered "KYC" by us under our Crypto Exchanges Rating Methodology rules and will no longer be recommended as your privacy and security are at risk:
Name
DOB
Selfie
Mobile
Address
Passport
Government ID
Why Should You Use A Non-KYC Exchange?
You should only use non-KYC exchanges because it's easier, faster, safer and more private.
Easier: You don't have to create accounts or sign up to any provider / get spammed
Faster: You can start trading straight away without having to wait for "verification"
Safer: Your personal safety is never at risk because your identity is never known
Private: Your personal information is never at risk because it's never known
Once you give a KYC exchange your private information and get "verified", they then link whatever bitcoin you buy to that identity. Forever. This also allows the exchange, the government, third parties and chain analysis firms to…
Track what your balance is
Track what you spend your money on
Track what taxes you should be paying
Sell all this information to other companies without telling you
You get the picture
AML/KYC laws have also resulted in vast honey pots of extremely private and valuable data on millions or hundreds of millions of citizens all being located in one spot.
These treasure troves of data are prime targets for hackers and as a result, many large companies get hacked every year with the customers ultimately being the ones that suffer.
If your private verification data is stolen, it can result in physical attacks and Bitcoin Scams. It's particularly bad when applied to Centralised Exchanges (CEX) as the hackers get information both on where you live as well as how much funds you own.
RoboSats: Best No KYC Crypto Exchange For Speed, Privacy & Low Fees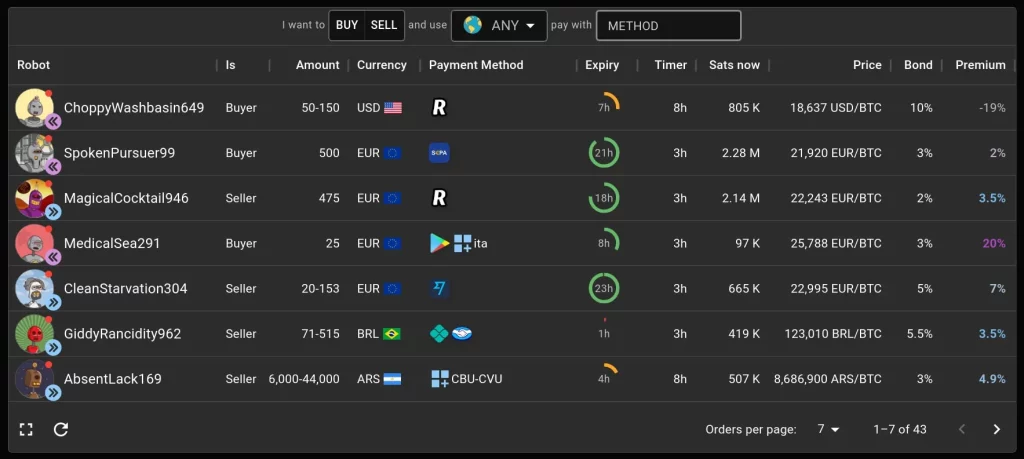 RoboSats (Tor Link) is a brand new P2P exchange that only allows buying and selling Bitcoin with fiat over the Lightning Network. It gets almost top marks as it aces all our tests besides the Centralised / Decentralised one. While it is currently not decentralised, it has future plans for Federation and doesn't require KYC info.
RoboSats allows you to use your own self custody wallet, works if that wallet is connected to your own Full Node and is set to work over Tor by default. It further protects your security and privacy by not only requiring no personal information, but by also randomly generating a new and fun robot account each and every trade.
With a wide array of supported currencies and payment methods, it works great in many countries plus ensures your sats arrive instantly by using the Lightning Network. You can also host your own copy of it on Node OS's like Umbrel and it's entirely open source.
For more info check out our step-by-step guide on How To Buy Bitcoins Using RoboSats.
Pros
Super fast over the Lightning Network
Cons
Requires Lightning Wallet
Requires a security deposit to trade
Bisq: Best No KYC Crypto Exchange For Security & Privacy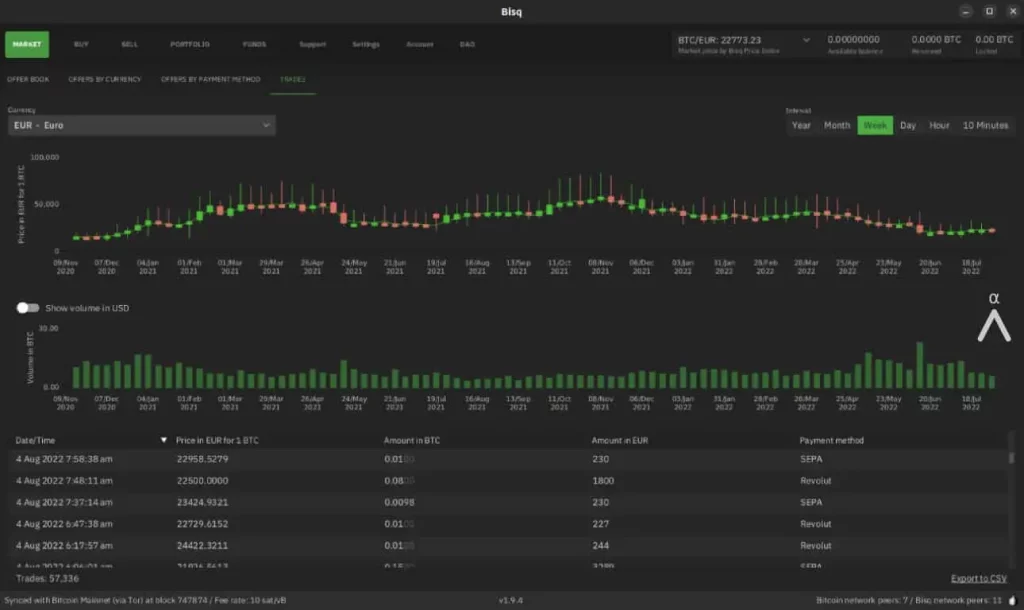 Bisq is an exceptionally well developed and decentralised P2P exchange that takes the form of an application rather than a websites you visit. Available on Windows, macOS and Linux, you simply download the program, verify its files and run it.
From there it will automatically generate a self custody wallet and randomised user profile for you. This means no personal information is required to trade and with a thriving market – especially in USA and Europe – you can easily buy up to 0.2 BTC per transaction with dozens of payment methods.
Bisq allows you to connect it to your own Full Node and by default works over the Tor network to ensure your privacy and security is as safe as possible. As it's an application you personally run, you have complete control over all data and settings.
The downside of it being an application you run on your PC is that in order to accept and offer trades, that PC has to be on. This also means there's a bit more setup initially for the user to do, however it's no harder than installing any other piece of software out there.
Unique to Bisq is also how the program is governed and developed. It's not only completely open source, but you can be paid to help develop it via the trading fees that Bisq collects. Users can also vote on decisions about the exchanges future through their DAO.
For more info check out our step-by-step guide on How To Buy Bitcoin On Bisq.
Pros
Perfect Privacy & Security score
Decentralised network & governance
Cons
Requires your PC to be on to trade
Setup can be hard for beginners
Requires a security deposit to trade
AgoraDesk: Best No KYC Crypto Exchange For Ease Of Use & Privacy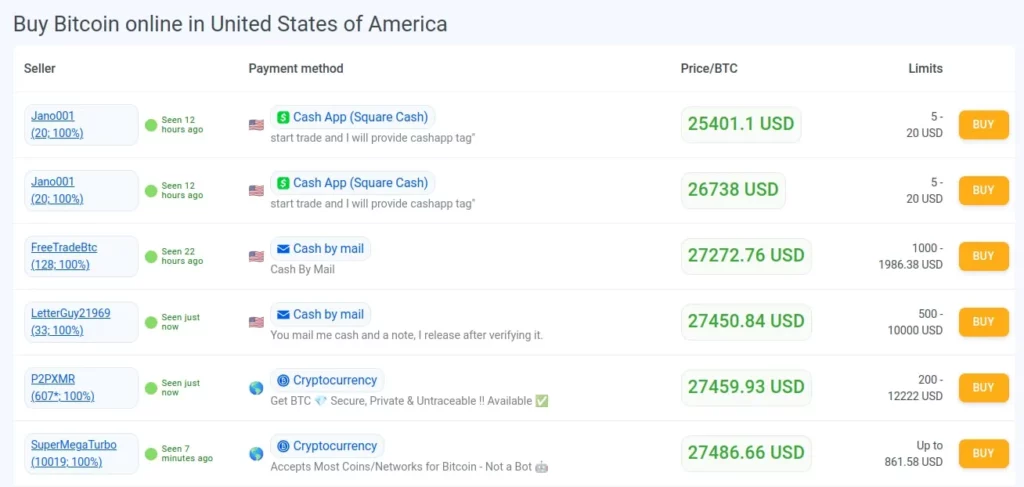 AgoraDesk is a P2P, centralised exchange that has outstanding privacy and security, along with top marks when it comes to ease of use. This is an excellent exchange for beginners as it doesn't require a security deposit (sellers do need one) and the Taker fees are 0%.
It supports trading Bitcoin as well as Monero (a privacy coin) and scores near perfect marks in our Privacy & Security tests. You can trade P2P using dozens of payment methods and although it does require you to create an account, no KYC or personal information is required, not even an email address!
It does fall down somewhat when it comes to fees which can be higher or lower depending on whether you're making an offer to buy/sell Bitcoin (Maker) or taking someones offer to buy/sell Bitcoin (Taker). They also require you to have a bond deposit if you're selling bitcoins and this bond is stored on their own custodial wallet.
If you're a Bitcoin Beginner then their online interface is fun, friendly and slick. Having an account (while a privacy risk) will be familiar to beginners and the lack of needing a security deposit for the buyer and 0% fees is very good too.
Pros
Top marks in Privacy & Security
No security deposit required for buyer
Cons
Requires account creation
The Athena Assessment
Many people think that there's just no way to buy bitcoins without using a KYC exchange. They're dead wrong. Using KYC exchanges also violates the main reason why Bitcoin was brought into this world: to remove trusted third parties!
The whole point of Bitcoin is to take full custody of your bitcoins in a wallet that only you have the private keys for. Not only do KYC exchanges damage your security and privacy, they also undermine Bitcoin itself by enabling specific bitcoins to be tagged to verified people. The fact that these exchanges also use custodial wallets where you don't control the private keys just makes it that much worse!
More and more now we're seeing non-KYC exchanges that are safer, more private, more decentralised, quicker and easier to use which is a great thing for everyone. Centralised and KYC exchanges present weak points in the Bitcoin network as it allows for governments or other bad actors to target a few companies while affecting hundreds of millions of people.
FAQ
Are Non-KYC Exchanges Safe?
Yes. In fact, they are safer than KYC exchanges because there is no risk of you losing your funds if they go bankrupt or shutdown. There is also no risk of your private and personal information being leaked as it's never given in the first place.
When you perform a trade on non-KYC exchanges such as Bisq, there is also a security deposit that must be paid and locked up by both parties along with the bitcoins being sold before any funds are transferred. This ensures that it's uneconomical for a scammer to steal your funds.
"So a peer selling 1 BTC who chooses to specify a 25% security deposit when making his offer will need to lock 1.25 BTC, which would require the buyer to lock 0.25 BTC when taking the offer." – Bisq
How To Buy Non-KYC Bitcoin
Most non-KYC exchanges follow a similar process to buy bitcoins:
– Open the app or website and be assigned a randomly generated profile
– Either accept an existing offer to sell bitcoins, or create your own one
– Once the offer is accepted, both parties lock up a security deposit
– The bitcoins being sold are also locked up as well
– You transfer the payment amount via the agreed payment method
– Once the seller has received the payment, they unlock the bitcoins
– If both parties are happy with the trade, the security deposits are returned
How To Sell Crypto Without KYC?
Most non-KYC exchanges follow a similar process to sell crypto:
– Open the app or website and be assigned a randomly generated profile
– Either accept an existing offer to buy bitcoins, or create your own one
– Once the offer is accepted, both parties lock up a security deposit
– The bitcoins you're selling are also locked up as well
– The buyer transfers the payment amount via the agreed payment method
– Once you've received the payment, you unlock the bitcoins
– If both parties are happy with the trade, the security deposits are returned
What Crypto Exchange Does Not Require KYC?
Crypto exchanges such as RoboSats, Bisq or AgoraDesk do not require KYC.
Can You Buy Crypto With PayPal No KYC?
Yes. While PayPal themselves require you to KYC in order to buy crypto directly off them, you can also use them as a payment method with a non-KYC exchange.
Non-KYC exchanges such as RoboSats and AgoraDesk allow you to use PayPal as a payments method. Do be mindful that PayPal has in the past had issues with payments that have "Bitcoin" or similar in their description. It's recommended you complete the payment with no or a miscellaneous description.
How Do You Easily Buy Crypto With Fiat, Without Passing Through A KYC Portal?
Beginners wanting to buy their first bitcoins via a non-KYC exchange can run into a conundrum. This is because many non-KYC exchanges require a security deposit to protect both the seller and buyer. This then means the new user needs some crypto in order to buy their first crypto.
To get around this catch-22 for beginners there are a few options:
– Buy a small amount from your friends or family
– Buy some from a Bitcoin ATM that doesn't require ID
– Sell something you own and request to be paid in bitcoins
– Perform some work and request to be paid in bitcoins
– Meet up with others at crypto or Bitcoin events and trade in person
– Buy some via AgoraDesk as they don't require a deposit for buyers
Once you have this first small amount of crypto you can then use it as a security deposit to buy more.

Why You Can Trust Us
Our comprehensive review process rigorously researches and tests all aspects of the products we review. If you buy through our links, we may get a commission, but opinions are always our own. Review our full Crypto Exchanges Rating Methodology.