Are times tough for you right now? We're pretty sure they are.
You've probably got a million things on your mind worrying you. Financial stability is wonky, debts are high, you're always saving as much as you can but a secure future still seems like a pipe dream. It's really, really stressful and demoralising.
So with all this pressure, why should people learn about Bitcoin?
Because it could be your golden parachute out of this dumpster fire of a world that's pushing wealth inequality to absurd levels. A beacon of hope in a sea of never ending debt and legacy financial BS.
Our Current System Is Rigged
It's no secret that the current financial markets are rigged. There, we said it. Things are broken, corrupt and grossly over manipulated by the elites and their many paid for politicians. But. There is still a way to shelter yourself and family from this ever disintegrating financial environment.
From the oil markets run by literal cartels to politicians dumping stock days before their decisions tank the market. It's gotten so obvious now that they have to gaslight people by trying to change the meanings of well established words like "recession". They print trillions of dollars and try to cover it up by calling it fancy, seemingly complicated names like Quantitative Easing (QE).
The fact that they can even do this in the first place – conjure money out of thin air – should raise a pretty big red flag. You can't just snap your fingers and generate real things, which should tell you that the money they're creating isn't real either. We all seemingly "know" that the emperor isn't wearing any clothes but the wider public hasn't accepted it yet.
If you follow financial news you've likely heard of Bitcoin. As experts on the subject we can confidently say that whatever you might think you know about Bitcoin, there's more to it. If all you've heard of Bitcoin is that it's for criminals or a bubble or a scam then we can safely say you've been mislead.
Bitcoin is very different to what most people are used to. It's something that might seem simple on the surface, but that has layers and layers of genius and wonder emerge as you peel each one back. What role Bitcoin ends up playing in the world is still being discovered, but currently it's most widely accepted use case is for a store of value.
If you're interested in Bitcoin, then you might want to consider getting some. A few years ago it was much harder to stack some sats (tiny parts of a bitcoin) than what it is now. Buying some not only lets you rally against the current corrupt system, but also enables you to be an early adopter of an excellent money and learn about it all in one.
Why Should People Learn About Bitcoin?
This isn't a piece that tells you how Bitcoin works. We have lots of excellent resources below, this is more about the why. So why should someone learn about Bitcoin? Why should you take time out of your busy day to read up on this "scam" as the Bitcoin Myths would put it?
There are multiple reasons that each appeal to different people. For some, the fact that it's an utterly genius level new technology is simply interesting in itself. For others it's that it combines many disparate disciplines like cryptography, finance, game theory and more all in one. Many others are just attracted to its legendary "number go up" (NGU) technology.
We can't say which of the many reasons will appeal the most to you, but as we care about the horrendous wealth inequality in the world and helping people, we can't help but make the recommendation. If you're interested in finance then you'll want to learn about Bitcoin because leading establishments such as Yale have already recommended it be a part of everyone's portfolios.
If you're interested in history then you should approach it from the perspective of learning about the history of money throughout the ages and why Bitcoin was brought into the world in the first place. It's a fascinating tale of countless researchers, open source work, cypherpunks and a mysterious now billionaire inventor(s) that disappeared.
Whatever path you approach Bitcoin from, nothing helps a person learn faster than by doing. Which is why we also recommend you start stacking sats as soon as possible.
Stack Sats, Now!
Buy Bitcoin? But aren't you already late? No.
While you might never think about how a new money becomes money, there is in fact a well established path that they've all historically gone through. We won't go into too much detail here, but generally a new money like Bitcoin goes through four stages:
Collectable: To begin with, a money is wanted simply because it's got a strange property to it. Maybe it's really shiny or different or just appeals to the person for whatever reason. Think things like glass beads, shells or even gold. The thing is interesting so people collect it.
Store Of Value: As more and more people collect the new thing (and it persists over time) it starts to be recognised as a way to store value for long periods of time. As more and more people figure this out, demand for the money increases and it becomes more valuable which leads to more demand, more production of the money and so on. Depending on the demand and supply dynamics, the value of the new money can be highly volatile through multiple supply and demand episodes. This is the stage Bitcoin is currently in and why it's so volatile. As this demand is finally saturated the increasing value will plateau, making its value more stable which allows the next stage to begin.
Medium Of Exchange: During the Store Of Value stage it makes sense to hold onto your new money, as by doing this it will buy more at a later time. Once the purchasing power of it has stabilised though this logic no longer applies and people will be more open to spending it on goods and services. The Medium Of Exchange stage is what most normal people ascribe to "money" these days.
Unit Of Account: As the new money is used by more and more people and acceptance of it grows so too does it get integrated into the financial systems of the world. Accounting software gets updated to include it. Shops sell their goods denominated in the new money instead of the old. Most importantly, these people no longer buy the new money simply to exchange it for another one later on. When people accept Bitcoin and don't refer to its value as $XYZ USD then it will have reached this final stage.
While you might think you're late to Bitcoin, we're not even close to leaving the second stage yet! There's currently an estimated 150 million or so users of Bitcoin world wide, less than 2% of the world. The market cap of Bitcoin as of writing is around $360 billion. Gold (another store of value money) is roughly 25x bigger and there's many other asset classes that Bitcoin can suck tremendous amounts of capital out of including real estate, bonds and stocks.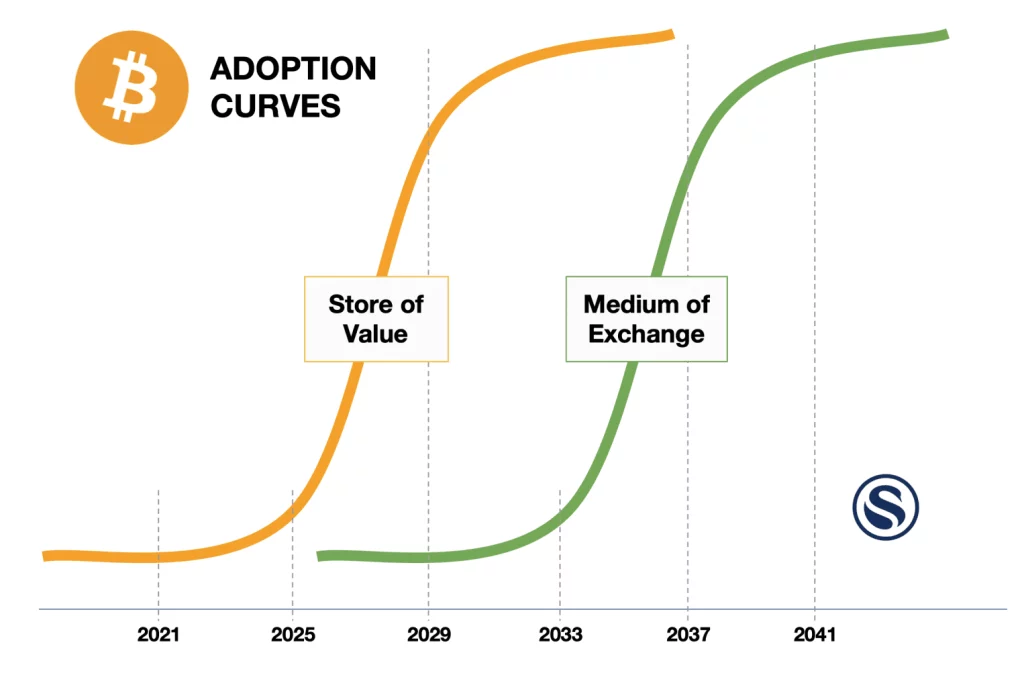 While precise dates for when Bitcoin achieves these different stages of money obviously isn't known, its growth is accelerating and has even surpassed the Internets adoption pace. Bitcoin is a technology after all and so will follow the standard s-curve adoption shown above. Our estimates are inline with Swan's which is that the store of value stage should saturate over the next 10 years or so.
How do we recommend stacking sats? The same way any responsible person might recommend accumulating an asset: not trying to time the market and instead buying regular amounts often (also called Dollar Cost Averaging).
As noted, Bitcoin is very different to what you're likely used to. It's easy to get scammed, hacked, tricked or lose access to your bitcoins. It's not difficult, but care does need to be taken. Don't mistake our eagerness for recklessness. You should absolutely be cautious, start small, go slow and most importantly, educate yourself. Here are some resources to get you started:

This post is for Athena Alpha Pro subscribers only
After Note:
Look. This isn't financial advice. As stated all over the place "The information on this website is for general information purposes only. It is not intended as financial or investment advice and should not be construed or relied on as such."
We're not saying "stack sats" in the sense of financial advice. Instead we're saying it because by stacking sats (any amount, even 100 sats) it will force you to actually use the Bitcoin network and gain experience and valuable insight into it.
Like all new things, you should be reading / learning 20% of the time and doing the other 80%. If you've read most of our pieces up to this point you likely already know more about Bitcoin than 99% of most people (sad we know). The best way to learn is to do, so stack some sats!