The core ethos for Bitcoin has and always will be to take full self custody of your bitcoins. If you don't, you don't truly own any bitcoin at all. Sparrow Wallet is one of the most widely recognised Bitcoin desktop wallets and what we recommend to all users, regardless of what level of funds they hold. If you've never had your own wallet before, it's time to take those coins off the exchange and properly own your bitcoin.
What Is Sparrow?
Sparrow Wallet is a Bitcoin only desktop wallet that focuses on security, privacy and usability. It has broad support for many software features, Hardware Wallets and more. Importantly it is simple enough for Beginners to use, but can also grow with you over time as it supports advanced security and privacy features such as multisignature wallets and spending via coinjoin.
Top Sparrow Bitcoin Wallet Features
Installing & Setting Up Sparrow Wallet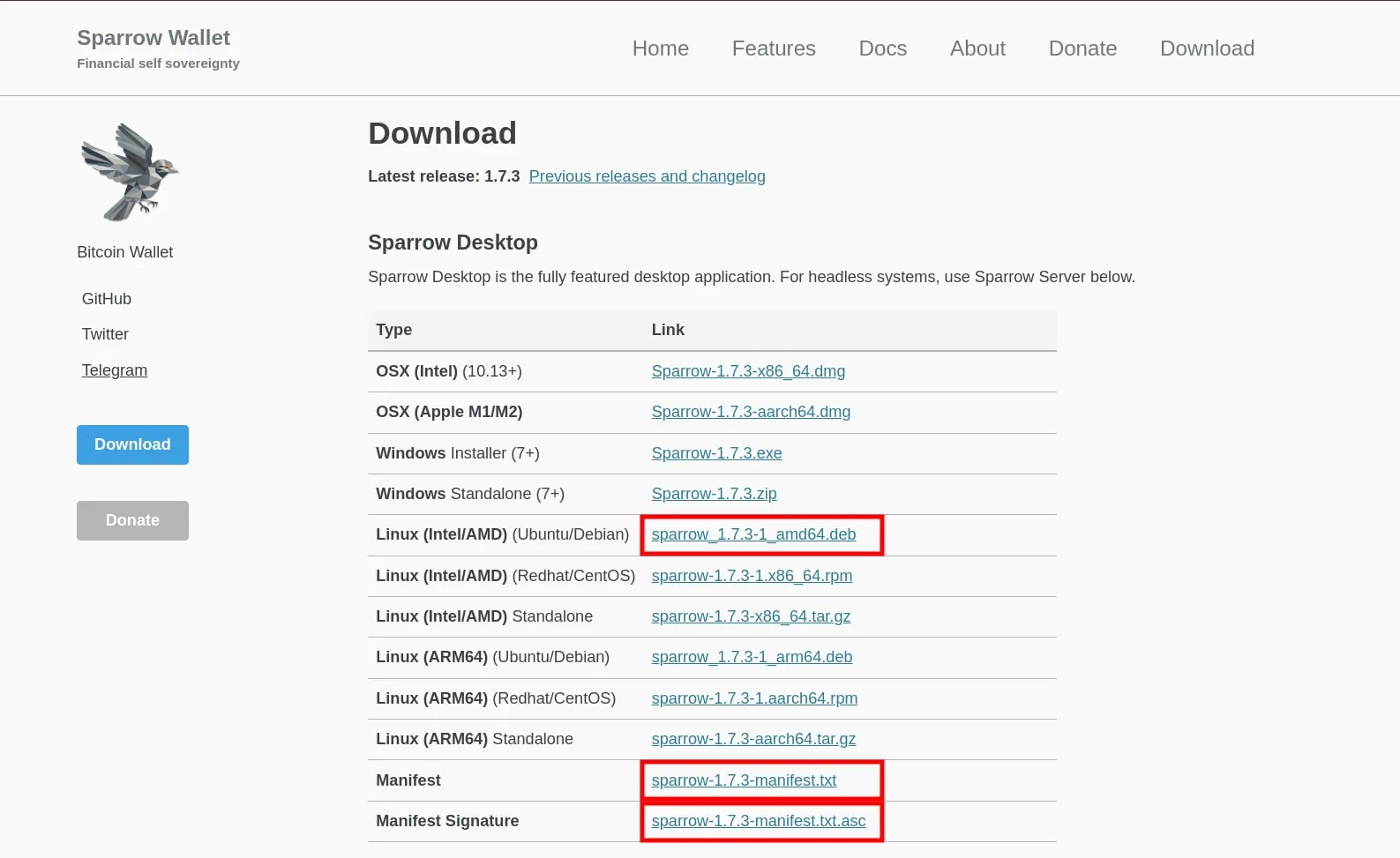 First up you'll need to download the Sparrow app and verify the software. We recommend doing this over Tor, using the Tor Browser. This ensures that your IP Address is hidden and that you're downloaded Bitcoin Wallet software isn't linked to your real world identity by ISPs.
Browse to https://sparrowwallet.com/download/ (be sure of spelling here) and download the files for your OS. If you're on Linux, make sure you're downloading the correct type (eg Intel/AMD or ARM64). Also download the Manifest and Manifest Signature files as these are needed for the verification process.
Installation isn't anything difficult, but we'd strongly recommend you fully verify the files to make sure you're not installing malware. We go through this, step-by-step, in the below guides:
Once you've installed Sparrow Wallet, the welcome screen will take you through a few steps explaining the various ways you can set it up. One of the main reasons why we heavily recommend this particular wallet – besides it's top notch array of supported features and respect for your security and privacy – is because it allows you to start off your Bitcoin journey by using a Public Electrum Server.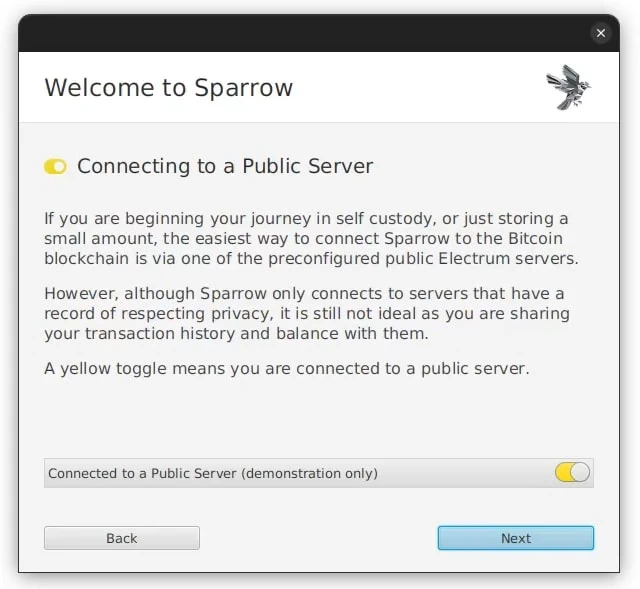 This isn't the best for your Bitcoin Privacy or Bitcoin Security as the owner of that public Electrum Server can see all your transaction and wallet balance… but for beginners it helps to limit the flood of new information and simplifies the on boarding process.
Once you're comfortable with everything, then you can increase your privacy and security by connecting to your own private server. This can be done in a few different ways:
For the curious, the main difference between connecting your wallet to Bitcoin Core vs an Electrum Server is that an Electrum Server will provide faster (or instant) lookup of transactions by address. This means that your wallet software will load faster.
New to Athena Alpha? Start today!
How Do I Create A New Wallet In Sparrow?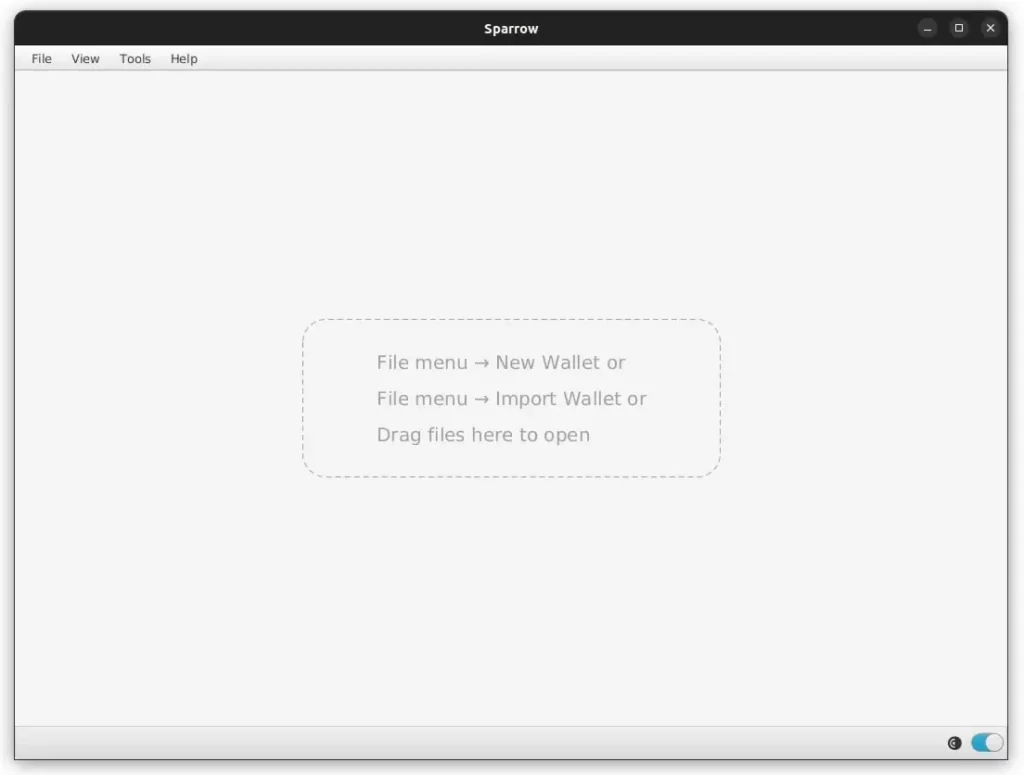 Once you pick your server configuration you'll be brought to the main interface. Sparrow supports a wide array of wallets including hot wallets (software only), cold wallets (hardware wallets), watch only wallets and Airgap Wallets. To start with we'll create a simple Software Wallet. Click on File -> New Wallet.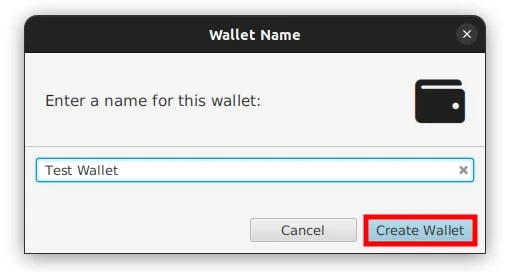 In the popup that appears, give your wallet a name. You can easily change this later so don't stress too much about what to call it. Click Create Wallet.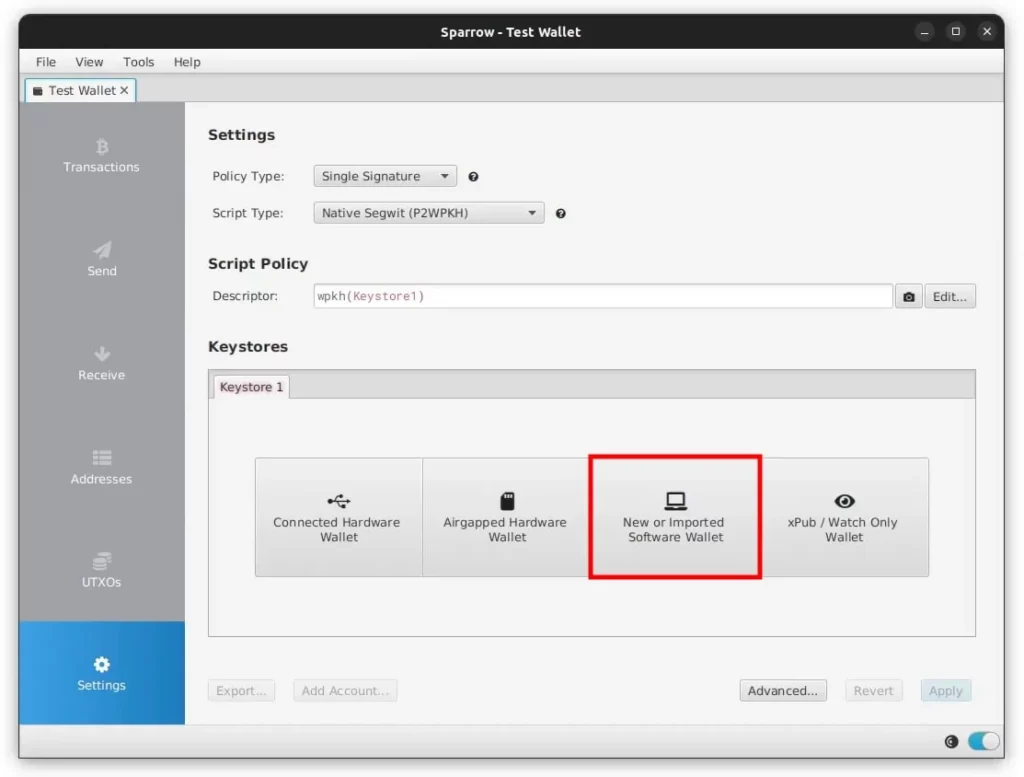 This is the main Wallet Settings page. Currently the tabs on the side are grayed out because we haven't finished creating our new wallet yet. Eventually they'll light up blue and you'll be able to view your wallet, send and receive bitcoins etc.
Select New or Imported Software Wallet. If you want to create a Multisignature wallet in the future you can choose it from the Policy Type drop down or if you want to create different types of wallets there's Legacy, Nested SegWit, Native SegWit and Taproot support via the Script Type drop down. For now though we're just going to ignore them.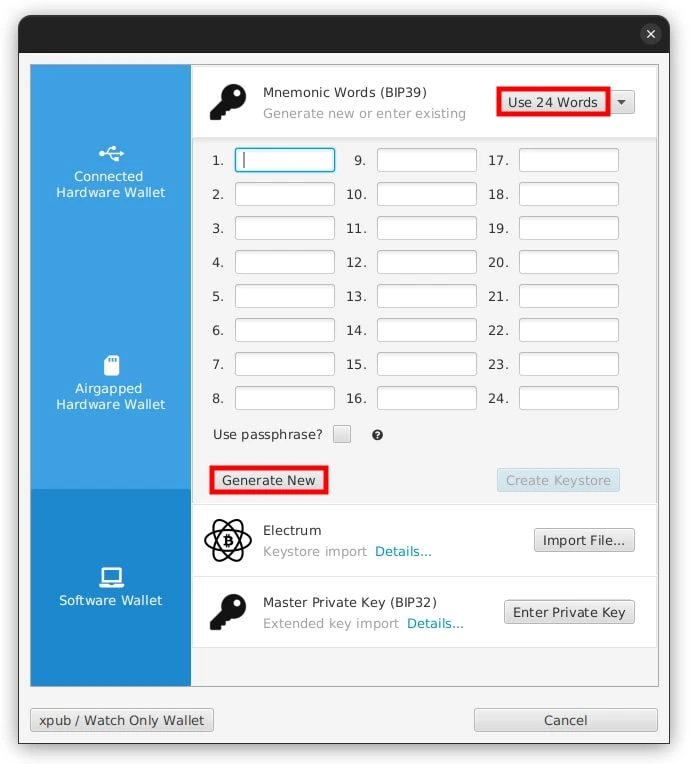 On the new window that pops up click the Use 24 Words button and you'll be given 24 text fields. If you're importing a Mnemonic Sentence (seed phrase) you already have, enter them here and make sure it passes the checksum. As we're creating a new wallet, click on the Generate New button.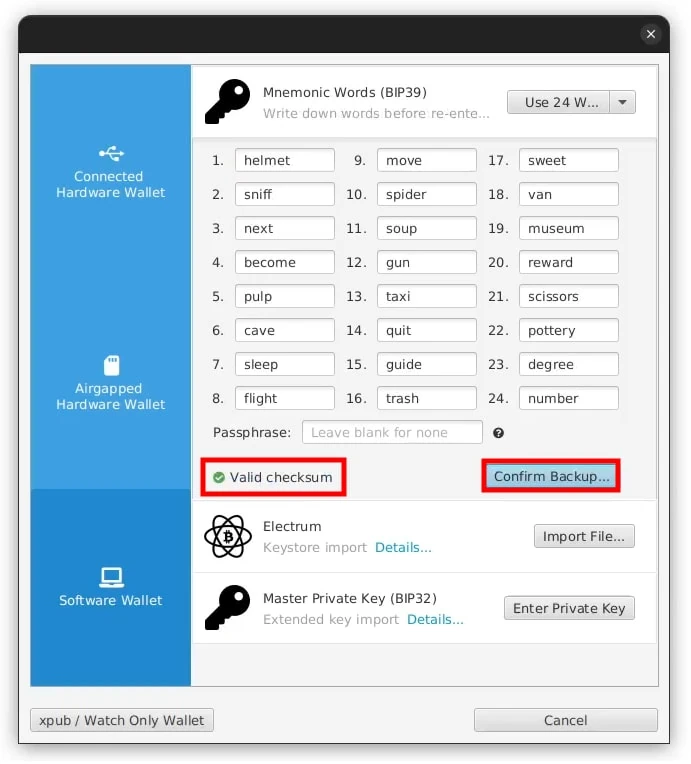 Sparrow will generate a brand new 24 word Mnemonic Sentence and you should see a tick next to the Valid Checksum text at the bottom. You will need to write down all these words carefully. We strongly recommend you do this on two pieces of paper. Once you've written them down, click Confirm Backup. Confirm that you've written them down and click Re-enter Words.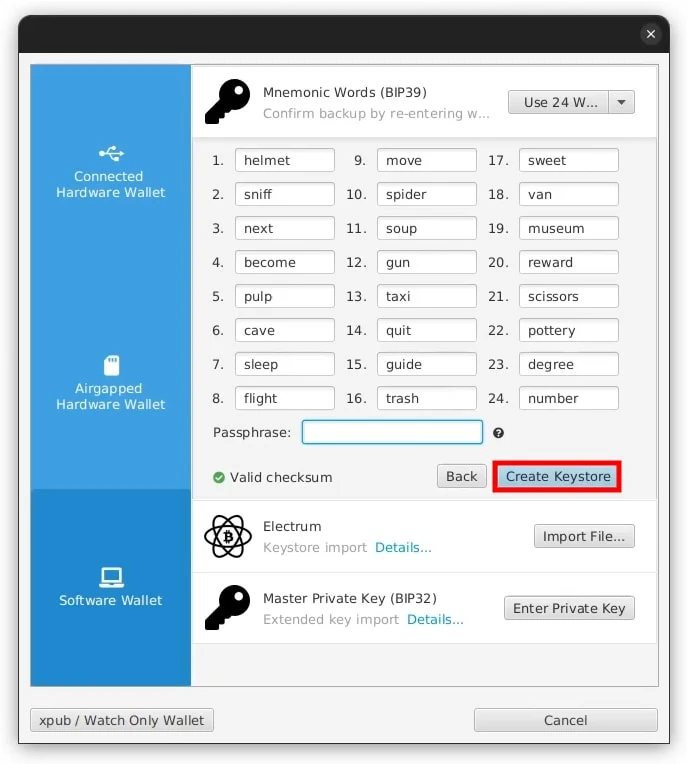 Sparrow will clear all the 24 text fields and you will need to type in your Mnemonic Sentence. This can take a while, but it's extremely important as it tests your backup words to make sure you haven't written down one of them incorrectly. Once you've typed them in, click on Create Keystore.
The window will disappear and you can then click on Import Keystore to return back to the main wallet settings screen.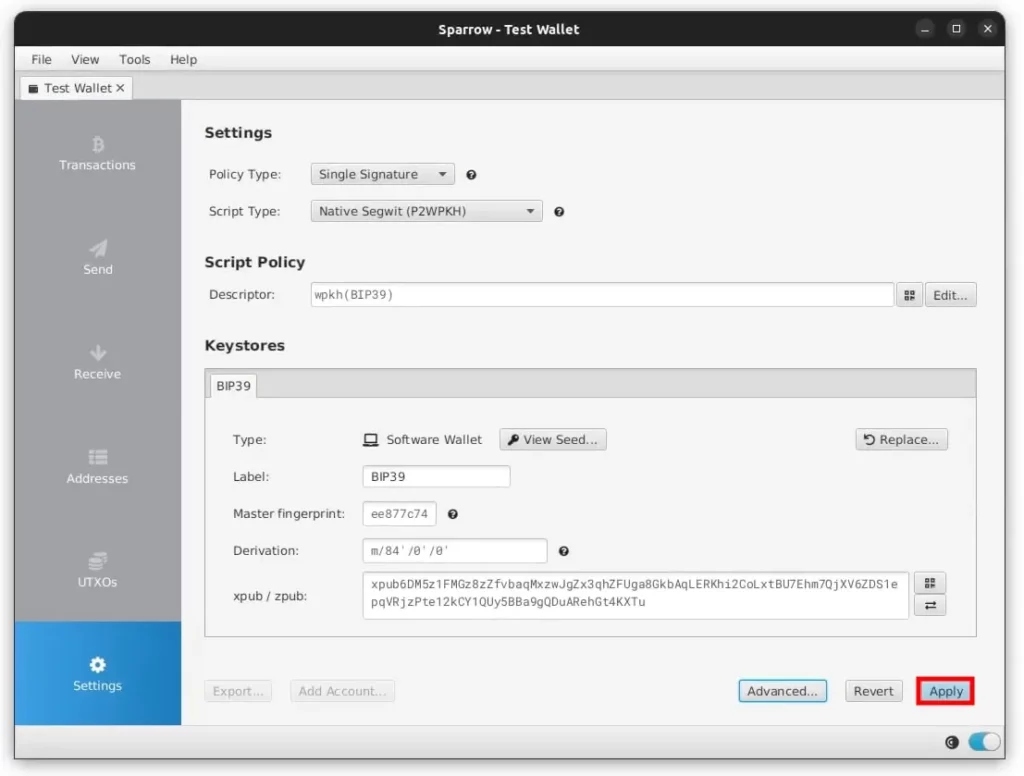 With your Keystore now all setup click Apply and Sparrow will ask you to set a wallet password. This password is for the Sparrow Wallet only and encrypts the wallet details on your computer. It's separate to your Mnemonic Sentence, which is what gives you the authority to spend your bitcoins on the Bitcoin network. Make the password at least 16 characters or more to ensure it's secure.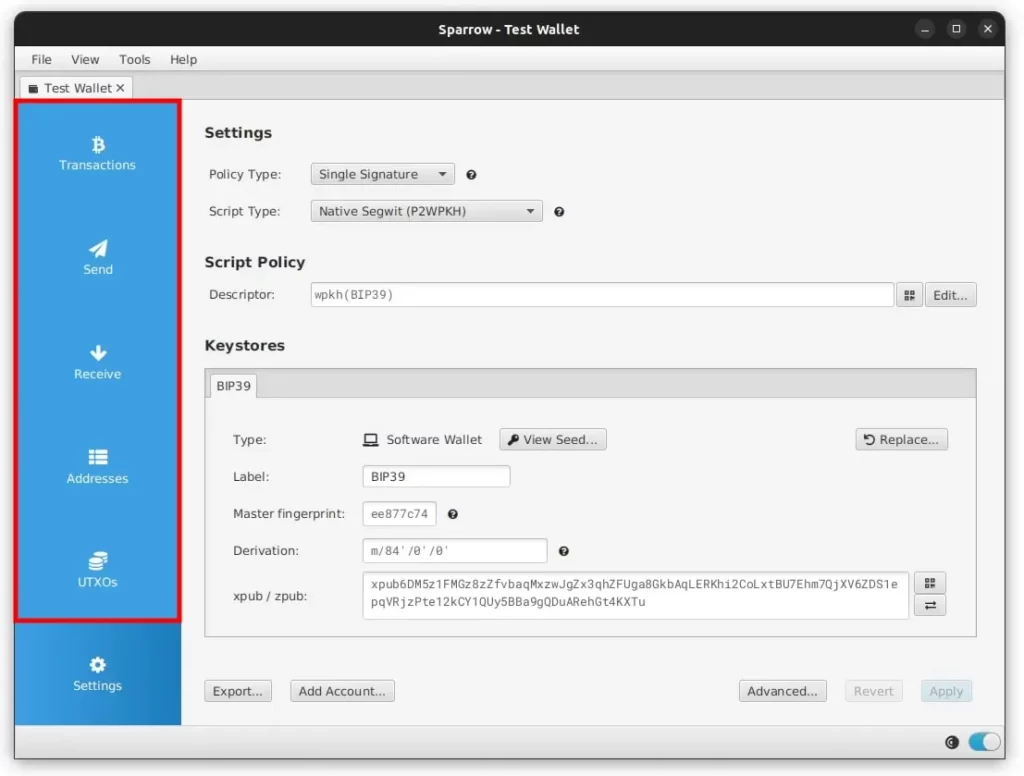 After you've set your password, Sparrow will create your new wallet and activate the grey tabs on the left side. You can now access a list of receiving addresses, UTXOs and review your transactions (not that you'll have any at the moment). Congratulations, you've just created your new wallet!
How Do I Send Bitcoins With Sparrow Wallet?
Now that you've got your new wallet you can send and receive bitcoins knowing that they're fully under your control. This is your wallet, with your bitcoins and no one else can control them but you. Full self sovereignty.
To send and receive bitcoins with Sparrow is very simple. We have a separate step-by-step guide on How To Send Bitcoins that covers everything you'll need to know so check that out if you're wanting to continue learning how to use Sparrow. It also covers general things you should be aware of when sending and receiving bitcoins like fees and security best practices.
Backing Up Your Wallet
You should first understand that there's different things to backup when it comes to wallets: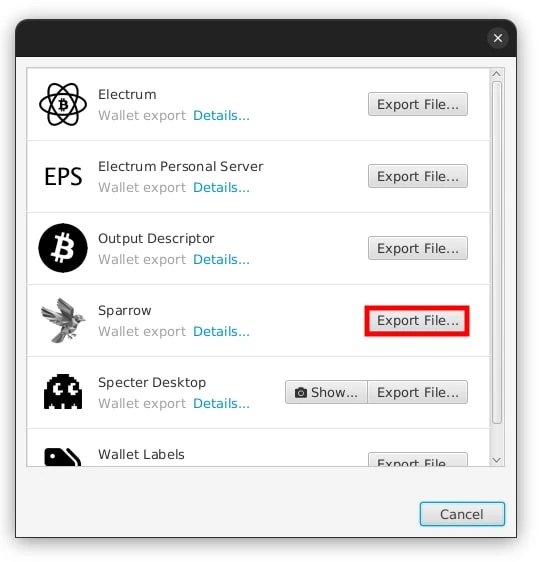 As you've already written down your Mnemonic Sentence when creating your wallet, we'll be backing up the Wallet in this example. With your wallet open, click File -> Export Wallet. Sparrow has wide compatability and allows you to export your wallets to many other Bitcoin wallets like Electrum or Specter.
We want to make a backup though, so click on Export File next to Sparrow and save the file. If you have a password on your wallet it will be encrypted (name.mv.db), but if you don't have a password then it will save it as a text readable .json file.
FAQ
How Safe Is Sparrow Wallet?
Sparrow Wallet is a Bitcoin software wallet that begun in 2020 and has excellent privacy and security features including strong encryption, non-browser based application code and is fully FOSS. Sparrow is licensed under the Apache 2 software licence meaning security experts can openly view and vet it for bugs or other issues. It's considered very safe by many industry experts including us here at Athena Alpha.
Is There A Sparrow Wallet Android App?
No. Any iOS or Android app pretending to be Sparrow Wallet is a scam and will steal your funds. Only install verified files that have been downloaded directly from the main website: https://sparrowwallet.com
Is There A Sparrow Wallet Chrome Extension?
No. Sparrow only supports Windows, Linux (including Ubuntu, Debian, Redhat, CentOS and ARM64 types) and OSX (Intel, Apple M1/M2 types).
Does Sparrow Wallet Support Lightning?
No. Sparrow is a Bitcoin on-chain only wallet and does not support the Lightning Network.
Does Sparrow Wallet Support Other Cryptos?
No. Sparrow Wallet only supports Bitcoin and doesn't have any plans to change.
What Hardware Wallets Does Sparrow Wallet Support?
Sparrow Wallet supports a number of the most popular Hardware Wallets including: Coinkite COLDCARD, BitBox01 and BitBox02, Blockstream Jade, SeedSigner, Tapsigner, Foundation Devices Passport, Keystone, Trezor One and Trezor Model T, KeepKey, Specter DIY, Gordian Seed Tool, Ledger Nano X and Ledger Nano S. You can find the full support list as well as what features are supported on each here.