Most people that trade bitcoin believe they have to use a centralized exchange and submit to invasive KYC verification processes. Bisq flies in the face of all this by enabling anyone, from any country to trade dozens of different fiat currencies for bitcoin just by downloading a simple app.
What Is Bisq Exchange?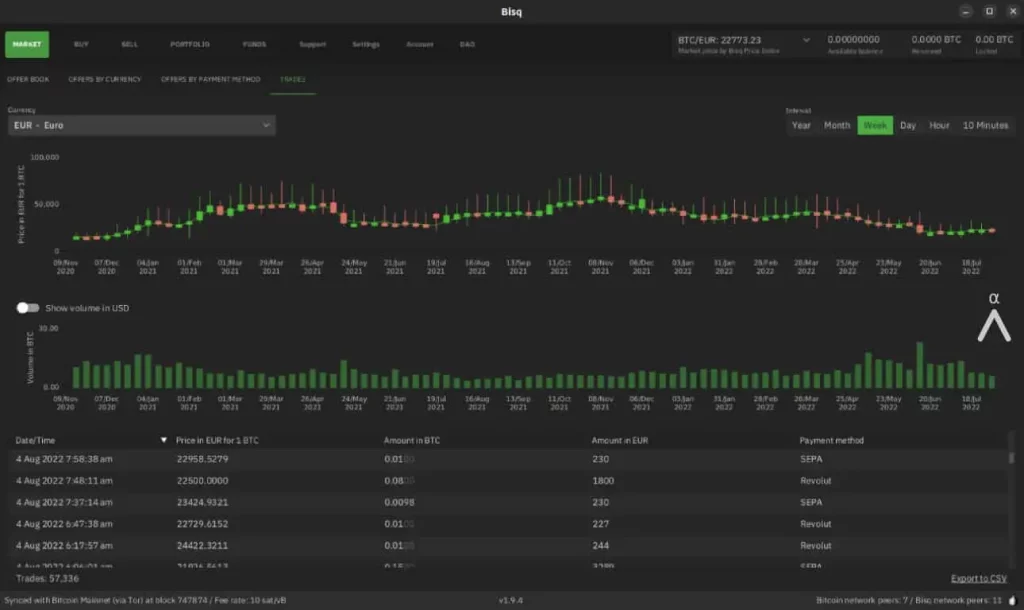 Bisq is an exceptionally well developed, peer to peer, decentralized exchange that takes the form of an application rather than a websites you visit. Available on Windows, macOS and Linux, you simply download the program, verify its files and run it. No KYC. No invasive privacy checks, just peer to peer trading goodness with excellent trading volumes.
It will automatically generate a self custody wallet and randomized user profile for you. This means no personal information is required to trade and with a thriving market – especially in USA and Europe – you can easily buy up to 2 BTC per transaction with dozens of payment methods.
If you'd like to see how Bisq compares to many of the other exchanges, we have full Bisq review available: Bisq Review: Pros, Cons And How It Compares
Bisq Exchange Key Features
Non KYC: Just download the software and run it, no accounts, no verification processes
Low Trading Fees: Very low Maker trading fees and no withdrawal fees
Decentralized Exchange: Fully decentralized with no central server to be blocked
Peer-to-Peer: Trades are fully P2P again with no centralized servers recording information
Multisig Escrow: 2-of-2 multisig escrow wallets ensure safe and efficient trading
Private: All data is only stored locally on your computer
Simple UI: Clear UI with extensive support videos, guides and forums for help
Multi-platform: Supports Windows, Mac plus Ubuntu, Debian, Redhat, Fedora, Arch
Grows With You: Start with a public server, then connect to your own Bitcoin Node later on
FOSS: All code is free under the AGPL-3.0 license and Open Source here
Tor: Built in Tor that's enabled by default to enhance your privacy and security
Fee Control: Set your Transaction Fees manually when sending to another wallet
Coin Control: Pick and choose which UTXO's you send when creating transactions
Import/Export: Excellent backup and restore functions for both trading and wallet data
What Is A Decentralized Exchange?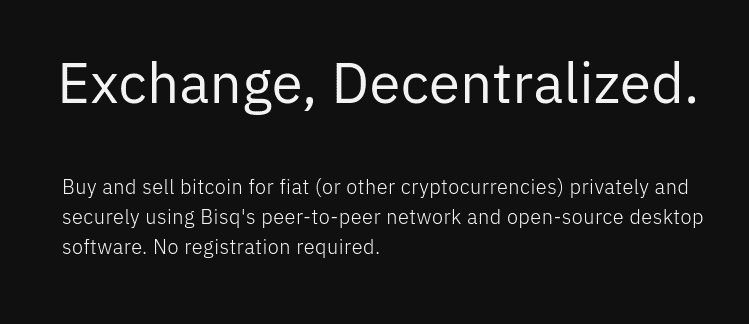 Before going any further, we should make the distinction between centralized exchanges and decentralized exchanges clear. Here at Athena Alpha, we classify an exchange decentralized if it requires no centralized servers for a user to complete a trade.
Many exchanges, protocols and other applications claim to be decentralized… but most (basically all) aren't. For context, in testing over 50+ exchanges we've only come across two that are truly decentralized. Bisq is one of them and they go even further because even their governance structure is also completely decentralized.
There's no company or person that runs or owns Bisq, which means there's no one to sue, no centralized servers to block or cut off meaning it's much more resilient to censorship and surveillance. While many other exchanges are peer-to-peer (P2P), most aren't actually decentralized and rely on a central authority or central server order book system to coordinate the actual trade.
How Does Bisq Work?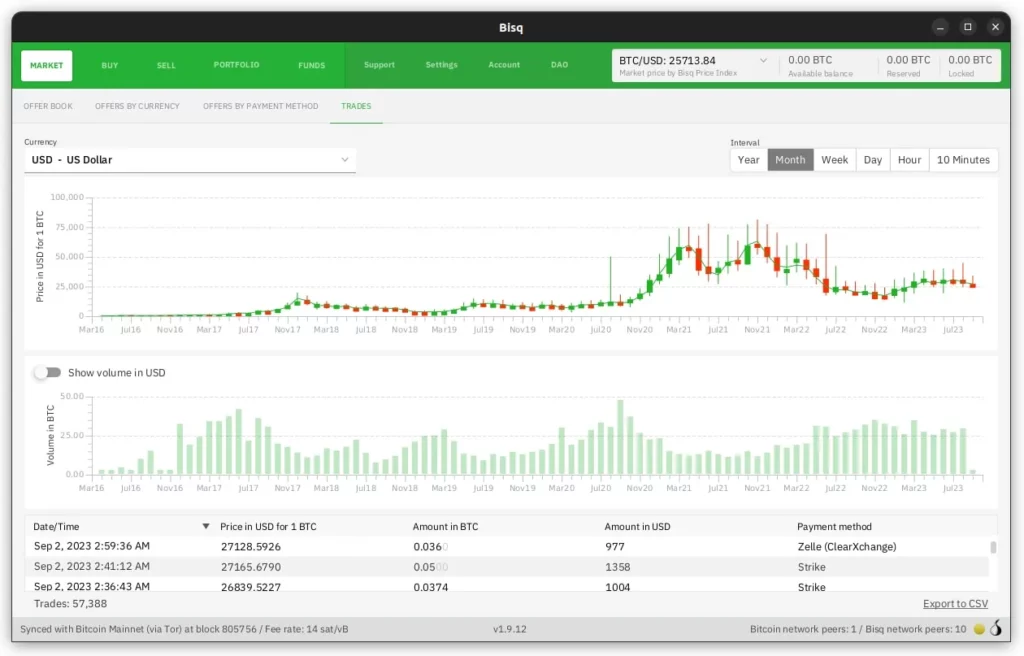 Users first download and install the Bisq exchange application as outlined below. Once a trader selects a bank account or other payment method to trade with, it connects to other Bisq users to execute trades in a purely peer to peer network fashion.
As said, there's no central authority that coordinates things here which means there's no way for governments or other attackers to stop it. All data is also encrypted and sent over Tor.
While Bisq does integrate with many different payment methods that require KYC such as national bank transfer, these are always completely separate to the actual bitcoin traded, so there's no link between the two. It also supports non-KYC payment methods too such as face to face, gift cards or cash.
No Identity Verification Needed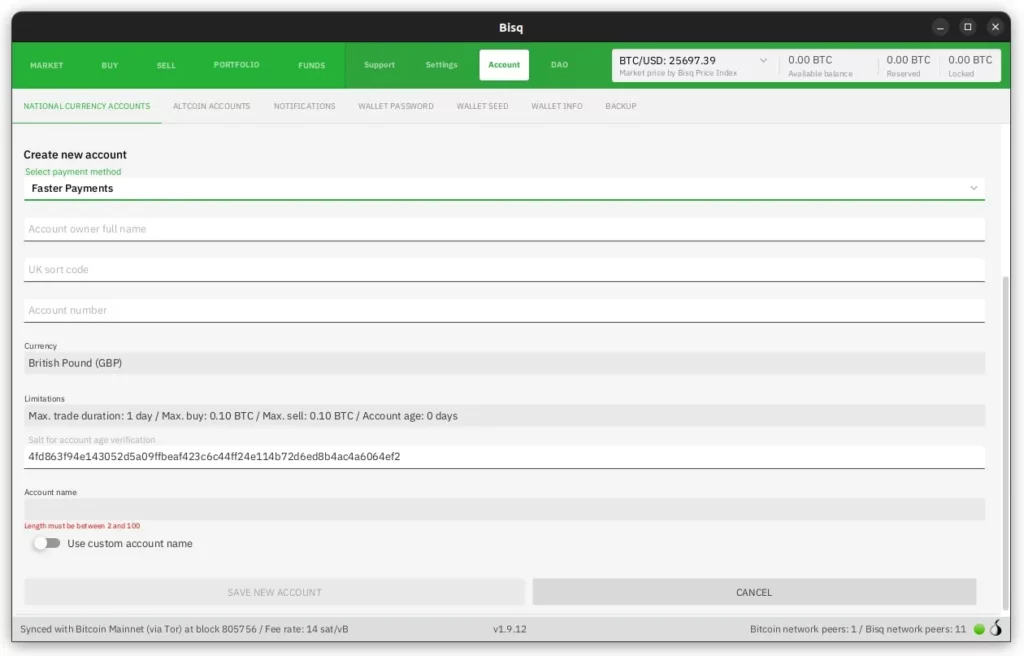 The other super important thing about Bisq is that it's entirely non-KYC and uses your own self custody private Bisq wallet. This takes the form of an automatically generated Bitcoin Wallet inside the app itself and you can even connect Bisq to your own Full Bitcoin Node too.
As there's no identity verification process to deal with, all you have to do is download and install the app and you can immediately start trading without waiting hours, days or weeks for permission from some privacy invasive company.
While many people like to claim that centralized exchanges are "easier" or "quicker", they are usually only referring to the actual trade itself and ignore everything else. Setting up a new account on a centralized exchange can be painful and is outright impossible for many billions of people.
Even if you live in the privileged USA, there's dozens of centralized exchanges that are not available for you to use. Almost half of our 45+ reviewed Crypto Exchanges do not permit USA residents to use their services. Bisq fixes this.
Install Bisq & Setup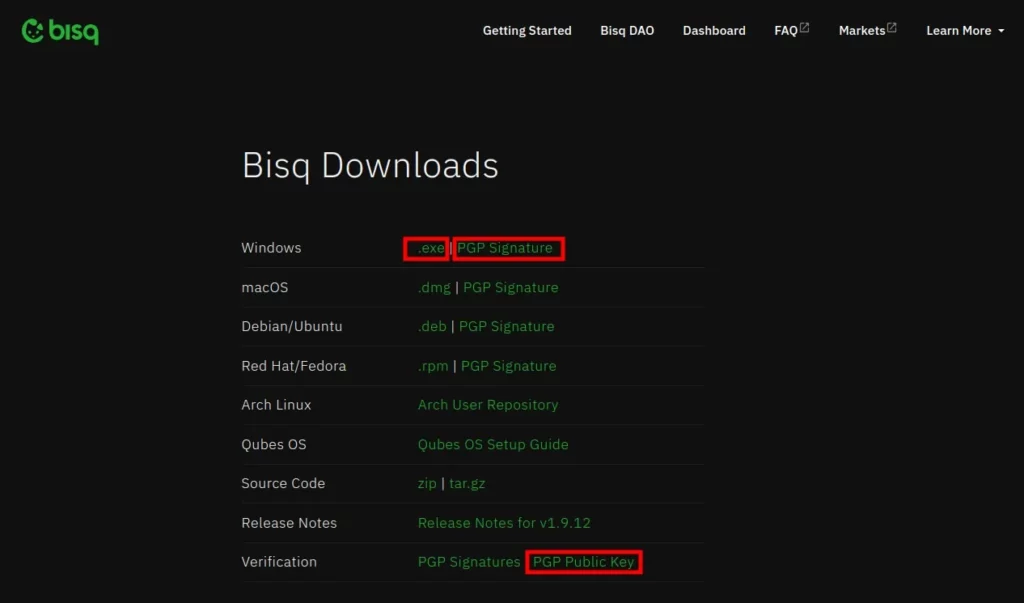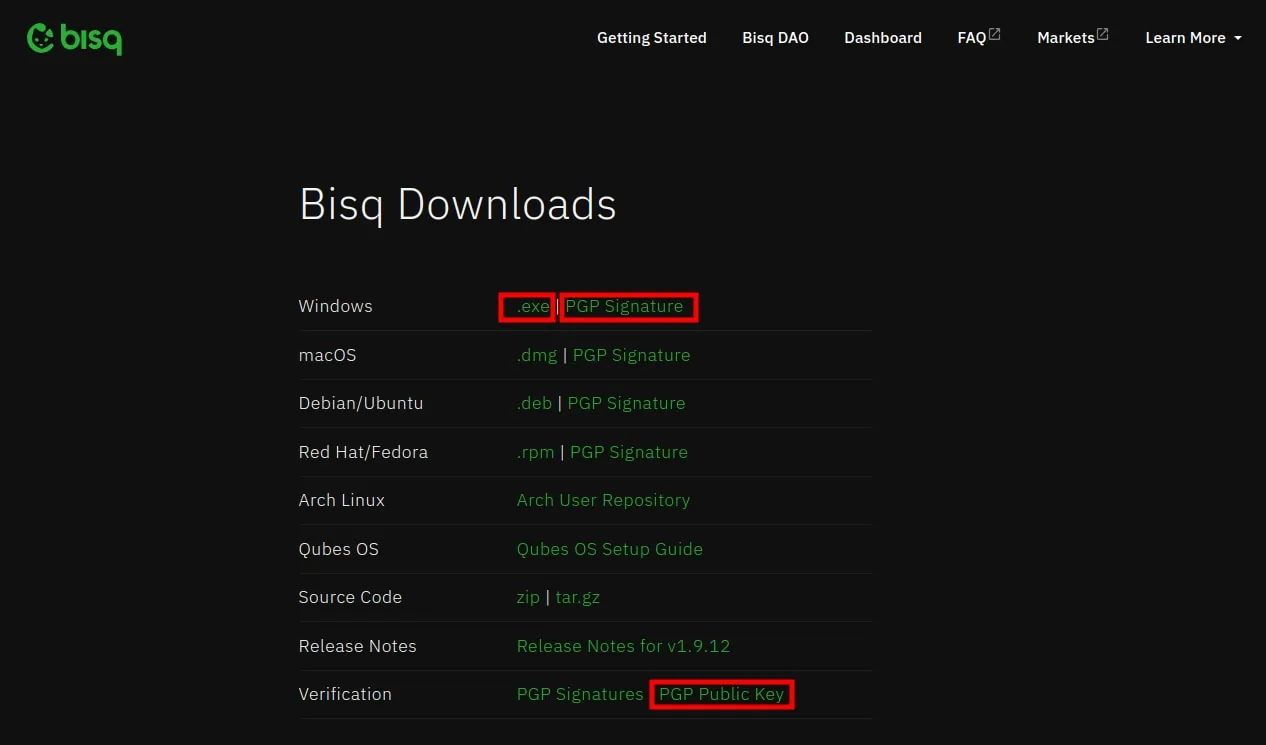 To get started you first need to download and install the Bisq software. We recommend doing this over Tor, using the Tor Browser. This ensures that your IP Address is hidden and that you're downloaded software isn't linked to your real world identity by ISPs.
Browse to https://bisq.network/downloads/ (be sure of spelling as well as ".network") and download the files for your OS. Also download the PGP Signature and PGP Public Key files as these are needed for the verification process.
Installation isn't anything difficult, but we'd strongly recommend you fully verify the files to make sure you're not installing malware. We go through this, step-by-step, in the below guides:
Once you've installed Bisq, the app will drop you straight into the main trading view.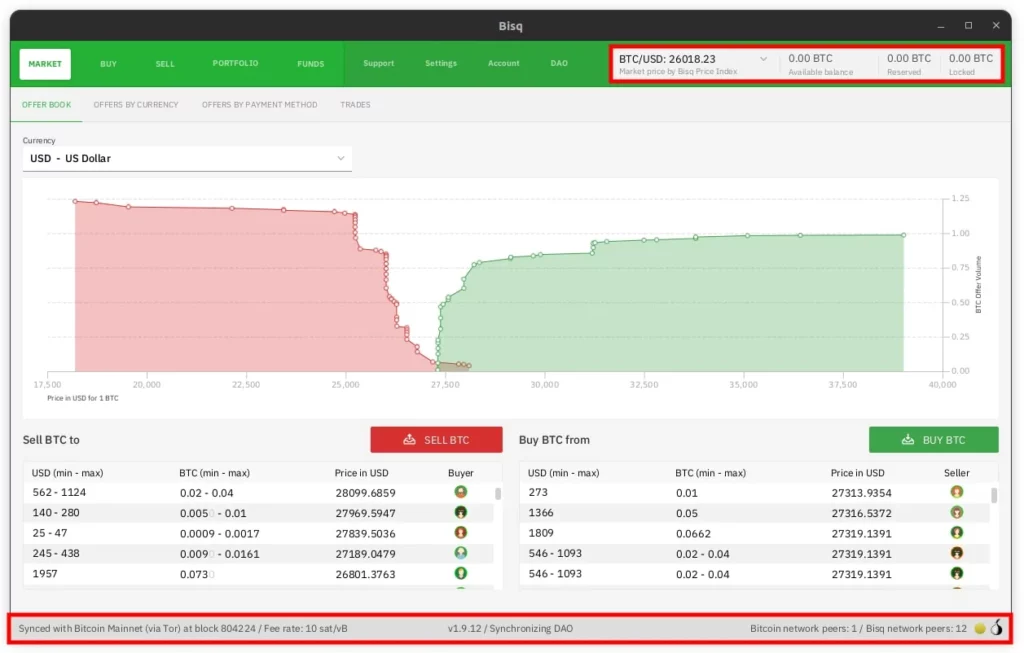 Down the bottom there is a bunch of helpful information such as how many Bitcoin and Bisq peers you're connected to as well the Bitcoin network fee rate.
Payment Methods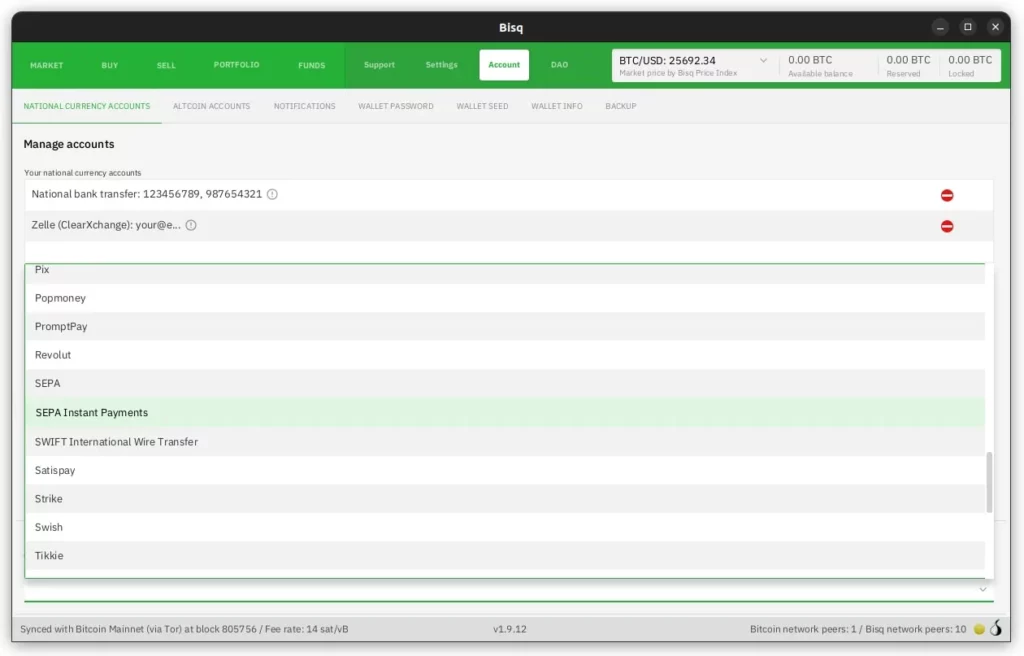 When you open Bisq it will boot up and connect to other public Bisq network peers and show you the main trading interface while it syncs. You won't be able to "take" any of the offers though as to be able to buy Bitcoin on Bisq you'll need to add at least one payment method first.
Bisq exchange supports over 50 payment methods including many popular options such as ACH, Faster payments, Interac e-Transafer, Bank Transfer, Revolut, TransferWise, Face-to-Face, Cash by mail and more. You can find the full list here.
Click on Account -> Add New Account and setup whatever payment method you want to. This could be a National Bank account, a Zelle account, whatever. This information will only be shared with trading peers if they need it, no one else.
Many Supported Currencies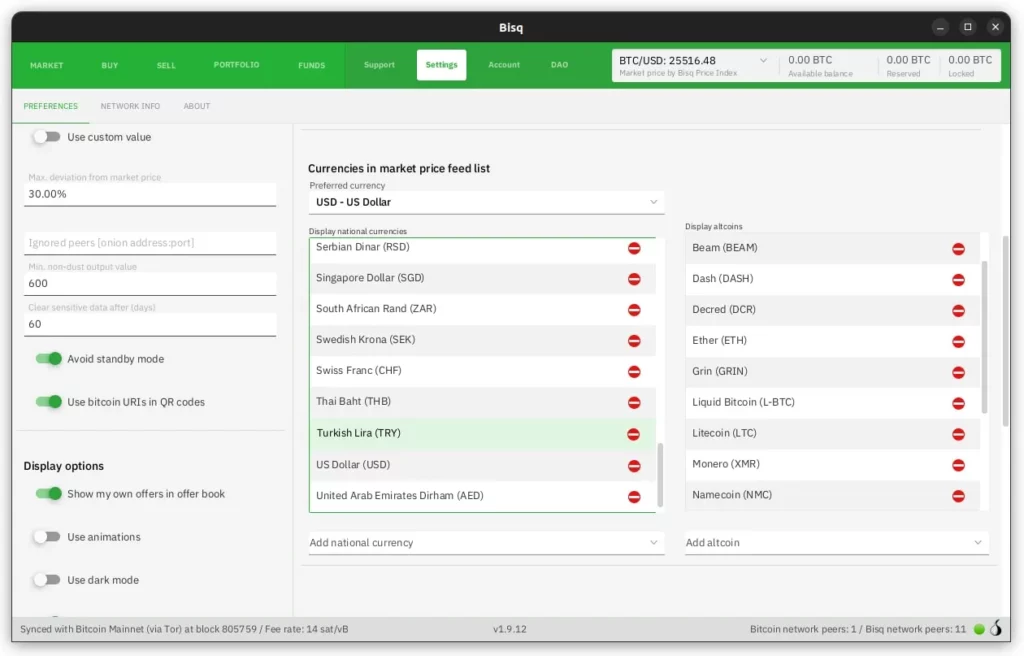 Bisq supports almost all national currencies with over 30 different ones available. They also support 10+ alt coins such as Ether, Beam, Dash, Zcash, Monero, Litecoin and Liquid Bitcoin. This wide support of fiat currencies, alt coins and payment methods combined with the fact that you can use the Bisq platform in any country without ID means it's a powerhouse of an exchange.
While other centralized exchanges struggle to deal with all the different laws in all the different countries around the world, Bisq trades are free to swap various crypto assets anywhere, anytime.
Strong Security Measures In Place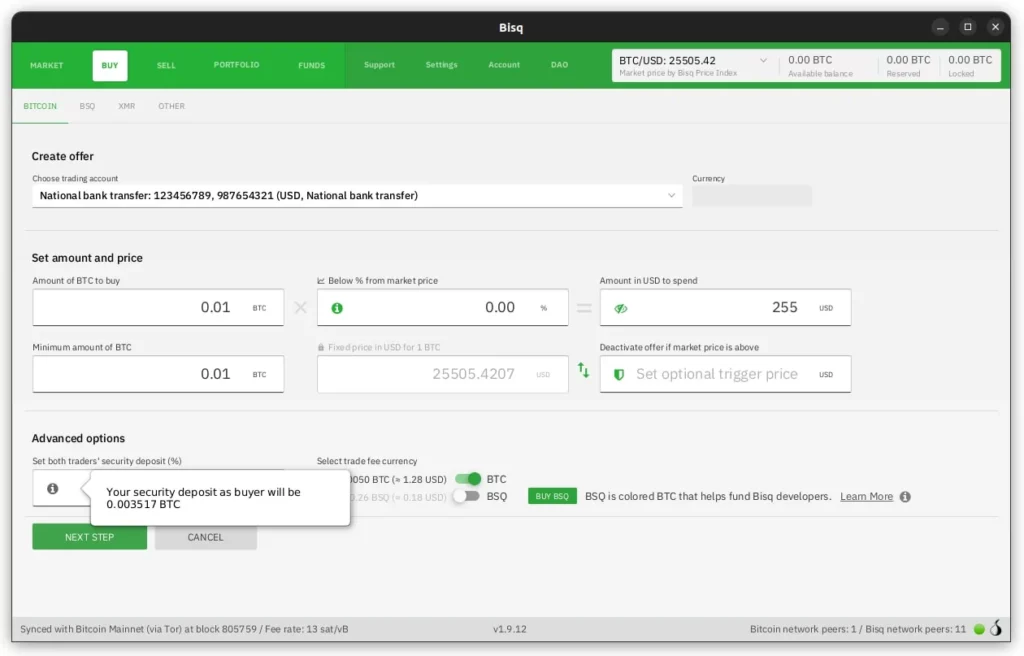 Being a completely decentralized crypto exchange, Bisq knew that it had to approach security and fraud differently to centralized exchanges. While there's no "Bisq account", there still needed to be a way to facilitate trading but ensure fraud wasn't an issue.
To combat this Bisq has a number of systems in place such as requiring security deposits for every transaction, a 2-of-2 multisig escrow wallet for the funds and a three-stage system for the resolution of conflicts.
Another of these security measures is their (rather complex) trade limits. While we fully understand why this is required and fully support it in the application (as it keeps users safe and limits what damage scammers can do), it can be a bit hard to understand and "get going" for new users.
This is because when you first create certain Bisq payment methods, you will only be able to buy a small amount of bitcoin (usually around 0.01 BTC). This is for the following payment methods: "SEPA, SEPA Instant, Interac e-Transfer, Zelle, Revolut, Chase QuickPay, Popmoney, MoneyBeam, Uphold, and any kind of bank transfer".
The reason for this is that for these payment accounts a bad actor can buy bitcoins and then do a charge back on the fiat side to scam the other trade partner out of their bitcoins. To help mitigate this Bisq uses trade limits and account signing. Here's how it works:
Payment Account Created: You install Bisq and add your SEPA payment account. Once added, you will only be able to buy a maximum of 0.01 BTC at first
First BTC Buy: Once you make your first Bitcoin buy, your payment account is "signed"
30 Days Later: After a month, the buying limit on your payment account is raised to 50% of the maximum trade limit. As the limit for SEPA is 0.25 BTC, 50% of that = 0.125 BTC
60 Days Later: After two months, the max buying limit for your payment account is allowed
As you can see, it's not a huge pain as it only needs to be done once, but it's still a lot more convoluted than just clicking a big "buy" button on some website somewhere.
We should also note that this account signing and limits dance does not apply to selling bitcoin. To get more details you can see their wiki page on account limits as well as a full list of their fiat payment methods.
Trade Bitcoin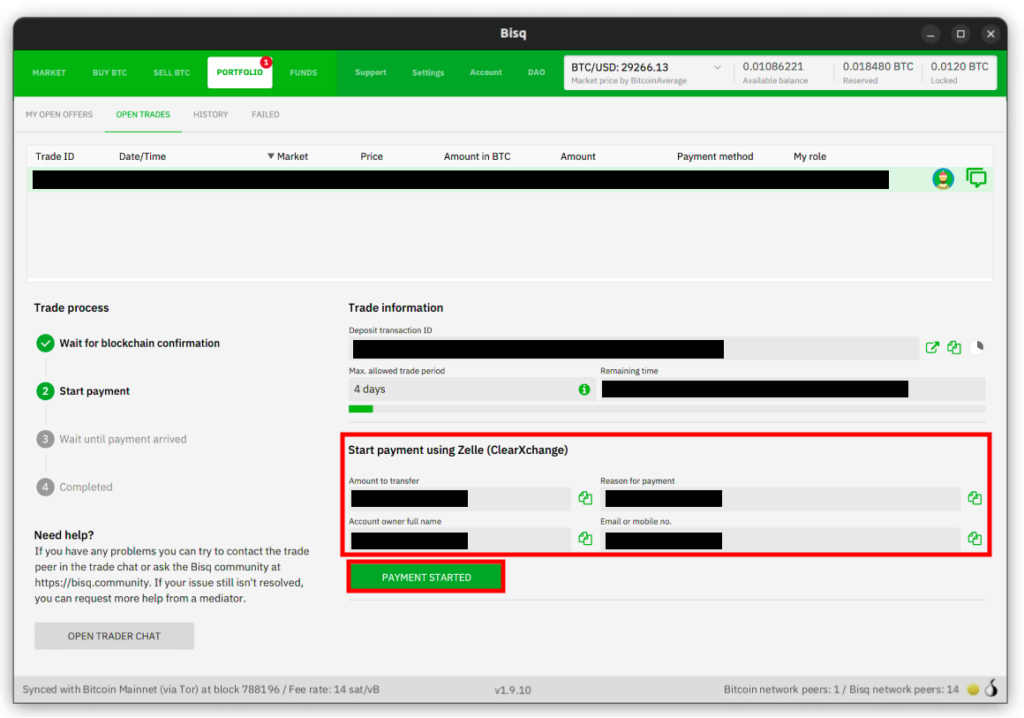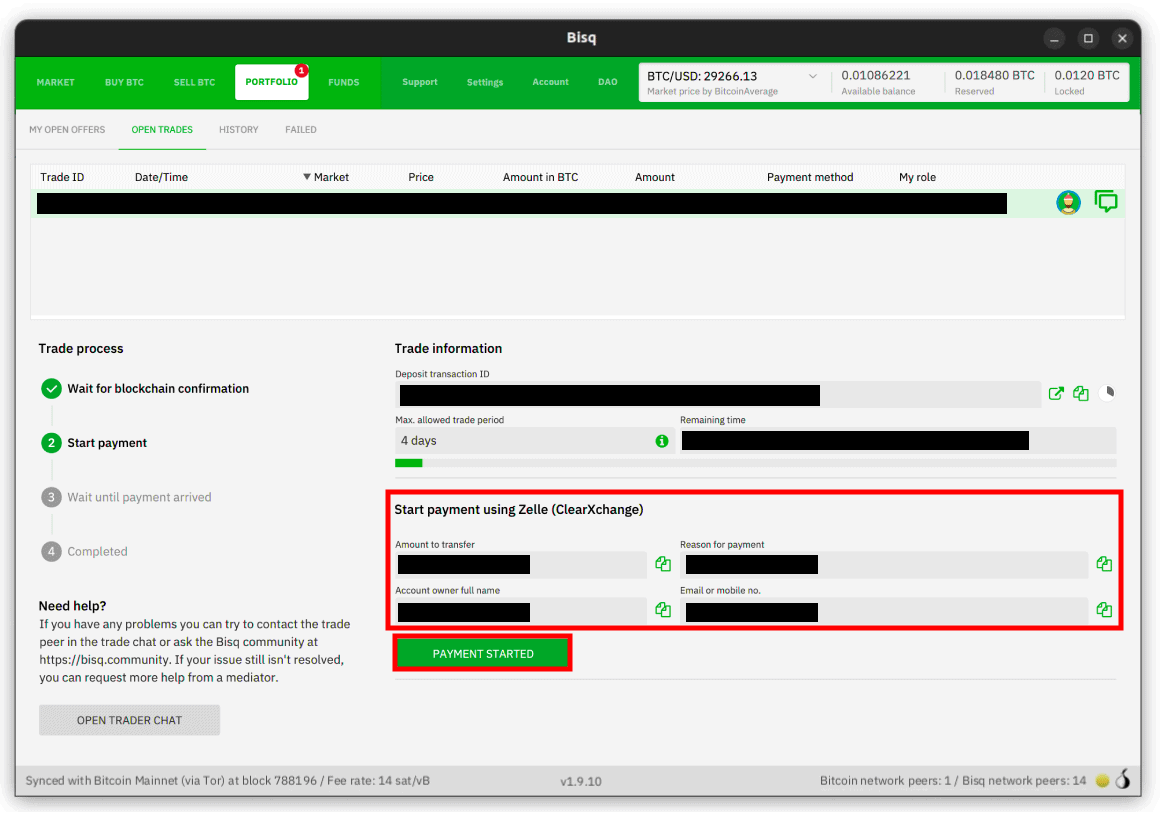 To buy and sell Bitcoin you can follow our easy, step by step guide: How To Buy Bitcoin On Bisq.
This goes through how to make or take an offer, how to fund your security deposit, send the fiat and more. A lot of people think that to buy bitcoin without KYC is "impossible" or a giant hassle, but Bisq makes it as straight forward as possible.
You simple make or take an offer, fund your security deposit then send or receive the fiat currency. That last step is usually the slowest part as fiat currencies are notoriously slow, especially on weekends. That being said, if you choose a fast payments processor you can complete a full trade on Bisq in minutes.
If there's any issues Bisq also has a very well established and fair dispute resolution process. This involves multiple levels including a trader chat, mediation where a real (randomly selected) human is brought in as an unbiased third party and finally arbitration
Trading Rules
Bisq users should also be aware that Bisq has a number of trading rules that can have pretty major consequences if violated. Bisq clearly outlines and explains them, and they're not anything too dramatic, but it's a good idea just to have a quick read over them first before you trade on Bisq.
Bisq Trading Fees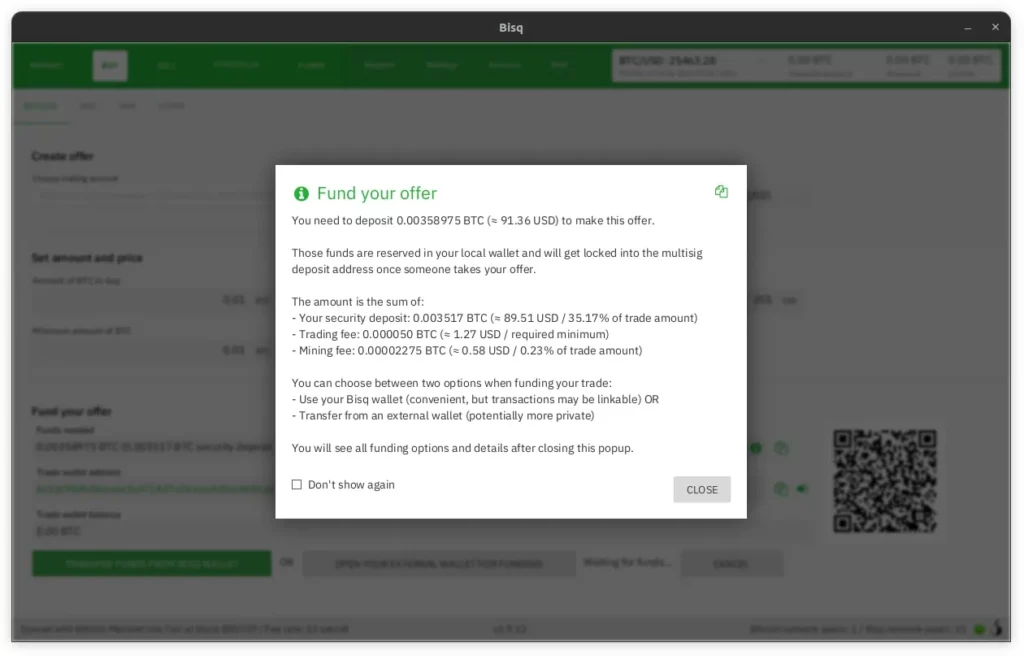 Bisq fees are dependent on whether you're a market Maker or Taker. If you're creating a trade offer to buy or sell bitcoin then you're a Maker. If you're accepting a trade offer to buy or sell bitcoin then you're a Taker.
For Takers the trading fee is 1.15% while Makers only pay 0.15%. This setup encourages Bisq users to create trade orders (as the fees are cheaper) which increases the exchanges liquidity.
These trading fees can also be reduced even further if you use their native BSQ token. Bisq also does not charge any fee to withdraw funds, besides the normal Bitcoin mining fee.
Backing Up Bisq
As Bisq is a truly decentralized exchange, all data is stored right on your computer, not on some random server in the cloud . While this is the gold standard for privacy and security, it does mean that backing up the data is your responsibility.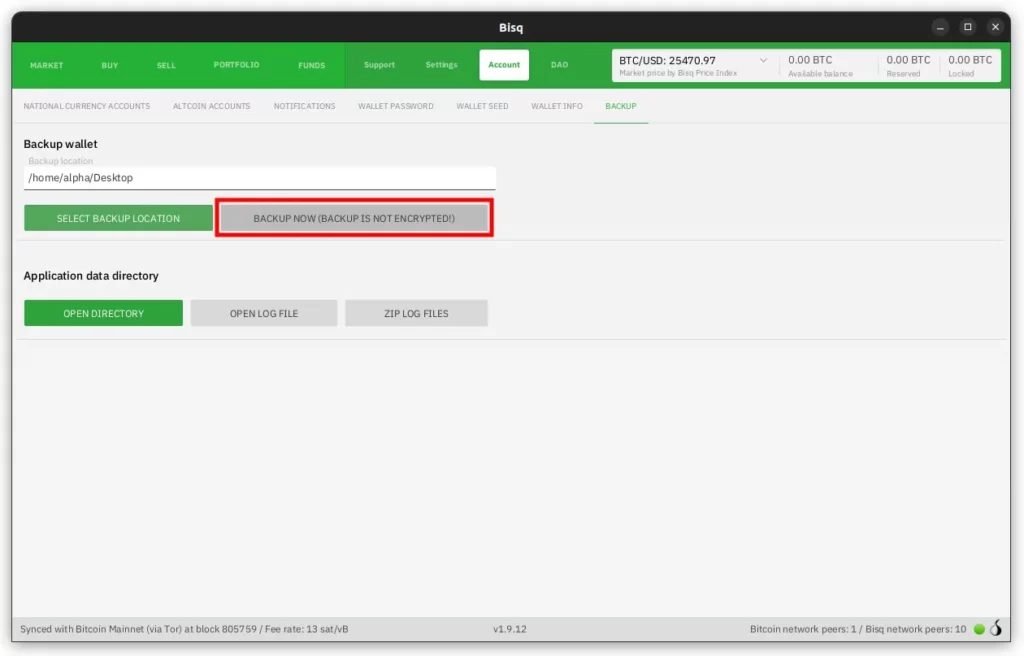 Thankfully Bisq makes this super simple. Just head over to Account -> Backup and click the big button. It's recommended to do this at regular intervals and you should be aware that the back isn't encrypted.
The other thing to ensure is properly backed up is your wallet seed phrase. As Bisq contains its own Bisq wallet, it has its own Private Key that you need to protect.
While you shouldn't be storing any large amount of funds in this Bisq wallet, it will likely have a moderate amount in it as this is what's used to fund your security deposits and trading fees.
Bisq Mobile App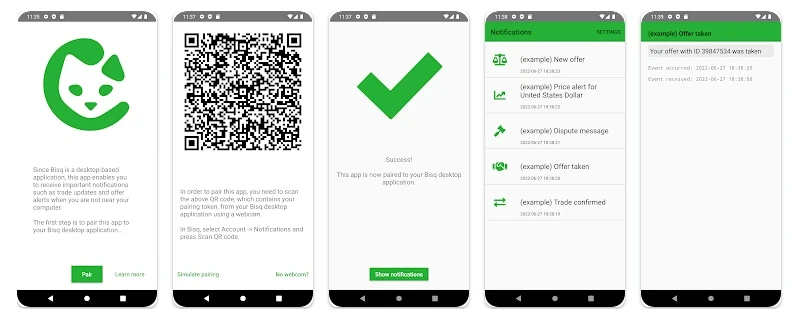 Bisq exchange is run as a stand alone application on all major desktop operating systems, but they also have legitimate Android and iPhone apps available too. These are "Notification" apps only that connect back to your own computer – that's running the full Bisq program – to notify you of updates on the go.
They are not stand alone apps that you can buy and sell Bitcoin on. Any other Android or iPhone apps claiming to be Bisq should be reported as malicious.
Customer Support

Problems can sometimes happen when you're trading bitcoin on Bisq and as they're a fully decentralized exchange with no company, central entity or support desk to help, users can sometimes get a bit lost.
To make up for not having a normal customer support desk, Bisq instead has a full suit of user support channels available. These include:
Extensive Wiki / FAQ
Matrix
Telegram
GitHub Issues
Bisq Forum
Reddit
Mediation
The Bisq software itself also has robust error correction capabilities built into it as well. This means that if you get random errors or things go wrong, you can easily reset various things to get yourself back on track again just by following the applications suggestion.
If all else fails there's a huge number of Bisq users that will be more than happy to help too. Just be wary of people claiming to be from "Bisq Support" and wanting you to give them your seed phrase or install some random program. These are always scams.
Advanced Security Measures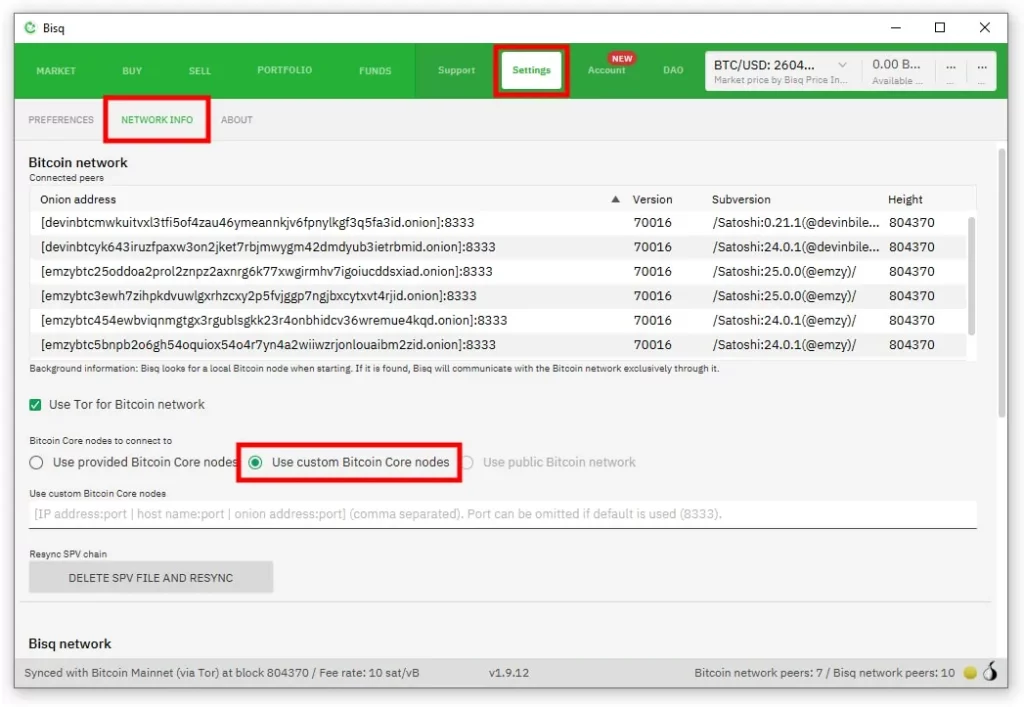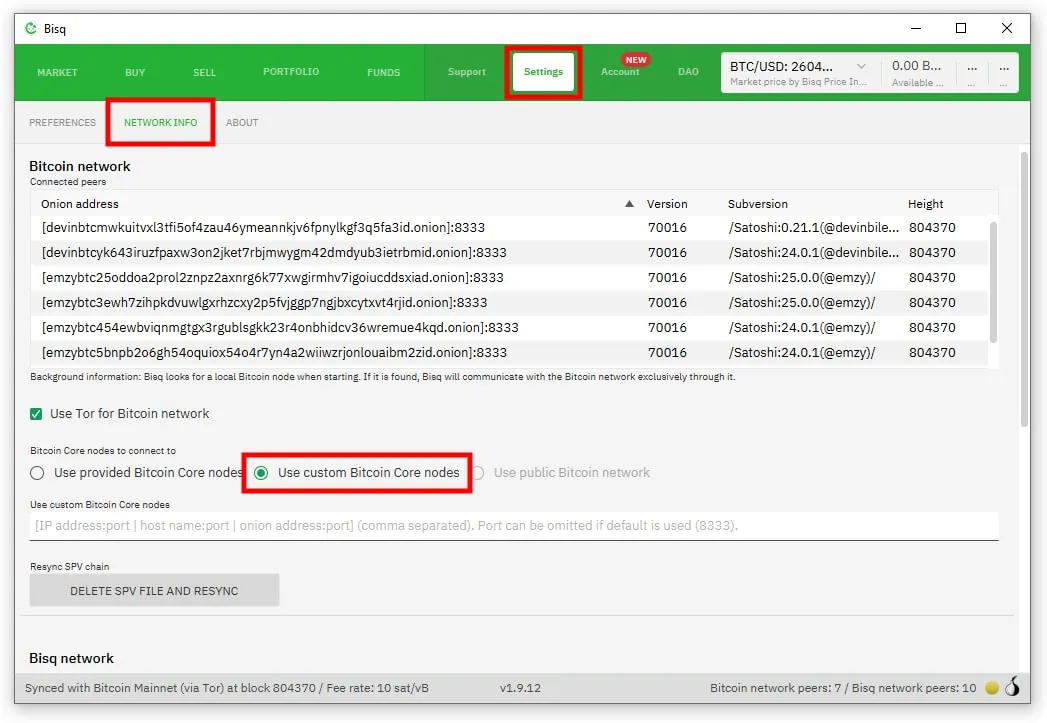 In both our Advanced Bitcoin Privacy and Advanced Bitcoin Security guides we outline why it's so important to make sure your wallet is connected to your own node. While Bisq is an exchange, it also has a built in wallet that's used to receive and send funds, so the same privacy and security benefits come into play when you connect Bisq to Umbrel.
Everything in Bitcoin is done through nodes
If it's not your node, then someone else knows your balance and spending info and can also feed you false information creating all sorts of security concerns. Once again we have a full, step by step guide to help you get this setup.
>> How To Connect Bisq To Umbrel Full Bitcoin Node
We'd also highly recommend locking your Bisq app with a strong password. This ensures that attackers can't just open it and steal all your funds in the wallet.
A Mature, Feature Rich Platform
Bisq is a feature rich and mature platform that has built up a reputation for security and privacy over many years of hard work. It's available on Windows, macOS and Linux operating systems meaning no one misses out and it even has an API that you can build your own apps to interface with too.
It was originally launched in 2014, so has been around for almost a full decade now which is almost as old as Bitcoin itself! This means that the code base has been able to go through over 130 public releases, be refined immensely and have many critical bugs found and squashed making it much safer for its users.
One downside for many open source projects is the lack of documentation as they're often a work of passion or are only maintained by a handful of developers. This means they don't usually have the time or skills to write extensive and high quality guides or information on things.

This isn't the case at all with Bisq which is a breath of fresh air. They have a huge wiki, excellent getting started guides and even high quality videos showing you how to do everything from your first trade to answering common questions. If something isn't there, the huge Bisq community forum surely has something to help you purchase bitcoin.
This long life also shines through when you see all the various options and features that Bisq has available. From its solid user interface, to its DAO to being able to connect it to your own full node to other less common things you don't normally find on crypto exchanges such as full Coin Control when sending coins to another wallet, Bisq is sure to have what you crave (just not electrolytes).
FAQ
Is Bisq Legit?
Yes. Bisq is an extremely private and secure way of buying and selling bitcoin. Due to its open source and decentralized nature it's available in all countries and supports over 60 payment methods.
Is Bisq Available In USA?
Yes. Due to its open source and decentralized nature anyone with a computer has the opportunity to trade on Bisq. While many exchanges are not allowed in the USA, Bisq is available in all countries and supports over 60 payment methods.
What Is The Minimum Deposit For Bisq?
People making an offer on Bisq are required to setup a security deposit. This deposit can be anything from 15%-50% of the trade amount, with an absolute minimum of 0.001 BTC.
How Much Does Bisq Charge?
The total trading fee is dependent on whether you're a market Maker or Taker. For Takers it is 1.15% while Makers only pay 0.15%. These fees can also be reduced even further if you use their native BSQ token and Bisq does not charge any fee to withdraw funds, besides the normal Bitcoin mining fee.
Is Bisq Good For Crypto?
Yes. While many big centralized exchanges require invasive KYC to use them, Bisq is free, open source technology that is extremely private, safe and fully decentralized just like Bitcoin is. It represents an exchange that cannot be stopped or shut down and is available to every person that can run the program with no permission or IDs required.
Can You Withdraw From Bisq?
Yes. Bisq has its own built in self custody wallet that you fully control. You can make withdrawals or deposits to it at any time and no one can stop you.
Does Bisq Need KYC?
No. There is no need to provide any personal information in order to complete a trade with Bisq. You will need to provide details about your payment method to your trade peer though, as this is required for them to complete the trade.
Does Bisq Have A Wallet?
Yes. Bisq has its own built in self custody wallet that you fully control. You can store bitcoin as well as other alt coins in it and make withdrawals or deposits to it at any time and no one can stop you.
How Reliable Is Bisq?
Bisq offers an easy to use platform to exchange cryptocurrencies. The platform is decentralized, making it highly reliable and redundant. Anyone can make or take trade offers on the platform at any time, anywhere in the world.
Who Owns Bisq?
Bisq is not a company and does not have an owner. Instead Bisq is organised as a Decentralized Autonomous Organisation (DAO) with the purpose of making the Bisq governance model as decentralized and censorship resistant as possible.