Peach Bitcoin is a P2P, centralised exchange that allows virtually anyone, even complete beginners, to stack sats in a safe and private way. Making something safe and private usually means making it much more complicated and harder to use, so when we did our Peach Bitcoin review we were very impressed to see just how simple and straight forward it was. It has a simple and fun user interface that basically anyone should be able to pick up and use.
Pros
Very high Privacy & Security score
Cons
No web or desktop support
What Makes Peach Bitcoin Exchange Special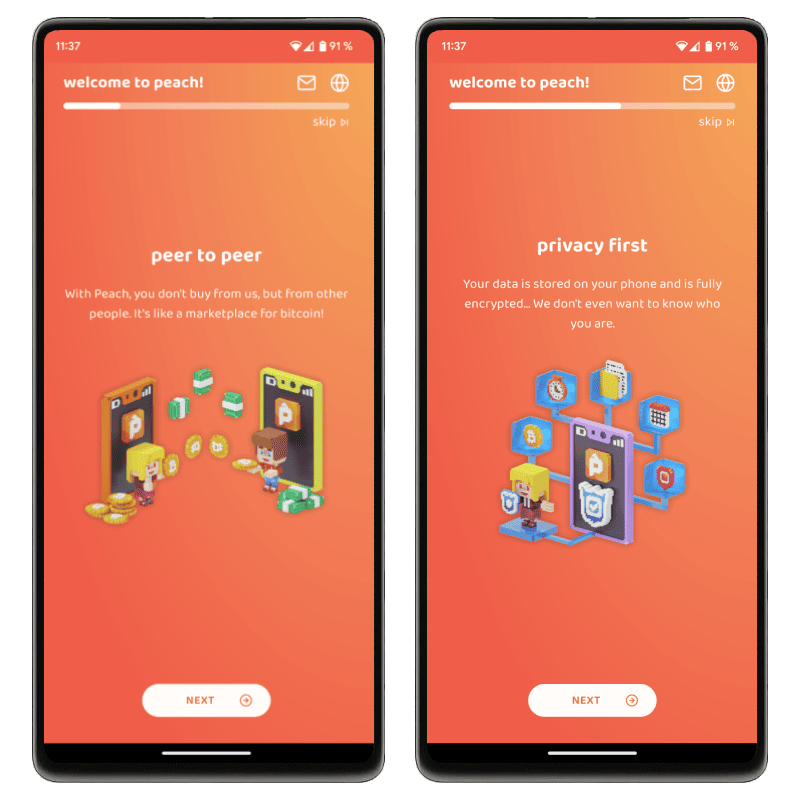 Non-KYC + Private Wallet: The most important thing about Peach Bitcoin is that it's entirely non-KYC and uses a self custody private wallet. This takes the form of an automatically generated Bitcoin Wallet inside the app itself and you can even setup a completely separate custom payout wallet.
P2P: Along with being non-KYC, Peach Bitcoin is also completely peer to peer. When you buy bitcoins on their exchange, you're not buying them from Peach. Instead it's coming from another Peach user that wants to sell their bitcoins.
Very High Privacy & Security: Being non-KYC, only allowing private wallets and being P2P, Peach Bitcoin already scores very highly on our Privacy & Security test but they then take it further. All user data is kept locally on the phone and is fully end to end encrypted (E2EE) whenever it's sent to another trading peer. You don't even need to submit any private details when your account is automatically created.
Fantastic UI: As noted, the user interface for Peach Bitcoin is slick, simple and beautiful. With a great look and feel, there's also plenty of helpful tips scattered all throughout the app to make sure you're fully informed of what's going on and why. It strikes an excellent balance between being simple, yet offering a very rich range of settings that more power users can change if they wish.
Bitcoin Only: Peach is a Bitcoin only exchange. There's no shitcoins inside and this is a great thing for all its users. We're very pleased to see more companies actively stepping away from being a shitcoin gambling casino as it helps keep users safe and builds trust back up in the community.
Where Peach Bitcoin Exchange Falls Down
Moderately High Fees: Buying bitcoins on Peach has decently high fees compared to some of our other top exchanges at 2%. Selling bitcoin on Peach is free.
Only Available In Europe: While Peach supports a number of countries, languages, currencies and payment methods, they're all Europe and UK based. This means if you're in America, Canada, Australia, China, Africa or dozens of other countries you're out of luck.
No Web / Desktop Support: There's currently no web interface or support for Linux, MacOS or Windows desktop clients meaning that you must have an iOS or Android phone to use Peach.
Who Peach Bitcoin Is Best For
Beginner users or those that want a simple, easy interface
Users who want a very high level of privacy and security
Users who are based in Europe and don't mind higher trading fees
Quick Peach Bitcoin Review
Detailed Peach Bitcoin Review
A Great Way For Beginners To Buy Bitcoin
Starting out as a plucky Telegram group as recently as 2021, Peach the company was created in 2022 by @proofofsteph and has since launched their iOS and Android app to make P2P stacking the standard. Their goal is to make it possible for your grandma, your mum, your daughter and your granddaughter to easily and quickly stack sats P2P.
A big pain point we often hear from many Bitcoiners is that peer to peer exchanges are "harder to use" or have more complex interfaces which can be a fair point depending on what exchange you're using.
People that are new to Bitcoin also have a lot to learn and can make many simple mistakes. Exchanges are some of the worst companies that encourage these mistakes such as not holding your own private keys or submitting to KYC verification.
Peach Bitcoin on the other hand bucks all these trends as they're non-KYC, only allow users to hold funds in their own self custody wallets all while being peer to peer. This means that anyone, no matter how little they know about Bitcoin, can get straight into buying their first bitcoins all while ensuring they do so safely and privately.
We're thrilled to see another new exchange embracing these vital principles, not to mention one that has such an amazing user experience. Increased security often comes at the expense of increased complexity but not with Peach.
Very High Privacy & Security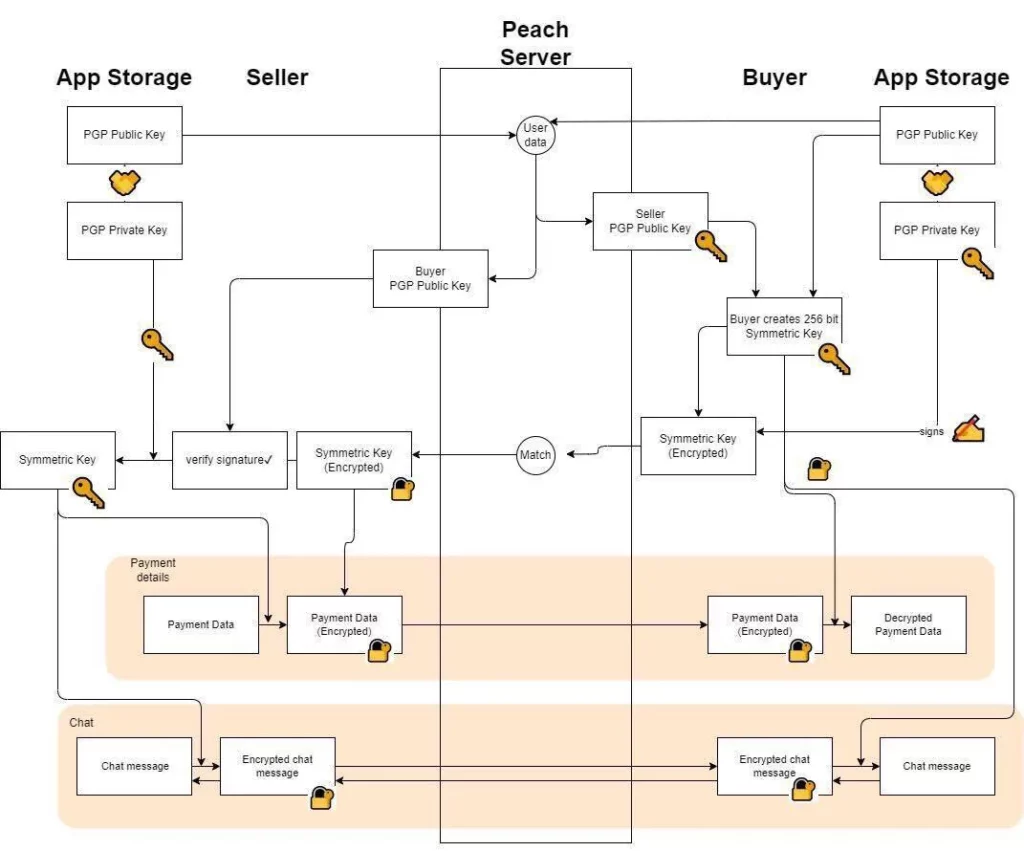 Speaking of privacy and security, Peach Bitcoin adds even more robust security measures by encrypting all user data, only storing it locally (not on their servers) and only transmitting this encrypted data to the trade partner via E2EE. The only time Peach can read anything is if there is a dispute and you explicitly allow them to view the contents of your encrypted trade chat.
When it comes to your "account", Peach also doesn't have any registration process. Instead, the user account is a Bitcoin public / private key pair that is automatically generated and only stored on the device once again. There's no need to enter any KYC details or even an email address.
Peach does send a copy of the hash of your devices ID to their servers. This is strictly for compliance purposes as Peach needs to make sure users don't breach their trading limits. These limits are enforced by the Swiss regulations and allow for 1000 CHF of bitcoin per day or 100,000 CHF per year per user.
Moderately High Fees
Compared to some of our other top reviewed Crypto Exchanges, Peach Bitcoin does have moderately high fees at 2%. For comparison, RoboSats has fees ranging from 0.025%-0.175% depending if you're a Maker or Taker of an offer. If you take an offer to buy someones bitcoin on the AgoraDesk platform you don't pay any fees!
While Peach doesn't charge users anything to withdraw their bitcoins to another wallet like many of the mainstream exchanges do, we still feel that Peach could be a bit more competitive here. It's also good to see that they don't charge anything for those wanting to sell their bitcoin.
User Interface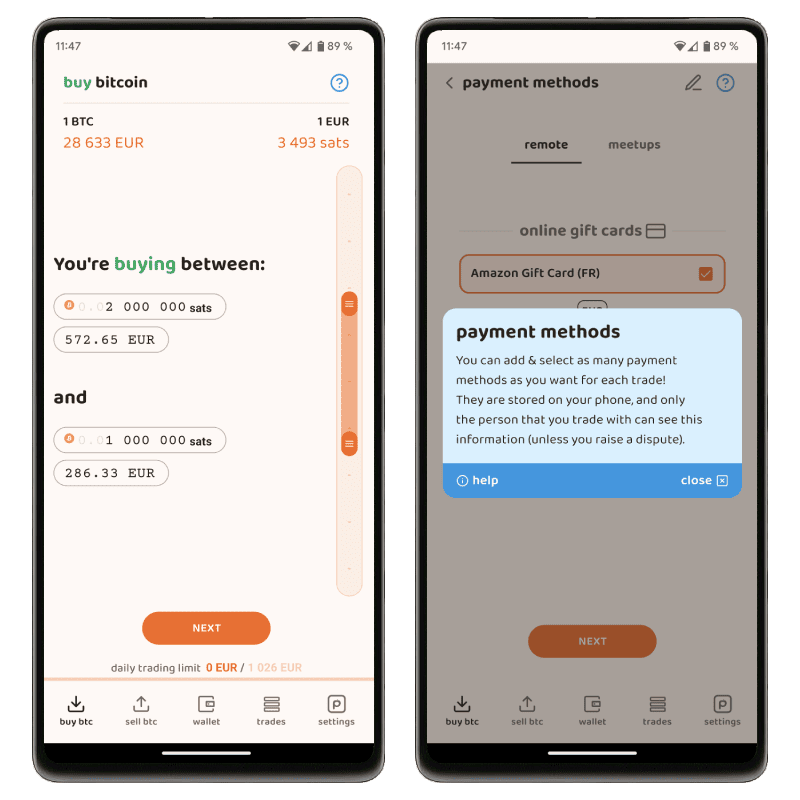 As already noted, the main aim of Peach Bitcoin is to make stacking sats via P2P not just easy, but stupidly easy. So easy that your grandma can do it and we think they've hit the nail on the head. The app is highly polished with fun graphics, helpful support tips and a logical and simple work flow that takes you through both buying and selling bitcoin.
If you want, you can dive into more advanced features like setting up a custom payout wallet, defining your own transaction fees, exporting or importing your account or seed phrase, setting up multiple payment methods and more all with a simple interface too.
While many other exchanges have this very high level of polish in their apps, they're usually centralised exchanges that peddle shitcoins and force you to KYC yourself and all your bitcoins. They'll shove ads, "the latest magic moon coin" and other garbage in your face all while they charge you through the nose with hidden fees and surcharges. Many of them then go bankrupt resulting in you losing all your funds.
Learn More: How To Buy Bitcoin On Peach
As such Peach Bitcoin is indeed a rare exchange that pairs a top tier application and interface with very high levels of security and privacy that are at the core of Bitcoin. Hold your own keys. Transact with privacy. Don't trust third parties.
No Web Or Desktop Support
While their iOS and Android app look and work great, there's currently no web interface or support for Linux, MacOS or Windows clients. Having a website allows for easier access as users don't have to bother downloading an app, plus it also ensures that Peach never gets "banned" if Google or Apple feels like they don't like it for whatever random reason they invent next week.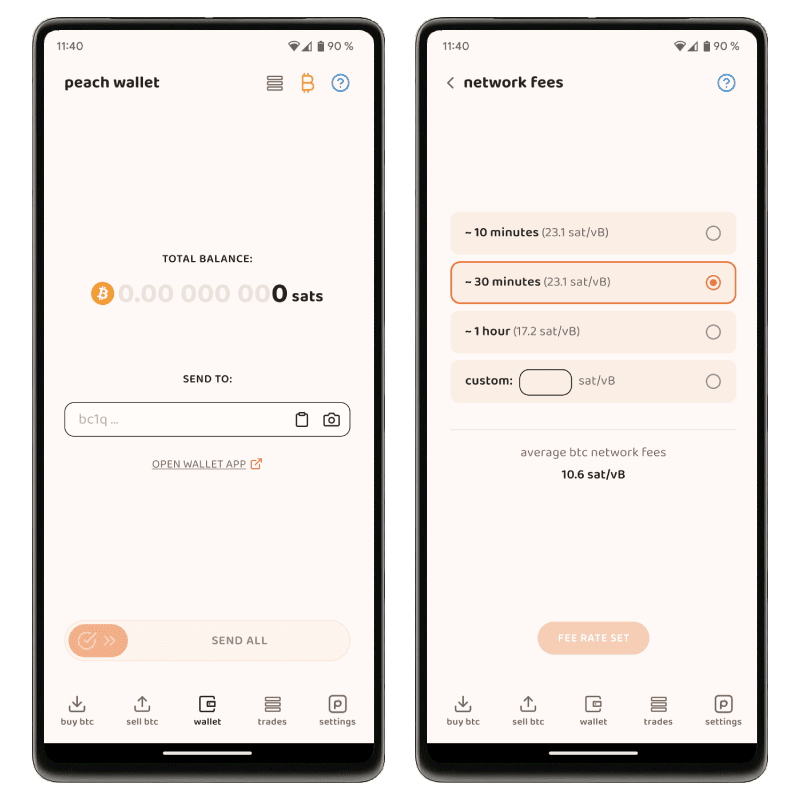 One other curious issue we encountered while testing the app on Android was that the Wallet tab can take a seriously long time to load for some reason. Perhaps this was just a bug for us, but it took at least 30-60 seconds to load, even though we were using a modern high end phone. Also of note is that the native Android back buttons (or gestures) don't work at all, meaning you have to use the apps back buttons located in the top left corner. It's a small thing, but hopefully it gets fixed in a future update.
Peach Bitcoin Alternatives
Is Peach Bitcoin Safe & Should You Use It?
If you're in Europe, absolutely! Do be aware that there are other exchanges with slightly lower fees and better privacy and security, but Peach Bitcoin still does a fantastic job of ensuring the P2P buying process is dead simple with a fun and intuitive interface.
Peach is also working hard and fast to build out the application so we hope to see some of our pain points addressed such as launching a web interface and expanding availability to more and more countries.
For now though if you're new to Bitcoin and are happy to pay the slightly higher fees in exchange for a great interface, Peach is a fantastic way to stack sats regularly and can now also be used to do in person trades at various Bitcoin events too. What will they come up with next? We'll be watching!
Use code PR6896 to get 100 free Peach points when you sign up!
FAQ
Can I Use My Own Wallet?
Yes. Peach Bitcoin defaults to using its own, self custody wallet but you can also specify your own private wallet via the settings menu: Settings -> Custom Payout Wallet. Once you've set your own wallet, click on the wallet icon in the top right next time you create a new trade.
Does Signing An Address Link It To My Identity?
If you use your own wallet address to receive the bitcoin, you need to sign to verify that you own it as per Swiss law. While this verifies that you control the address, it does not link your real world identity to it as Peach doesn't have that information.
Can Offers Have Multiple Payment Methods?
Yes. You can add multiple payment methods as well as multiple currencies for your trades: Settings -> Payment Methods. You can also email Peach Bitcoin ([email protected]) and ask them to add a new payment method if your one isn't supported.
Why Is There A 1,000 CHF Trade Limit?
Swiss financial intermediary regulations only allow the buying of up to 1,000 CHF per day or 100,000 CHF per year per user. If users want to buy more than this limit they must submit to invasive KYC verification. In order to protect its users from this, Peach Bitcoin sets a trade limit and keeps track of it via the device ID hash.
What Happens If I lose My Backup?
As Peach Bitcoin doesn't store any user data and doesn't use custodial Bitcoin Wallets, you alone are responsible for creating and securely storing your backup. If you lose it, Peach cannot help you recover it.
What Data Does Peach Collect?
Peach clearly outline exactly what data they collect in their full privacy policy, but in short they collect:
– A hash of your phone's ID
– A hash of your payment data
– Your encrypted chats
– Trade data such as included payment methods, how much you're buying, etc
– Usage data, if you agreed to this

Why You Can Trust Us
Our comprehensive review process rigorously researches and tests all aspects of the products we review. If you buy through our links, we may get a commission, but opinions are always our own. Review our full Crypto Exchanges Rating Methodology.