Hodl Hodl is a P2P, centralised exchange that has so many different payment methods, they even support buying bitcoin with a Tesla! While doing our Hodl Hodl review we found a good amount of various trades on offer, especially for USD and EUR. On top of all that they have no security deposit for buying bitcoins which, coupled with their fantastic privacy, security and low fees means they're hard not to recommend, especially for beginners.
Use the button above and get your trading fees reduced from 0.3% to 0.275%!
Pros
Fantastic and easy website
No security deposit required for buyer
Huge range of payment methods
Huge range of currencies & countries
Cons
Requires account creation
Data and orders are not E2EE
No desktop or mobile apps
What Makes Hodl Hodl Exchange Special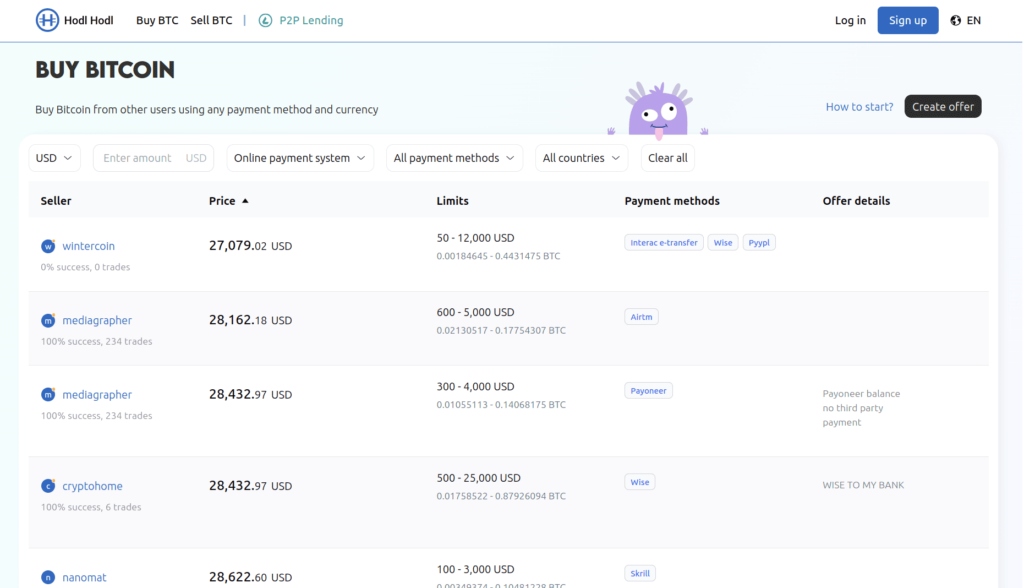 Non-KYC + Private Wallet + P2P: It's clear right from the start that Hodl Hodl cares about their users security and privacy as they hit the trifecta of not requiring any KYC, not holding any user funds and being fully P2P. There's no shitcoins, no day trader gambling garbage or token pumping and it's you the user that benefits hugely from these great decisions.
Low Maker & Taker Fees: While there's other exchanges out there with lower fees, Hodl Hodl is still one of the lowest exchanges we've seen out of all our tested exchanges. They charge an equal 0.3% for both market Makers and Takers making it very fair and simple. No hidden or overly complex fees here.
Fun & Easy Website: The other thing you'll notice straight away is their fun, big and simple to understand website. This is about as easy as it gets when it comes to buying bitcoins!
No Security Deposit For Buyers: One of the best features that makes Hodl Hodl stand out is that they require no security deposit when you take an offer to buy Bitcoin. This is fantastic for new comers as it helps them get past the catch 22 where you need bitcoins (as a security deposit) to buy your first bitcoins.
Endless Payment Methods: While the interface makes things easy on the eyes, their broad support for various countries, currencies and endless payment methods means there's surely something for everyone when it comes to the actual trade.
Where Hodl Hodl Falls Down
Email Required: In order to buy and sell you need to create an account that requires an email, username and password. While it's easy to get a free, private Proton.me email address, there's other exchanges that don't need email. Overall it's a very minor thing for most though.
Not Open Source: Although Hodl Hodl is a website and thus, you can technically look at its source code via the browser, it doesn't allow you to see any back end code that might be running and obviously isn't open source.
No E2EE: While the private key for the escrow account is end to end encrypted, the trader chat as well as the trade data, payment details etc is not. It's encrypted via HTTPS, but Hodl Hodl itself can still see and record these details. They state that chats are automatically deleted after 60 days and any sensitive info is encrypted on the server.
No Mobile / Desktop Support: There's currently no desktop or mobile applications meaning that you must use their website to use Hodl Hodl. While we 100% prefer web interfaces as this means it cannot be "banned" from app stores, it can also be handy to have desktop or mobile clients for many users. They state that these are are coming in 2024 and in the meantime, their website is fully responsive meaning it looks and works great on mobiles.
Who Hodl Hodl Is Best For
Users who want a high level of privacy and security
Beginner users with no bitcoins at all or those that want a simple, easy interface
Users who want one of, if not the widest array of payment methods and country support
Quick Hodl Hodl Review
Detailed Hodl Hodl Review
Fun & Intuitive Interface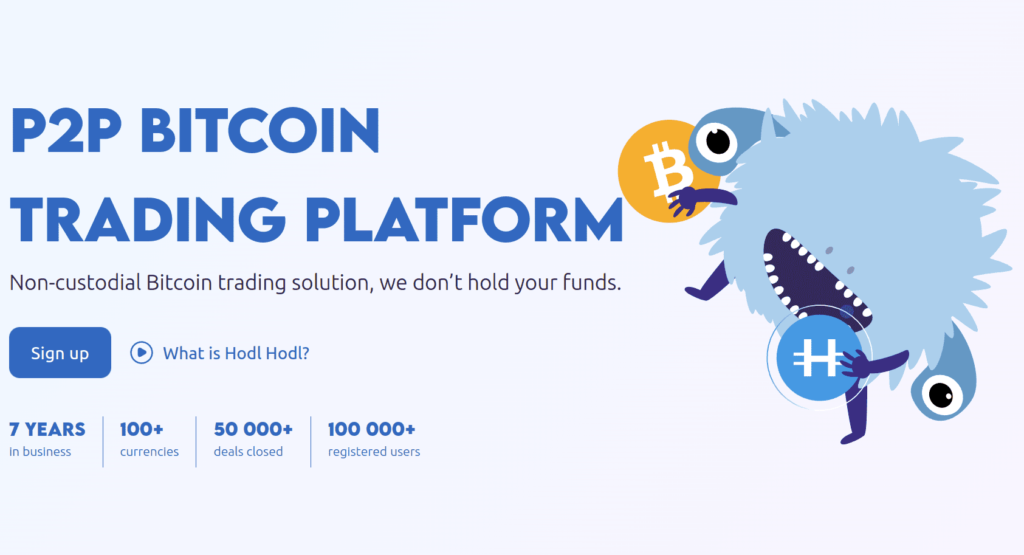 Let's be honest, currency exchanges aren't very sexy. They're usually bland, complex trading views with charts, tables and numbers everywhere. Not fun. Hodl Hodl with their recent site redesign on the other hand is fun, welcoming and beautiful.
With a big welcome monster followed by an easy buy/sell widget even a beginner isn't going to be scared off by this trading interface which is great to see. All you have to do is enter the amount you want to buy and all the offers on the platform are automatically filtered down to your specific currency, amount and even payment method or country if you also select them.
On top of this great ease of use, they also require no security deposits for BTC buyers that take an offer. This can be a crucial factor with many beginners as you can't buy Bitcoin if it requires a security deposit and you don't have any bitcoins to start with!
One of the most common complaints about using more private and secure P2P trading platforms is that they're "more complicated to use". That old idea can now firmly go out the window. Signing up is super simple, only requiring an email address and you can then get started accepting offers instantly, no waiting for some creepy company to "verify" your private information.
Very Good Privacy & Security
A flashy interface means nothing without a solid foundation in privacy and security. Thankfully Hodl Hodl implements a lot of the most important ways to ensure your funds always stay safe as well as your personal information private.
They don't require KYC – ever – and always ensure that you, not them, hold your own private keys meaning you're always fully in control of your own funds. A core part of this security is their Multisig escrow contract. With full specifications outlined here, it's a 2-of-3 Multisig wallet that safely stores the funds during the trade.
No, we are not holding your funds. At Hodl Hodl you are trading directly with your counterparty. We only hold one out of the three keys to the multisig escrow, which ensures safe trading for both buyers and sellers.

Hodl Hodl
They even have a "Doomsday Software" program (also called the Escrow Extraction tool) that allows you to sign together with your other trading partner and get your funds back from the escrow wallet if Hodl Hodl itself ever goes out of business for some reason.
Taking this security even further they have support for app based 2FA, have a reputation system to allow you to see traders history and ratings scores plus they also have "trusted devices". These are computers that are explicitly authorised to access your account meaning no random people can login even if they somehow get your username and password.
One area where they do fall down a bit is the transmission and visibility of user data. While your escrow wallet private key is end to end encrypted (E2EE), the trade details, payment details and trader chat isn't.
It's sent using HTTPS encryption, so at least it's not in clear text, but Hodl Hodl can still see and record all this sensitive data. As payment information can often include your real world identity this isn't a great thing and we'd much prefer it to be E2EE between you and your trading peer only as other exchanges do. Hodl Hodl do note that the trader chat is deleted after 60 days and the other sensitive information is encrypted on their servers.
Crazy Payment Method Support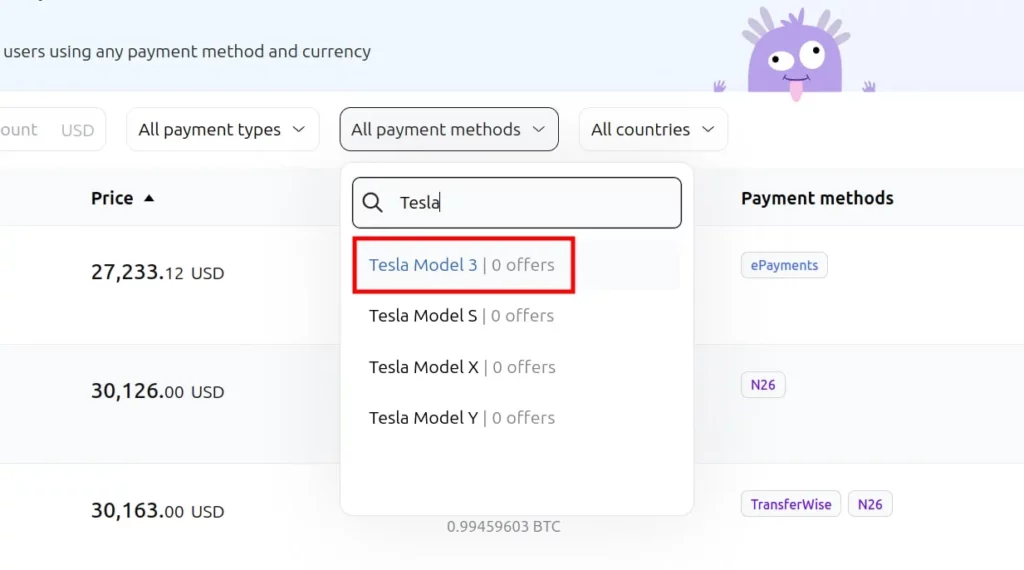 Yes, you're reading that screen shot correctly. Hodl Hodl are not screwing around when it comes to payment methods! They have basically everything you could possibly imagine available from standard payment processors to other cryptocurrencies to freaking Teslas.
While you might not find many offers that use them as their payment method, you can always create your own maker or taker offer using them. By our account, they have over 370+ different payment methods which is far and away the most of any exchange we've tested. Amazing.
Excellent Fees
While mainstream exchanges often advertise very low or even 0% fees for trades, they usually have horrendously complex fee structures under the hood. These can take the form of nasty withdrawal fees, meaning you can't take your bitcoins off their platform without taking a huge hit. Other times they flat out just don't tell you until your literally execute the trade, at which point they basically just make up whatever fee amount they choose as there's no documentation on how it's calculated.
Hodl Hodl is super clear about their fees and are quite cheap to boot. There is no withdrawal fee (besides the normal and fair network mining fee) and their trading fee is a flat 0.3% for both the maker and taker. We also saw many traders offering zero fees, although they were normally the ones that had a higher BTC/USD price.
While there are other exchanges out there with lower fees, it's a very small difference of at most 0.3% but usually more like 0.15% and those exchanges don't have as sleek and easy an interface.
Lending, Limits & Supported Countries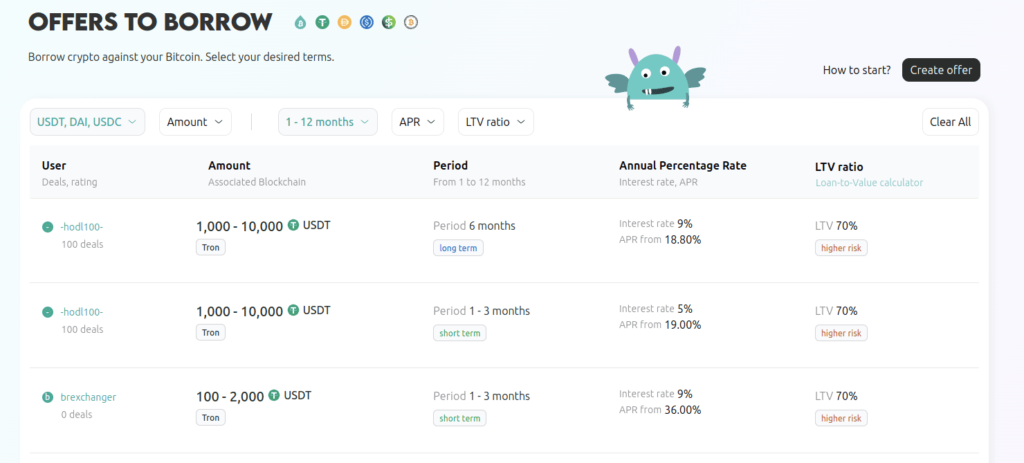 Hodl Hodl doesn't just do exchanges, they also have a peer to peer lending service too. This allows you to borrow a certain amount of crypto against your bitcoin. The details of these deals, such as interest rates, loan to value ration etc are all worked out between each peer and the collateral is locked once again in a 2-of-3 Multisig escrow wallet for security.
Unlike many other lending services which introduce leverage and a great deal of risk, Hodl Hodl instead only allows for loans where the Bitcoin collateral is higher than the value of the borrowed crypto. This is called over-collateralisation and you can get loans from 1-12 months on a number of different cryptocurrencies such as Ethereum, USDT and DIA.
Buying and selling bitcoins also have various trading limits depending on how many trades you've done and with how many different people. As a new user you'll start off with a trade limit of 1 BTC per trade and only being allowed to have 4 trades open at any given time, which is quite a decent amount! Once you've hit certain levels such as completing a trade with 5 different user then it gets raised to 2 BTC and then 5 BTC finally after even more requirements.
Hodl Hodl also supports a very wide range of countries, one of the major markets that's not supported yet though is the USA unfortunately. They did enable trading for the USA back in 2018, however after a short period of time they had to cancel it.
After talking directly to them, they've stated that they will once again be returning to the USA along with integrating support for the Lightning Network very soon. The precise dates for when this is happening will be announced at the Baltic Honeybadger conference on September 2nd-3rd this year which is great news.
Hodl Hodl Alternatives
Is Hodl Hodl Safe & Should You Use It?
If you're outside the USA, absolutely! If you've never bought peer to peer or simply don't have any bitcoins at all Hodl Hodl is a great place to start as they don't require any security deposit which can add a bit of complexity, especially if you don't have any bitcoins to begin with.
While there are other exchanges with slightly lower fees and even better privacy features like E2EE, Hodl Hodl still has very good privacy and security, a vibrant trading platform with a huge number of payment methods, supported countries and is fun and simple to use.
Plenty of exchanges have fallen by the wayside over the years suffering from leverage blow outs or just outright fraud. Hodl Hodl by contrast has remained strong and committed to the Bitcoin core ethos since their beginnings in 2017. We hope to see them around for as long as people need to trade bitcoins, hopefully with full E2EE enabled soon too.
Use the button below and get your trading fees reduced from 0.3% to 0.275%!
FAQ
What does the word HODL mean?
HODL is a misspelling of "hold", which was originally used to describe "holding onto" your bitcoins during times of large volatility in the market instead of selling them. The spelling mistake was made by GameKyuubi in a drunken post back in 2013. It's also commonly used for "hold on for dear life"
Who Is The Founder Of HODL HODL?
Max Kei founded Hodl Hodl on the 23rd of Feb, 2017. Since then it's been through a number of investing rounds, the last of which was in 2021.
How Are Disputes Resolved?
If there's a dispute or problem with your trade you can talk to the other party via the trade chat and hopefully resolve it straight away. If things can't be worked out, either party can contact a support manager who will analyse the trade details and resolve the dispute.
Are There Trade Limits On Hodl Hodl?
Yes. Hodl Hodl has 3 levels that's applied to users. Each level unlocks higher trade limits with a new user starting on a trade limit of 1 BTC. The highest level allows for 5 BTC per trade.
Does Hodl Hodl Have An App?
No. You can only use Hodl Hodl via their website however they do have plans to release both desktop and mobile apps in 2024.
Does Hodl Hodl Have A Token?
No. They are focused only on Bitcoin and state that they will never have a token of any sort.

Why You Can Trust Us
Our comprehensive review process rigorously researches and tests all aspects of the products we review. If you buy through our links, we may get a commission, but opinions are always our own. Review our full Crypto Exchanges Rating Methodology.