Note: The bitcoin rainbow chart and the bitcoin prices it displays do not constitute investment advice. Historic performance is no guarantee of future performance and you should always consult a financial planner before investing in any asset.
What Is The Bitcoin Rainbow Chart Indicator?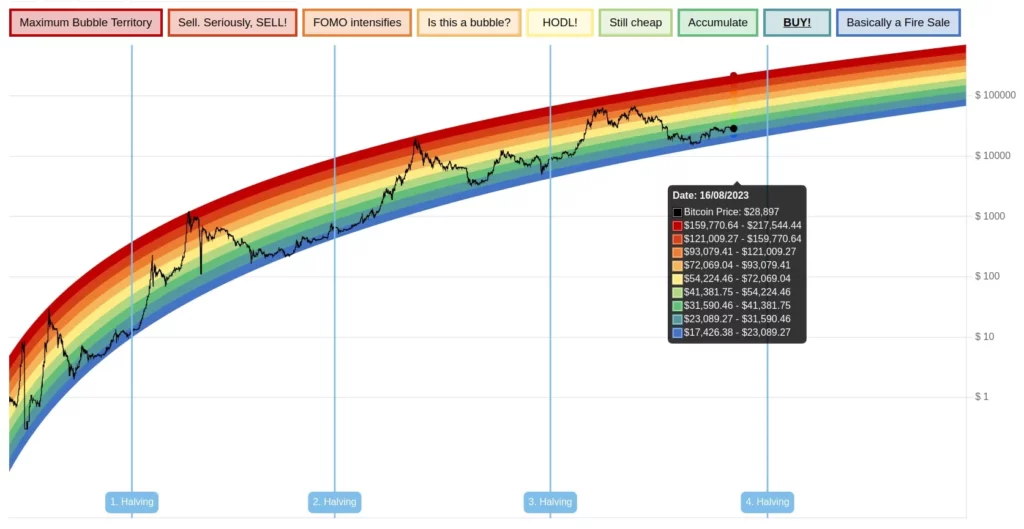 Originally created to be a long-term predictor of price movements, the bitcoin rainbow chart overlays rainbow color bands onto a Logarithmic Regression curve in order to highlight market sentiment at the various colors of the rainbow.
This makes for a quick and easy way for investors to tell when the best possible opportunity for buying or selling is. One of the other things that has long excited investors is the potential future price direction the chart predicts.
By using the Bitcoin rainbow chart, investors can better understand these potential future trends and price movements of Bitcoin as well as know whether it's historically a good time to buy bitcoin or not.
How To Interpret The BTC Rainbow Chart
Since bitcoin is a relatively young asset, the market price movement remains extremely volatile. Bitcoins price can and has increased or decreased rapidly in the past and there's not a lot of ways for investors to gauge whether or not the current time is basically a fire sale or a huge bubble.
The chart and its labels are purely to entertain the reader and do not represent investment advice. As the old saying goes, past performance is no guarantee of future performance!
Also keep in mind when reading the chart that it's a logarithmic growth curve, not linear, so each horizontal bar represents a 10x increase in the btc price. To interpret the rainbow chart properly, simply check which rainbow channel the btc price is currently in and then lookup the corresponding description:
Blue = Basically a fire sale (sell all the deck chairs)
Light Blue = Strong buy signal (stack harder)
Green = Accumulation zone (stack those sats)
Yellow = HODL (neutral)
Orange = Is this a bubble? (becoming overbought)
Dark Orange = FOMO intensifying (becoming more overbought)
Red = Very, very overbought, sell
Dark Red = Pure bubble insanity territory
Is The Bitcoin Rainbow Chart Real?
Just like with any other asset, bitcoin's price isn't predictable, least of all with rainbows! Just because the price has moved within the logarithmic growth curve channel so far doesn't mean it always will.
While it's interesting from a technical analysis point of view and can indeed help investors better understand what stage of the investment cycle the bitcoin price is currently in, it is still just speculation.
BTC Rainbow Chart Highlights
The rainbow chart was first shared in 2014 by a user named Trolololo on the original Bitcoin Talk forums and over time it's been refined and improved on by others, making it more dynamic and accurate.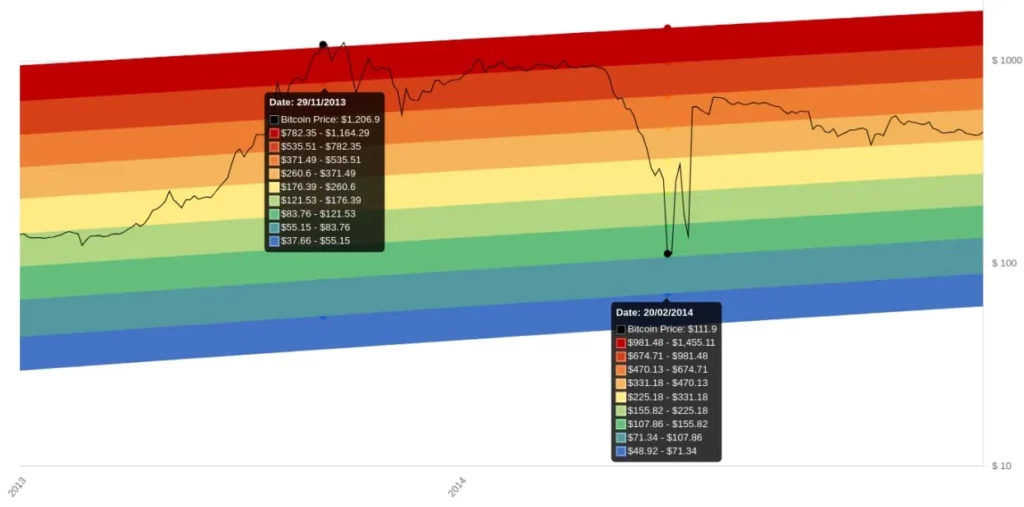 Over time there's been a few instances where the price of bitcoin has broken out of the logarithmic growth curve. For example there was a general upwards price movement in 2013 and towards the end of the year in November it reached full blown bubble territory.
The btc price soared past its then all time high of $1,200 USD, however this was quickly undone as only two months later it had crashed into the blue zone at around $110 USD.
What Will The Price Of Bitcoin Be At The End Of 2023?
According to the bitcoin rainbow chart, by the end of 2023 the btc price should be anywhere from around $20,000 to $250,000 USD. Again we'd like to stress this price prediction is simply for educational and entertainment purposes and as bullish as we are on Bitcoin, we don't recommend becoming day traders any time soon!
So far this year there (mostly) hasn't been very high daily volatility for bitcoin. It's stayed around the blue-green bands indicating a solid buy or accumulate signal for investors which has made some people happy… while also seeming to bore others.
Where Will Bitcoin Be In 5 Years?
In another 5 years, Bitcoin will still be a relatively young asset class with an incredibly small percentage of the population properly understanding it. According to the rainbow chart, it could be anywhere from around $90,000 to $900,000 USD per bitcoin. Whether that makes you want to buy bitcoin is, as always, up to you and your unique financial position.
Further Investment Advice
If you're interested in market sentiment, market cycles and even the history of investing, we have a number of other excellent investment guides and resources to help.
FAQ
Is The Rainbow Chart Accurate?
While the rainbow chart seems shockingly spot on for past btc price movements, this is all in hindsight and should be taken with a very big grain of salt. Forecasting future price fluctuations is not possible, least of all with a few simple colors.