AgoraDesk is a P2P, centralised exchange that has great privacy and security, along with top marks when it comes to ease of use. In ancient Greek times the "Agora" was a central public space where meetings of the people took place. It seems fitting then that when doing our AgoraDesk Review we found them to be an excellent exchange, particularly for beginners, as they don't require a security deposit and have 0% fees for those taking an offer.
Pros
Top marks in Privacy & Security
No security deposit required for buyer
Cons
Requires account creation
What Makes AgoraDesk Exchange Special
Super Easy For Beginners: The sleek and intuitive online web interface combined with the fact that buyers don't need a deposit combine to make AgoraDesk one of, if not our top recommendation for true Bitcoin Beginners.
Non-KYC + Private Wallet: Right from the go AgoraDesk is entirely non-KYC enabling you to buy Bitcoin without ID, plus you can also use your own self custody private wallet. This is a great precedent to set for new comers to Bitcoin as it hugely increases your privacy and security.
Great Privacy & Security: While it's not perfect, AgoraDesk does score very well in our Privacy & Security tests. It does require you to create an account in order to trade, but this account doesn't require any personally identifiable information (KYC) and even an email address. It's peer-to-peer and can be used via a Tor browser, however comms and trade chats are not end to end encrypted which isn't the best.
No Security Deposit For Takers: One of the best features that makes AgoraDesk stand out is that they require no security deposit when you take an offer to buy or sell Bitcoin. This is fantastic for new comers as it helps them get past the catch 22 where you need bitcoins (as a security deposit) to buy your first bitcoins.
0% Taker Fees: AgoraDesk only charges fees to the people creating the offers (makers). This comes in the form of a 1% arbitration protection fee for each completed trade. While this is a little high, it's excellent for anyone wanting to take a buy or sell offer!
Where AgoraDesk Exchange Falls Down
Some Traders Require KYC: Although AgoraDesk themselves have no KYC requirements, some of the posted trade offers that users have created still insist on KYC information.
Privacy & Security Could Be Improved: While having some excellent security and privacy practices such as being peer-to-peer and not requiring KYC to trade, AgoraDesk could still increase security. For example they could move to a decentralised model and also ensure that all trade and chat communications are conducted over E2EE rather than being logged for half a year.
Maker Fees Could Be Lower: Finally their maker fees could be a bit cheaper. At 1% they're not terrible (especially given taker fees are 0%), but with new competitors like RoboSats coming in at a fraction of their cost it needs to be mentioned.
Who AgoraDesk Is Best For
Beginners who have absolutely zero Bitcoin and are starting from scratch
Users who want good privacy and security paired with a great user interface
Users who want to buy bitcoins with 0% trading fees
Users who want to buy KYC free, peer-to-peer bitcoins using Android or iOS apps
Quick AgoraDesk Review
Detailed AgoraDesk Review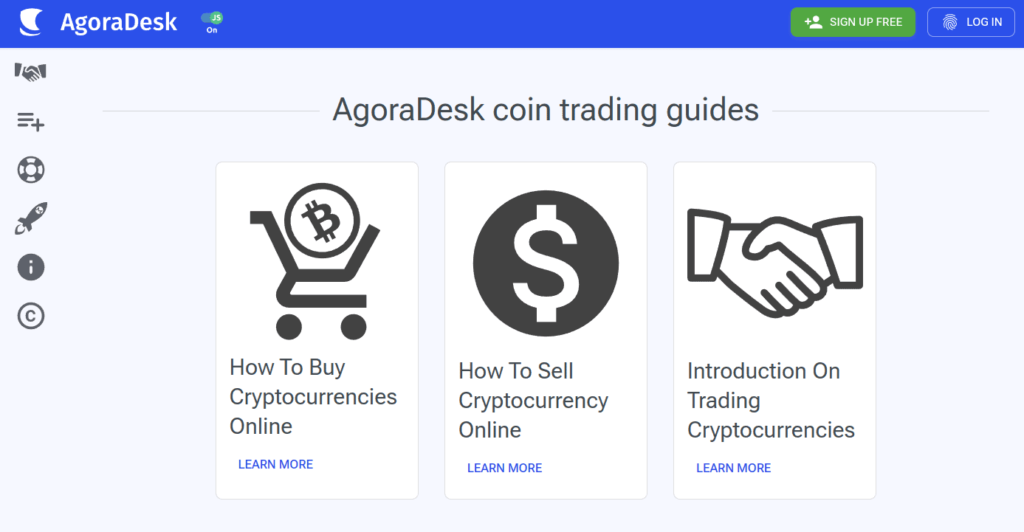 Top Pick For Beginners
While other exchanges we've reviewed out there do have better security and privacy features, AgoraDesk stands out in one particular way: they're extremely attractive for complete new comers who want to buy bitcoins anonymously.
One of the main reasons many gravitate towards the slick and shiny KYC exchanges (besides all their advertising) is because they are super easy to use. AgoraDesk easily matches their user experience with a modern, up to date and bright website that's welcoming and easy to use.
On top of this great ease of use, they also require no security deposits for BTC buyers or sellers that take an offer. This can be a crucial factor with many beginners as you can't buy Bitcoin if it requires a security deposit and you don't have any bitcoins to start with!
The ease of use, familiar web interface, no security deposit and excellent FAQ section all combines to make AgoraDesk our top pick for those that are just starting their Bitcoin journey and have absolutely no sats to their name.
Solid Privacy & Security
While we're never a fan of having to "create a new account" for the 500,000th time AgoraDesk is a bit unique in that it not only doesn't require any KYC info to setup and trade, but you don't even need to provide them with an email address to sign up either!
While we don't consider an email address to be personally identifiable (as you can just create a fake one in seconds), it's great to see it not required at all. This helps protect your privacy, but also means they can't recover your password if you forget it so just be careful.
Their privacy and security measures don't end there though, they're of course KYC free which is awesome and peer-to-peer too which stops the linking of bought bitcoins to a real world identity. You can also use their services via Tor or I2P to help further increase your privacy, they have a canary and they also provide both a custodial and non-custody wallet option.
One key area where we'd like to see them improve is implementing end to end encryption on all trade information and trade chats especially. Currently they encrypt this data, but still have access to it on their servers and delete it after 180 days.
This opens up the possibility to governments issuing secret information request orders and getting access to this otherwise highly sensitive information. By contrast, if it was all E2EE then only you and your trading partner would be able to see the private information which is a big step up when it comes to anonymity.
It'd also be good to see their website code base be released as FOSS one day, just like their Android and iOS apps already are. Currently you can fully inspect the code as it's loaded into your browser when you go to their site (and it even has a "no JavaScript" mode too), but there is an important difference between viewable code and FOSS code. It's a very small nit pick though we do acknowledge!
KYC Still Required For Some Trades
AgoraDesk doesn't enforce any KYC requirements, but around 20% or so of the posted trade offers that users have created still insist on KYC information. For example, of the top 20 trade offers in the USA to buy bitcoin using online payment options such as Strike, Zelle etc, 4 of them required KYC info such as screen shots of your government ID in our testing.
The reason for these users requesting KYC info is because they're using reversible payment methods where sellers often get scammed if they don't screen their buyers first.
This is still better than the fully KYC exchanges such as Coinbase as you can choose not to trade with these peers and instead take the other 80% of KYC free trade offers, but it is a bit annoying. While it's good to have options, sending random people a "Selfie holding your picture ID and a note with today's date and time next to your face" is a pretty big security red flag for us!
User Interface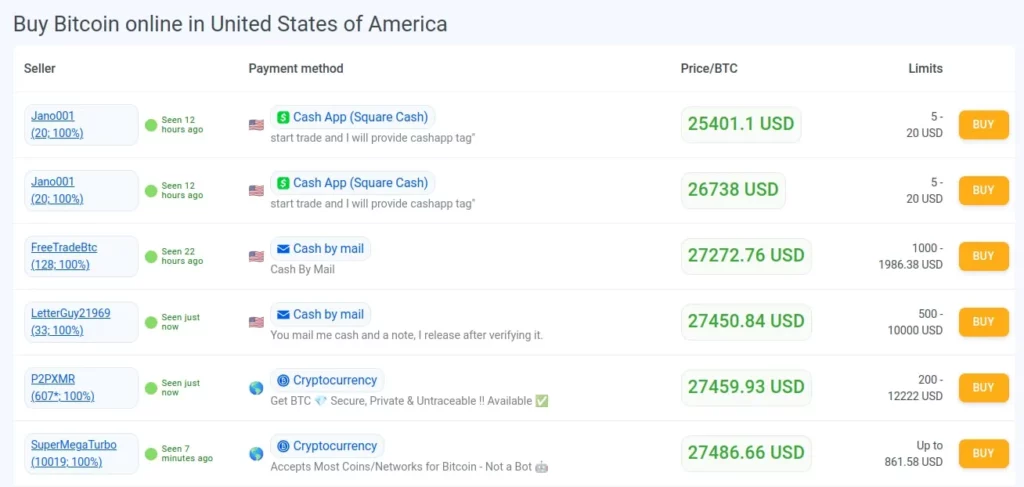 One of the best things about AgoraDesk is their user interface. It's simple to access via any browser plus they also have dedicated and FOSS Android and iOS apps available too. While many exchanges opt for more complex trading interfaces, they instead have a simple search field that allows you to filter through all the trade offers based on country, currency, buy/sell and payment method.
There's easy sorting by market price or you can enter how much you want to buy and it'll only show you offers matching that amount. All in all it's super intuitive even to complete novices and works excellently.
They also have a good range of FAQ and support guides to help answer pretty much any question you can think of and even support the much more secure app based 2FA. They have guides on buying bitcoins anonymously and brief introductions to crypto in general for users that need it.
It's clear that they've given a lot of thought to everything as the polish and depth is excellent, especially for a company that's only been around since 2019.
AgoraDesk Alternatives
Should You Use AgoraDesk?
If you're a Bitcoin Beginner who wants to buy their first bitcoins anonymously and without any ID then AgoraDesk is definitely the place to go. It has a thriving market with dozens of active users posting trade offers all the time and a fantastic user interface that makes buying and selling super simple.
After you've bought your first bitcoins we'd then recommend at least checking out some of the other top No KYC Crypto Exchanges out there as they can have cheaper fees (if you're creating offers to buy/sell) and offer better privacy and security too.
AgoraDesk does offer a great service though as it hits the most important privacy and security features (non-KYC and private wallets) and is perfect to get the first lot of bitcoins without having to figure out where to get a security deposit from.
We strongly encourage AgoraDesk to implement E2EE both for their trader chat and the general trade communications to help further protect their users. However beyond that slight nit pick, they offer a great service with dozens of popular payment methods and are a hidden gem more people should know about.
FAQ
How Does AgoraDesk Protect Against Scams?
All online trades are protected from scams because to sell bitcoins, the user must put 100% of the amount they're selling into a bond wallet. If the seller ever then tries to scam you and steal your fiat, AgoraDesk support can direct that bond amount to your wallet, ensuring you still get your funds.
Does AgoraDesk Have A Mobile App?
Yes! They have both an Android app (available on the Play Store, F-Droid or direct download) and an iOS app too. Both apps are also FOSS and all their code can be reviewed on their Github page.
How Long Does It Take To Buy Bitcoins On AgoraDesk?
It depends on what payment method you use. Things like cash by mail can obviously take days, where as online payment systems like Zelle can be a few minutes or hours. Beyond the time it takes for the fiat currency to be sent/received, there is also the Bitcoin transaction time which is on average, 10 minutes.

Why You Can Trust Us
Our comprehensive review process rigorously researches and tests all aspects of the products we review. If you buy through our links, we may get a commission, but opinions are always our own. Review our full Crypto Exchanges Rating Methodology.