You: Harder, Better, Faster, Stronger, Richer
Athena Alpha is an obsessively private, intuitive and easy to use Finance and Life Management app. Designed to help you better yourself, entirely open source and free to run on any computer, server, NAS or even Raspberry Pi
A Beautiful Home
When you login to Athena Alpha, you'll see the Home dashboard that displays the latest information on all your Strategic Plans, Finances and more. Scroll and tab through everything quickly and easily to find out exactly where you're at in life
—— PRIVACY ABOVE ALL ELSE AND ON STEROIDS!
Your Data: Private & Controlled By You
Running Athena Alpha on your own server gives you the ultimate control over your data. No more centralised "free" services selling your private data to data brokers, getting hacked or secretly sharing it with governments. Your data has nothing to do with someone else's business model. It's part of your private life, and now it can all be stored by you, at home, with a world class interface, for free. See the full list of Security & Privacy feature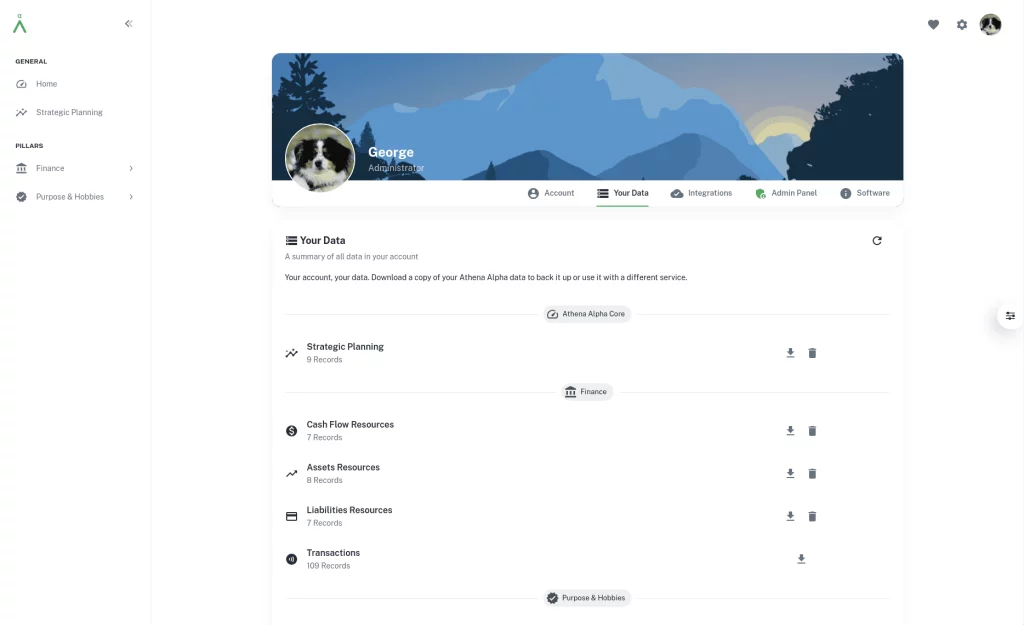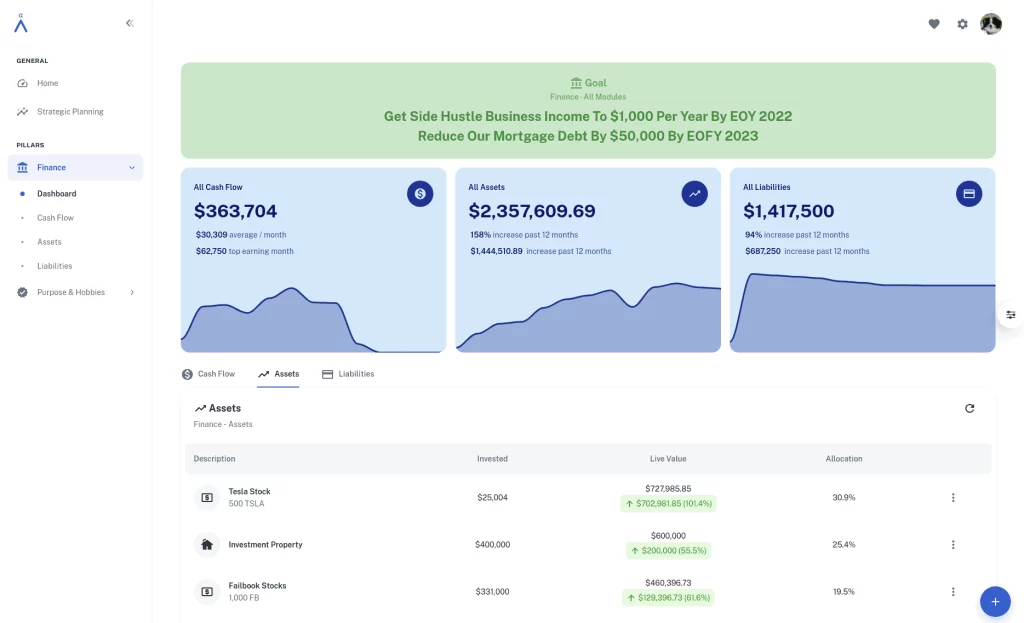 —— FINANCE
Your Finances: Beautiful & Automatic
See your Cash Flow, Assets and Liability info all in one place, privately
> Never have to deal with spreadsheets again!
> Auto updates your stocks and crypto portfolio
> See the exact date your Mortgage will be paid off
> View finances in USD / EUR / AUD / BTC / ETH
> Easily share financial info with family
> Track business Cash Flows with Income, Expense and Profit summaries plus targets
—— STRATEGIC PLANNING
Your Dreams: Now With A Plan
Plan and track weddings, vacations, weight loss goals or life long dreams, privately
> Monitor progress, see countdowns, get shit done
> Set priorities, targets, add notes, start / end dates
> Easily share plans with others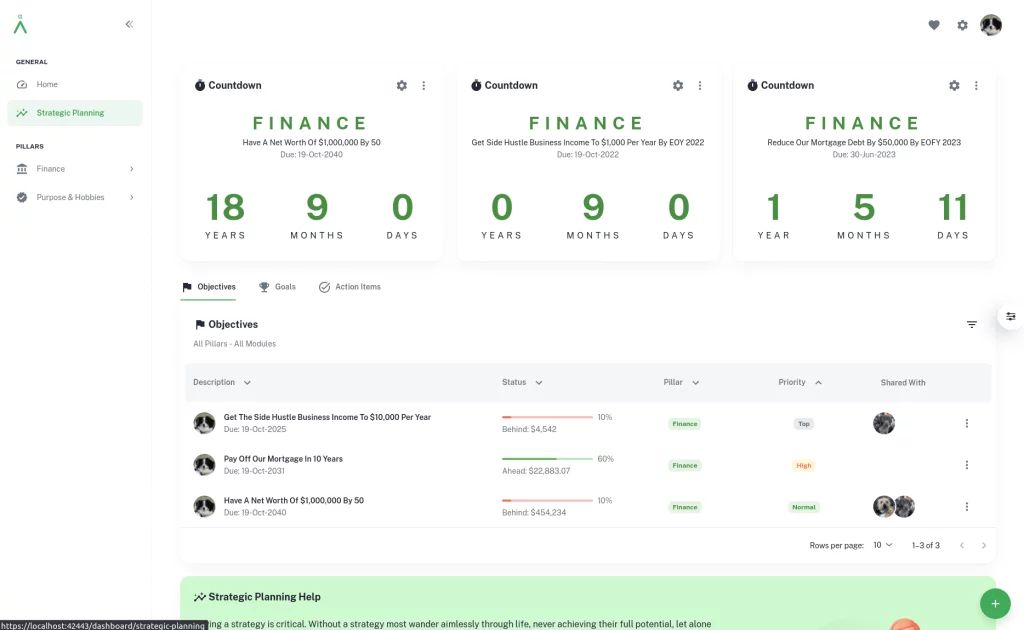 Features For Days
Athena Alpha has a whole host of features that you'll love. From the ability to change currencies, active session management, data management, full admin settings and more, you'll find what you need with Athena Alpha
Finances
Simple, beautiful, fast and intuitive interface based on Material UI for easy operation
Cash Flow analysis including comprehensive charts, YTD and full year comparisons with automatic percentage calculations and colour coding
Powerful charts that allow you to drill right down or stay high level, combining multiple Cash Flows, Assets or Liabilities
Customisation of financial year for all global regions
Automatically calculated CAGR on every individual investment as well as total overall Asset
Strategic Planning
Countdown component to help track your Objectives, Goals or Action Items
Automatically calculated progress bars to tell you how you're going
Interlinking Tree View to show how different plans relate to one another
Plan status settings to help you manage current, past and future plans
Plan priority to help you manage different urgency in your planning
Admin
User Management to view, edit, delete users as well as reset their passwords.
Allow New User Registrations switch to control user registrations
Your Data tab for viewing, downloading, and deleting your data
Password Best Practices tips to help users create the most secure passwords
Active Sessions component to view and delete all user sessions
Failed Login Attempts to help alert Admins that excessive failed login attempts are happening
SAY HELLO TO SELF-SOVEREIGNTY
Quick Start
Athena Alpha runs on any hardware big or small, old or new, Windows or Linux, x86 or ARM
SELF HOST VIA DOCKER
Install Athena Alpha on Windows, Mac or Linux
devices
Your Server, Your Rules
Install on any computer
Easily install via Docker image
Full data privacy and sovereignty
Any CPU, 4GB+ RAM
Be your own cloud
SELF HOST VIA UMBREL
Install Athena Alpha on the Umbrel App Store
beach_access
Your Umbrel, Your Rules
Install on your Umbrel
Easy install via App Store
Full data privacy and sovereignty
No new hardware required
Be your own cloud
SELF HOST VIA SYNOLOGY NAS
Install Athena Alpha on your Synology NAS
storage
Your NAS, Your Rules
Install on your NAS
Easy install via Synology Docker
Full data privacy and sovereignty
No new hardware required
Be your own cloud